### OLD AD CODE WAS HERE ?>
Couple months ago we built the $350 / $600 Custom Home Theater PC (HTPC) for family entertainment purposes. That little machine was a lovely media box with plenty of juice for HD playback and many modern 3D games. Some of us take advantage of the system's great power-efficiency and turn the box into a central media server to host local shared files, movies, and music for the whole family with FreeNAS.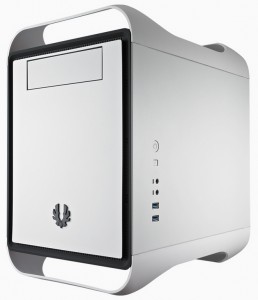 Today we will take another challenge from the big world of Home Theater Personal Computers. Let's assemble a rig that does not only serve as a media center but also as a true gaming box for gamer's sake. It must rock the bottom of any games from mid to high settings while meets the standards of a mini form factor suitable for a typical living room.
You will be able to install full-length video card and couple of fans or even a self-contained liquid cooler for moderate CPU overclocking. We also look for a minimalist  appearance as well as quietness of zen in this machine ;) Now with the goal set, let's do the shopping !
Processor
If you have been around with all system builds I have done on Custom PC Guide .net, I always talk about the processor first. The reason is quite simple –it is the toughest decision that we have to make.
This choice alone could impact the performance of the system as a whole and/or/whether it will leave hole in your wallet. When I first introduce Choosing an AMD or Intel Processor for Your Custom Computer, it gives everyone an adequate knowledge of choosing the right CPU. But it's a little more difficult to vote for the true candidate in this small build here.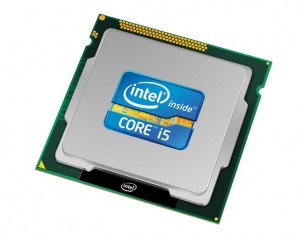 First we stick to the basic rule of thumb for custom pc build, anything has more cores than a quad-core processor is for workstation or some sort of server computer.
Second, CPU for HTPC should not consume too much power nor generate too much heat and noise.
Third, it must be capable of handling today and tomorrow games at ease.
We are not able to go with AMD on this build because even though the latest Bulldozer offerings are good, they still belong to the early batch of a new architecture. We also do not take consideration for AMD APUs today because we already made the most out of this series in the last HTPC build. Now they do have certain limit when it comes to a power-house gaming computer.
That leaves us with only Intel on the field (god damn. is this guy an Intel fan boy or what! haha). Well to be fair, we are not going for an i7 because the extra four logical cores are not necessary here. We also have to drop the i3 because it lacks future-proof values. So it all comes down to Intel i5 processors.
The new Ivy Bridge has heating issue when overclocked due to the cheaper internal TIM (a thermal layer between the processor and the heat spreader) that Intel uses, instead of the Fluxless Solder in Sandy Bridge. They argue that because the die is packed with more transistors, thus it raises the temperature much higher than Sandy Bridge.
At 4.7GHz core clock speed, the Intel i5 2500k runs around 60°C while the 3570k almost hits 80°C+.
Any Intel i5 processors are power-efficient thanks to the Turbo Speed technology that increases the clock speeds when needed.They can take any gaming challenge with plenty of power for a little more. And lastly, the K editions are decent for overclocking even though one is superior over another.
Intel BX80623I52500K I5-2500K 3.30 GHZ 6M Turbo OVERCLOCK
Intel Turbo Boost Technology 2.0 dynamically increases the processor frequency as needed...
Intel Smart Cache is dynamically allocated to each processor core based on workload, which...
Advanced Encryption Standard New Instructions add hardware acceleration to AES algorithms...
Processor Number - i5-2500K
Motherboard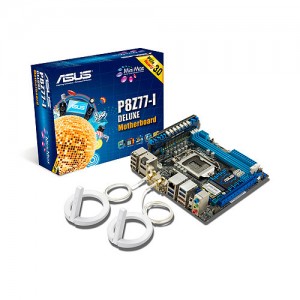 It is like a foundation of the house. The motherboard is second to none as the hardest, most persistent worker in your system. The processor, memory or video card may go idle or standby mode but motherboard does not have such coffee break. The moment you turn on your computer until the hour it is off, the motherboard has to consistently navigates millions worth of data. It might be even tougher as a HTPC or server motherboard because the system may never turn off at all!
It looks like an easy task at first, since the list of Z77 motherboards could go on and on from more than a dozen of different manufacturers. However, the hunt gets harder as it comes to light that we must find an ITX size to minimize the profile of the system.Therefore, it is rational if we have to spend a bit more for premium motherboard.
I set out to look for such thing and come back with no other than the Asus P8Z77-I Deluxe and Asrock Z77E-ITX motherboards.
These are both high quality products on a compact size.
You won't find much performance difference between the two, and they also share some common features such as Realtek ALC898 THX 7.1 Surround Audio chipset, Gigabit LAN, Wireless adapter, the support for SATA III and USB 3.0 as well as PCI Express 3.0 technology. The underlying differences on the other hand, will clearly reveals why each one carries a different price tag.
The Asus motherboard has higher Phase power via the add-on Vcore Card for overclocking stability (10 vs. 6 + 2 on Asrock), the Dual-band Wifi that also operates at 5Ghz frequency, a Bluetooth adapter, higher count of USB 2.0 ports ( 4 vs. 2), two eSATA port instead of one on the Asrock's, and one more feature that's most welcomed for this HTPC build : ASUS Wi-Fi GO.
This Asus proprietary software allows user to control the computer or stream DLNA content wirelessly from and to a smart device.
First, that should eliminate a need to spend extra cash on an additional IR receiver for remote control. Second, you will be able to watch your collection of movie on your device anywhere anytime. Pretty cool right? But if you don't have any iOS or Android device, you may not find this offer very attractive.
Anyway, you cannot go wrong with either one of these two motherboards. Asrock may take a step back on the premium add-ons but its core is similar to Asus P8Z77-I Deluxe. You may hear me recommend the P8Z77-I Deluxe because it is able to fulfill the special needs for our custom Home Theater PC. But if budget does not allow, you still can accomplish the same wireless remote control on the Asrock motherboard with third party software in the near future. Budget-conscious enthusiasts may find one extremely tempting offer on the Asrock board : an extra mSATA port on the back of the motherboard for caching purpose. We'll talk a little further about this bonus in the Storage section below.
Memory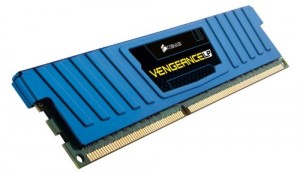 Since we are being very strict on the power consumption of the HTPC, we might as well go with low profile and low voltage memory kit. You might lose the ability to do some serious overclocking on the RAM, but trust me it isn't worth it at all.
When you raise the voltage to raise the bandwidth, you trade the two most significant advantages of a good memory module : latency and stability. When you lower the voltage the bandwidth decreases, you get slightly better latency but you indirectly create the bottle neck at the cache level.
The tiny motherboard has a limit with only two DIMM Slots and a maximum capacity of 16GB — for both Asus and Asrock motherboards, perhaps it might be a good idea to fill them up once and for all. In my opinion, 8GB kit is sufficient for such configuration because we are not going to do heavy graphics design, or number crunching works or VMware at all on a HTPC (i know, i'll be surprised ! :P)
Whichever option you find it fits, just keep in mind not to pick a single module as it does not activate Dual-Channel technology for higher throughout bandwidth.


Graphics Card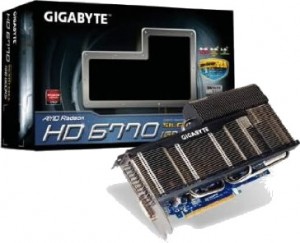 There is a Pentium 4 rig in my house that I built 10 years ago. That system used to be my proudest first all-purpose computer. I find little use for him now because every today task seems to stretch the old guy a lot. It's the nostalgic situation when you just don't feel right to let it go. The piece of junk in others' perspective somehow has carried too much of a history, looking at it reminds me a world of those good old days.
I eventually placed it behind the TV in the living room and once in a while turned it on to watch some movie. That does sound like the initial concept of a HTPC. There is one thing I'm a little disappointed because I'm unable to get a better dedicated graphics card for the computer. Something that can bless it the ability to actually run Playstation 1 ROMs (Tomb Raider, Resident Evil 3, Spyro..?), NES Mario party or even Contra and not to mention modern PC games.
With that in mind when I start this Hybrid HTPC project, I know it is very important to choose a decent and future-proof video card to handle the graphics rendering.
Because the limited space of a HTPC box and only one PCIe Slot on the motherboard, we only have one chance to make it right.
These following mid-range video cards are all suitable for our custom hybrid gaming HTPC. They generate an acceptable amount of heat and noise level without sacrificing the possibility for mid-to-high settings in modern games. Any of them will support multiple monitors with the exception that Radeon cards can drive more than two monitors.
* If you decide an Intel i5 K edition, you could start this HTPC with the integrated graphics chipset and throw in a dedicated video card in the future.
Additional Readings : Graphics Cards Comparison / Radeon vs. NVIDIA Gaming Graphics Cards Round-Up : Let The Right One In





Power Supply
The motto "Silence is golden" of our HTPC still holds true for the power supply. It could have been a really difficult mission to look for a quiet, plus powerful plus reliable power supply in the custom gaming pc market. These features do not always go along with each other, but when they do they will break the bank.
Fortunately, PC & Power Cooling Technology has a very tempting value offer that looks exactly like what we need : The Silencer MK II 750 Watts Power Supply.
As once it was mentioned in Differences of All OCZ and PC & Power Cooling Power Supply Units, this power supply is a top-notch reliable product from a premium brand. It is industrial-graded with Japanese capacitors and is designed for demanding workstation. This specific model also has 88% PLUS power-efficiency which is a surprisingly good bonus, despite the budget-friendly tag it carries. The last appraise you may be interested in is the large 135mm double ball-bearing fan that the unit is paired with. Typical 120mm size usually makes a not of noise during up-time, therefore bigger fans always have more significant advantages. The mature 135mm moves more air volume and is not as loud as the younger 120mm siblings.
One last key offer that makes the Silencer MK II owners smile from ear to ear is the seven-year warranty. It has the enterprise-class reliability, the great power-saving and the quietness we require for our custom HTPC. It also meets the sufficient wattage requirement for a gaming system as well as modular cable management to help with internal ventilation. I couldn't ask for more than that.
Correct me if I'm not aware, there might not be another PSU like this for the same price in the ever-changing pc hardware horizon.
Chassis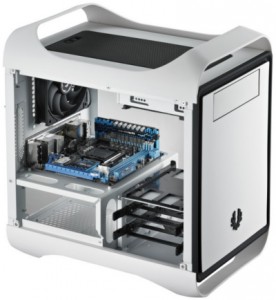 The Bitfenix Prodigy is one of those head-turning, unique HTPC computer cases you've ever met. The first impression your eyes will probably fix on is the arc handles on both feet and top of the case. Bitfenix mentions that the Prodigy is made with their own special material called FyberFlex to ensure the flexibility yet sturdiness of the case. You can torture these handles as much as you like, they won't break easily (I tried to bend it with my nail, my nail broke). I think having the handle is a nice touch, at least there is something to grip on when you need to carry the case around, to a LAN party or reinnovating your  room.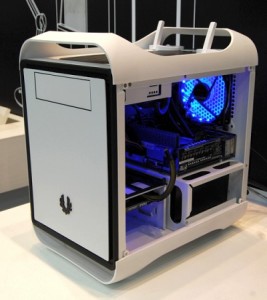 Another note on the outside, the Prodigy has a beautiful finish with the I/O panel cleverly located on the right hand-side. You will find a set of Power switch and reset buttons, along with the standard audio jack/microphone ports, plus two USB 3.0 Ports for peripheral devices. This chassis comes in two different colors: on the Black edition you will find the front panel has the mesh design and the White edition is paired with a solid plastic cover. One provides excellent airflow while the other promotes quietness.
Both version is similar on the inside. You are given two fans for ventilation. The front fan draws air in and blows it directionally toward the hard drives and motherboard. The rear fan will be responsible for exhaustion. There is still room for another additional fan to be mounted at the top, which is recommended if you install a  self-contained liquid cooler for the processor. Prodigy only accepts mini-ITX size but it is not an issue, we already have chosen an mini-ITX motherboard all along.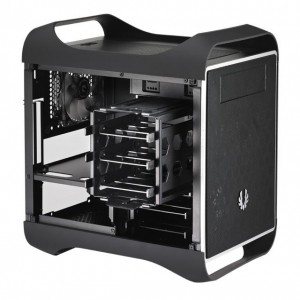 On another side note, this chassis does not include a power supply unit but it will take any standard ATX -platform PSUs. Unlike the super mini Element Q case in the $350 / $600 Custom Home Theater PC, the Prodigy has its power supply unit to be installed at the bottom of the case and directly below the motherboard. In the comment of other configuration, Tom Henrich mentions that because PSU location is at the top in the chassis, it does restrict the installation of a tall CPU heatsink; which makes it a bit harder to get the right fan size to fit in the system. Nevertheless, both cases are beautiful and well-designed chassis for the living room.
Now in term of storage option, the Prodigy is able to carry up to five 3.5″ hard drives with the top 3-bay frame can be effortlessly removed to clear way for other PCIe components. Despite the compact and low profile design, this chassis can carry a full-length video card to your surprise. Cable management is limited due to its size, but thanks to the modular Silencer MK II you shouldn't run into any problem working on a pretty wiring layout.
This is a lovely chassis to own, and you may see it is being used in the upcoming Hackintosh build as well.
This case has a sale price at $80 and is currently out of stock on Amazon. It will be updated as soon as inventory has been changed. Meanwhile, you can order it from NewEgg or Microcenter website.


Storage
With the expecting of a discrete video card in the system, we have to remove the top 3.5″ bay from the Prodigy. That leaves us with two bottom drive bays left for internal storage options. If you seek the most optimal performance, you have to add a Solid State Drive into the system to eliminate the data transfer rate bottleneck caused by mechanical drive.
If you choose the Asrock motherboard instead of Asus, you have the opportunity to take grant of the mSATA port on the back of the motherboard for Intel Smart Response Technology. This means you only need a mechanical drive as the OS drive and a small mSATA SSD as the hot cache storage to aid the disk performance.
Recommended Reading : Round-up of The Best and Fastest Mainstream Solid State Drives from 7 Reputable Brands
The Home Theater PC by nature may also require large capacity room for personal movies and audio files, thus you probably have to acquire a conventional drive to settle the need. In some case, an external USB one can do just fine. It gives you the freedom and portability to take data-on-the-go anywhere you must.
But if you decide to purchase an internal hard drive, I recommend any low power-consumption mechanical drives; such as Seagate Barracuda LP or Western Digital Caviar Green.
The Rest
There is not much option to add into the system at this point, but I might as well give a few food for thought if you are interested.
Optical Bluray Reader or DVD Burner


Antec VERIS Premier Multimedia Station
If you pick this device, it will consume the sole the 5.25″ optical bay that the Prodigy case provides. That means you cannot install another optical drive into the system, unless it is external. This adds the fancy high-tech look into the system but the  ASUS Wi-Fi GO essentially can do the same thing. It's all your call :)

Ceton InfiniTV 4 USB
A little sweet DVR device that takes TV cable signal or cablebox card and shares the channels to all smart devices in the same network. 
Ceton InfiniTV 4 USB - 4-channel External Cable TV Tuner Device for CableCARD

THIS MODEL HAS BEEN UPGRADED. PLEASE SEE INFINITV 6 ETH FOR THE LATEST VERSION **
Watch & record 4 HD cable TV channels simultaneously, including premium channels
Brings cable TV services to the PC, enabling cable + DVR + Internet TV and more, all on...
Eliminates costly set-top box lease fees and monthly DVR fees