### OLD AD CODE WAS HERE ?>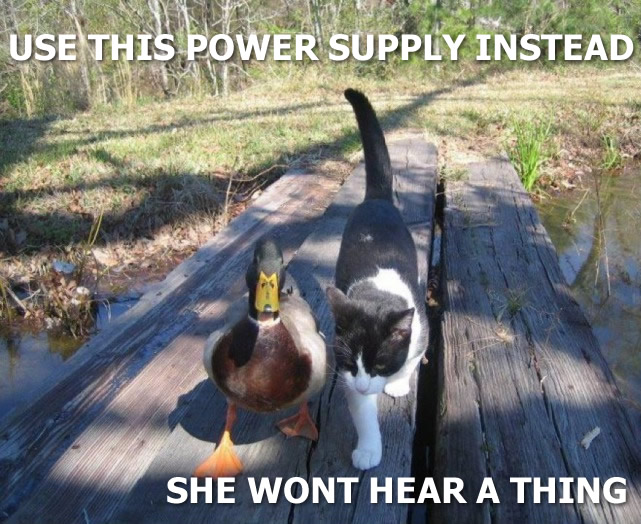 A couple months ago, we went over the 8 Most Silent Computer Cases and by far it is one of the most viewed articles on Custom PC Guide .net. Since everyone seems to love the concept of quiet PC build as much as my wife makes me do, let's find out which power supply unit would be best to pair with those silent cases today!
Generally when it's time to choose a low-noise power supply, we will be looking at a slightly higher price tag than regular generic PSUs. Perhaps that is known, because these PSUs are often much better built in term of quality and durability. They are equipped with top of the line capacitors and premium-grade materials that by no doubt would easily outlive the life of your system; whereas other lower-end power supply units usually can't swear to do the same.
Perhaps it is also the savior for your components when a storm hits town. During my past life of being a tech repair guy especially in the summer time when random thunderstorms occurred, I would make a fortune from fixing pcs that were fried from an electrical surge. Now after the successful reincarnation in this new struggling world as a PhD with giant student loan debt, I probably should open a seasonal computer store just for that them money again.
Anyway, you will recognize many familiar names on this list because they have set the right standards for PSUs in this particular category. I'm trying my best to reach out for other less popular manufacturers to challenge their quality and claims. If you have any recommendation that isn't here, please drop us a line in the comment section!
1. Corsair Ax, Hx and RMx Series.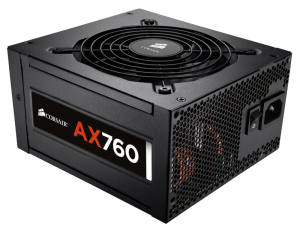 As the world sees it, these are the great power supply models with excellent quality and reliability offered by Corsair and designed by Seasonic. We did the comparison of Corsair closed-loop liquid coolers the other day, so you bet we can't miss Corsair PSUs today.
First, all these three models (Ax, Hx and RMx) are fully-modular PSUs which makes cable management a breeze. Hx and Ax comes with 80 PLUS Platinum certification, while RMx models only go as far as 80 PLUS Gold.
So Ax and Hx > RMx in term of energy efficiency.
All of the three have smart fan controller that only fires up the fan when the system reaches certain load threshold. That means the fan won't start spinning until it's over 40% load for Hx/RMx series. Meanwhile, some of the new Ax models can hold up to 65% at 0 rpm fan speed.
The noise level could go as high as 35 dBa on Ax Series and 23 dBa for RMx Series, but most of their lower wattage models won't exceed 20 dBa. On the other hand, the noise level of Hx series is only up to between 18-22 dBa. But guess which one is the most quiet PSU? It's the Hx 750w model. At maximum fan speed, the Hx 750W is only measured 17 dBa –effectively making it the most quiet PSU in Corsair power supply family. Refer to this chart for dBa loudness comparison.
Personally, I'd have picked the RMx to keep my mid-range build under a reasonable budget. It's a decent option. In another parallel universe to our universe 7 where my budget is living-by-paycheck-every-other-month, I'd go right with the Hx 750w in particular. It's the most quiet and also Platinum-certified. The Hx and Ax series are built on a high-end platform with tight voltage regulation so they are most fit for top of the line gaming/workstation build.
2. EVGA G3 Series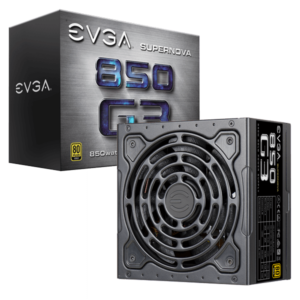 CPG staffs recently finished the comparison for a whole bunch of EVGA Power supply units last June/2018. It was a hell of a ride because there are almost 30 different models to look at. However, we find out that that EVGA G series –which are essentially manufactured by Super Flower –a well known Taiwanese company for quality PSUs– is truly a great power supply in this crowded market.
The reason I mention the G series, particularly G3 series, is because it's the most balanced unit between cost, warranty and quality as well as feature-wise. You could go up their P and T series which stands for Platinum and Titanium respectively, but it could be a difference over $70 on the tag.
The G3 Series is 80PLUS Gold efficiency energy saving is up to 90%. It's also equipped with Japanese capacitors, fully modular, has long life hydraulic-dynamic bearing fan that controlled by Eco Mode (fan stops under low load) and a tight 12V regulation to suppress ripple, plus a handful of different power protections. The unit barely makes any sound and even when the fan picks up speed, it's almost unnoticeable.

The differences between EVGA W, B, BT, BQ, B3, G, G+, GQ, GS, PQ, P2 and T2 Power Supply
Check out the article if you have time, you won't be disappointed –else TL;DR price check is right below.
3. Antec High Current Gamer 620W PSU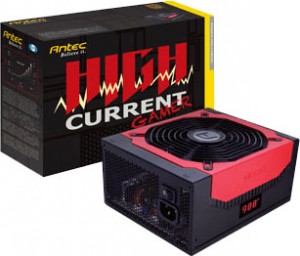 There are more than just the only 620w model in the High Current Gamer, but this is the best pick for our low-noise requirement. It dawns on me the other day that only this PSU resembles the Seasonic platform, instead of manufactured by Delta like other models in this same series. And having that said, we expect great things from this power supply.
This unit is rated up to 88% Bronze and on top of that it is equipped with a 135mm fan spinning anywhere between 600rpm to 1700 rpm. Worry not, in most of the stress tests I can assure you the noise level will barely exceed 38dBA. It's more likely to stay from 25dBA to 28dBA after it raises above 50% load, lower than that = 'hun why are you so quiet are you mad?' kind of thing.
To be honest, there were occasions that it reached 44dBA; yet the internal temperature is about five to ten degree C lower. That is surprisingly fine for a power supply unit in this range.
I believe Antec also cuts cost on production of this PSU by eliminating the modular design as well as shortening the warranty period to 3 years. I see best use of this PSU for many HTPC and entry level gaming system whereas the machine does not always run on high load. Once it passes 50% load, the fan takes off.
4. PC Power & Cooling – Silencer MK Series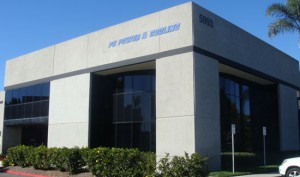 Most enthusiast users would tip their hat to this name brand for its consistent quality and reliability. PC Power & Cooling now lives under the hood of OCZ Technology. Even though OCZ has been under many financial problems recently, PC Power & Cooling is in their own division and actually doing a lot better than OCZ's line of mainstream power supply units.
The Silencer MK II and III series are industrial-graded PSUs, meaning they are designed for heavy load, continuous usage workstation or home and small business server. Being one of the top-notch power supplies available to the consumer market, yet these units could almost show you how it feels like to be in the the Anechoic Chamber: dead silent. All series have integrated fan speed control circuit to put the ventilation under control.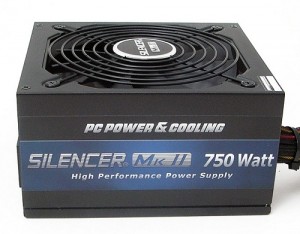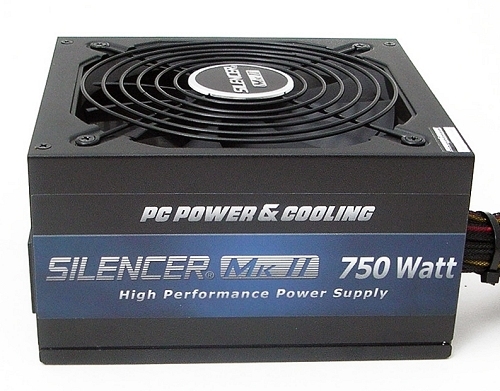 Series II comes with with 135mm fan size which is much preferred over the 120mm. The bigger fan doesn't have to work as hard and spins as fast to move the same volume of air as the smaller fan. By default, all products in this generation are rated 88% Silver (with the exception of the 500w version that is only 85% Bronze) without losing its performance even at 50°C. There is a small drawback when you find out none of these bad boys is modular capable, but it shouldn't be the reason for leaving it out –the 7-year warranty easily makes up for the minor con.
I still have the Silencer MK II 750W power supply in my old gaming pc that runs two 560 Ti cards in SLI mode, without a single hiccup ever since. However, hardline cables mean it's a mess to work with inside the chassis.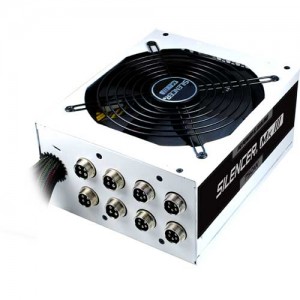 The Series III on other hand is a newer gen with semi-modular capability.
Another upgrade is power efficiency which is up to 90% Gold-certified on 750w and 850w models. However, lower-end units are 80 PLUS Bronze while the top of the line 1200w is 80PLUS Platinum (92% at 50% load). The new series III also shines better on the warranty that lasts up to 7 years, almost as long as EVGA's 10-year warranty on their G series below.
Cooling-wise, I believe PC Power & Cooling has improved their design in the way that they could now implement 120mm fan without making it work its ass off to ventilate the unit. You will still find 140mm on the 750w and above, though. Nevertheless, they are one of the most quiet/most affordable power supply units on the market.
5. OCZ Technology ZX and Fatal1ty Series
While we are still talking about OCZ brand, we might as well take a good look at these two most quiet PSUs series they have to offer.
I have heard many complaints on OCZ lower models for its being a little noisy and some just dies for no reason. Yet rest assure, I have tested the ZX and Fatal1ty Series for years and they do live up to the expectation.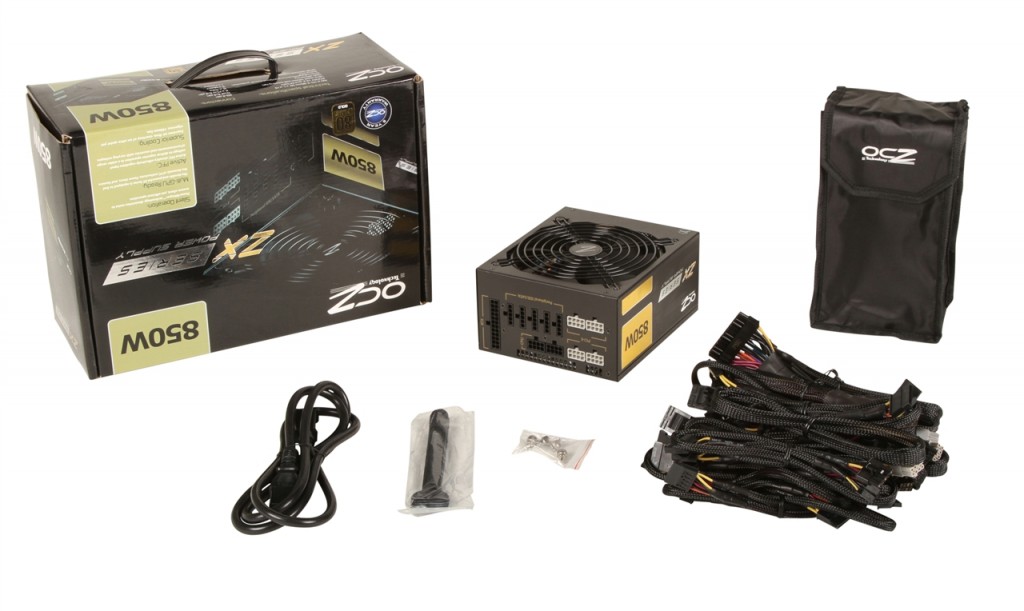 The ZX Series is the beast at heart. It implements the same speed control circuit technology from PC Power & Cooling while bearing the 140mm fan to take care of heat. You will find similarities between the ZX and some of PPC MK Series, but the true difference comes in term of amperage on the 12V Rail.
ZX is the enthusiast series dedicated to hard core gamers or overclockers, thus it has plenty of power on its single rail design to run your high-end triple SLI setup or extreme CPU tuning. Another valuable touch for the ZX is its fully-modular design, no messy cables for them spiders.
On the other hand, these PSUs take a minor performance hit once the temperature hits 45°C but it is a very rare occasion, the fan works in silent and seems to be more than sufficient to do its magic. Lastly, this series is backed by 5-year warranty. Great enough for any ultra gaming dash break-the-bank PC builds.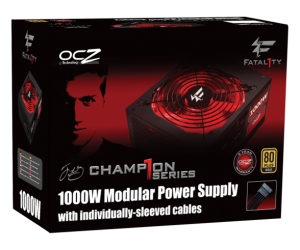 There isn't much to talk about the Fatal1ty Series. It's basically the little modded version of the ZX with individually-sleeved cable and LED 135mm (140mm on the 1000w) fan. Whoever has the transparent window chassis would love this model. Power efficiency now drops slightly to 85% but it is still pretty decent. Fatal1ty can pair well with SLI setup but generally the amperage is a bit lower than ZX Series. However, I never think that is never problem unless you are housing two or three GTX 690 or Titan in the system.
Do not go with OCZ ModxStream Series if silence is your concern. It's good power supply and all but it does not have the right ventilation control like these above premium models.
6. Cooler Master Silent Pro and Hybrid Series
The Silent Pro series is Cooler Master's best-seller dated all the way back since the year of 2008 when they were first introduced in the CES.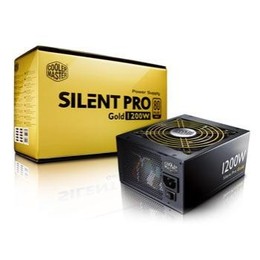 The family consists of Silent Pro M, M2, Gold, Platinum and Hybrid.
All of these PSUs implement powerful single-rail design for quality of current along with decent modular design for all cable works.
As the name implies, this line up aims to promote near silent acoustic level for custom pc. The reason I said that is because most of the units in this series do not stop fan rotation under low load, except for the latest Hybrid models. You'll find that with the Silent Pro M, M2, Gold, Platinum whereas the fan spins between 500 to 1000rpm even on a low load, generating a noise level around 14 to 22 dBA — which is still acceptable. However, if you prefer complete silent under light load you could look into Corsair Hx/Ax Series or the EVGA G3 below.
According to the specimens we tested, Cooler Master uses a generic 135mm fan that specs at a maximum of 1500RPM or 1700rpm with the noise level up to 36.44dBA in its older Silent Pro M and Gold Series. The newer Silent Pro Platinum, M2 and top of the line Hybrid series are particularly blessed with the cool Hydraulic Dynamic Bearing Fan that lasts longer and makes less noise at higher rpm.
There are reports and feedback on the web said that under certain stress tests, the Silent Pro series creates somewhat strong ripple level on the 12V rail. It does not make any difference for a normal/enthusiast user but this series isn't meant to be used for an insane 5GHz overclocking rig.
The M Series is being replaced with M2 which is rated 80 Plus Silver (Bronze for lower wattage models). It depends on your pocket, you could also set eyes on the Gold, Platinum or Hybrid Series to get slight better power efficiency from regular use. The Hybrid would be the best option if sensitive hearing is concerned, there is no noise until the system draws 200 worth of wattage or the internal temperature of the power supply raises above 25 degree Celsius. Yet it will be only around 32 dBA when the fan reaches its maximum rpm.
On the side note, the Hybrid model also comes with a front panel speed control box that allows you to adjust the power supply fan speed at your command, as well as 3 additional system fans. Lastly, most of the models support Dual or Quad-SLI setup if serious gaming is called for.
7. Seasonic 400/460w Fanless Series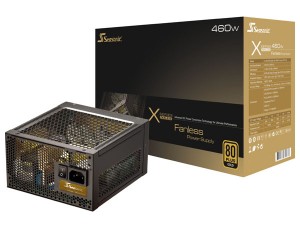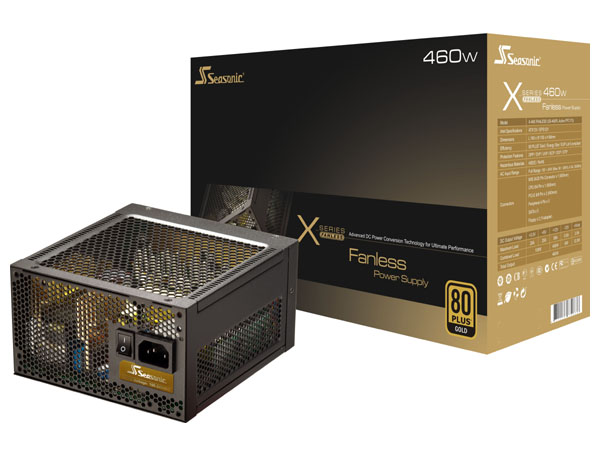 You gotta love the fact that this is the only power supply model in this round up that uses passive cooling. There is no freakin' fan. Complete silence. Totally unlike the ex-gf. Which is perfect for HTPC setup in a mini ITX chassis which we built the other day @ A high-end Mini ITX Gaming PC at the size of a shoebox.
Seasonic is well known for delivering top quality when it comes to PSUs and they are trusted by many other retailers, such as Corsair line up above.
You will find high grade hardware component on this platform, along with the remarkable power efficiency at 80 Plus Platinum. The 400w model has 33A on the 12V while the 460w is up to 38A, which is good enough to power a mid-range gaming video card. This 600W unit we reviewd has a 12 year warranty, super tight 12V regulation (<.05%) and could run a pair of GTX 1070's just fine.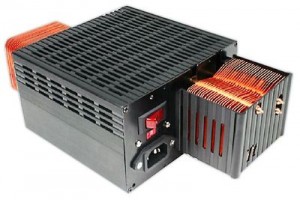 Now when ventilation is concerned, because of its characteristic of having no method to move air you should definitely consider some good chassis that at least does not allow hot air accumulated inside the power supply for too long.
A case that has top mount power supply with open vent also at the top is most ideal, since that will let hot air rise and escape from the PSU. If not, you can help by adding some silent fan to the case but then again it would defeat the purpose of reducing fan count in the system.
Anyhow, you could have one of the most quiet computers ever built using these superb PSUs. The drawback? Have a look at the price below.