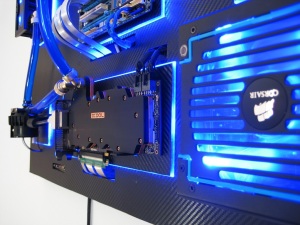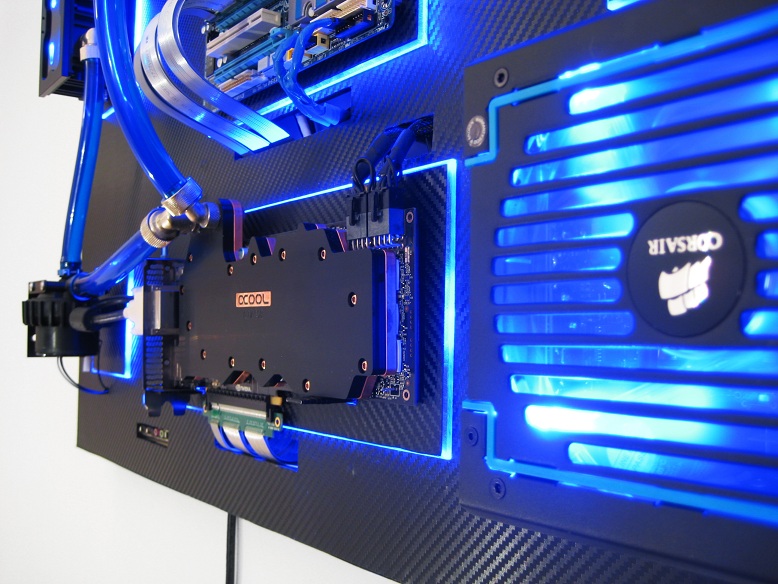 Custom PC Guide reference builds are the best bang for the bucks and the most popular PC configurations, but don't just take my words for it!
Each and every system here is based on a variety of surveys and actual builds we got every month. We also receive advice from our local Microcenter BYOPC techs who do this for a living, online PC builders' community, CPG audience, street smart pharmacists, keyboard warriors, NY vigilantes and the brothers of the Night's Watch– as of Q4 2018.
Final cost will certainly be a bit different at the time that you read this guide, future traveler. Your complete build could potentially be a lot cheaper for the same components! Or maybe more expensive. I don't know. Blame whoever cause us not to have a worthy president like Tom Kirkman.
Now when abstinence period is over, it'll also let you play any modern games under normal graphics settings seamlessly. It can also tackle questionable HD video files you throw at it with no trouble whatsoever. On top of that, The MasterBox Q300L is an elegant, see-through design of a chassis and it also delivers a modern, minimalistic look to the room. There are expansion slots available for future upgrades such as more memory stick, more powerful video card. Your call!
Perhaps people should start sending $450 your way to build a decent looking PC like this; We know people buy much worse system at the retail stores for a lot more.
CPU


$124.99
Intel Core i3-8100 Quad-Cores 3.6 GHzMOBO


$60.99
GIGABYTE B360M DS3HRAM


$30.99
Patriot Memory Viper Elite Series DDR4 4GB 2133MHz HDD


$49.99
WD Blue 1TB SATA IIIPSU


$55.67
EVGA 600 BQCASE


$31.69
MasterBox Q300LODD


$19.99
LG 24x DVD Writer GH24NSC0B
---
Whether you need a little machine for the kids to get their home works done or looking for a basic computer to browse, email, programming, serve as a media center, stay in touch with other family members or keep your enemies closer –this build is just perfect for said duties. It's also super power-efficient, too!
---
So under extreme pressure to stay within this budget, we sat down with a MicroCenter tech and a lawyer to spec out two systems influenced by two different types of CPU for your choice of pleasure –Intel or AMD. We intentionally price out two systems with different, yet equivalent core components from different brands to give you options to mix and match for your own build.
You can use either machine as a foundation for more expensive gaming build by upgrading more RAM, more powerful video card or higher capacity SSD. However, by no mean this is a build for overclocking purpose since that bracket is a little more expensive and it's not as cost-efficient as a gaming system.

AMD Build
CPU


$159.99
AMD Ryzen 5 2600 3.4GHz 6 Core Socket AM4MOBO


$114.99
MSI Arsenal Gaming B450 TomahawkRAM


$57.99
Patriot Signature DDR4 8GB (2x4GB) 2666MHzSSD


$59.99
Samsung 860 EVO 250GBHDD


$49.99
WD Blue 1TB SATA IIIPSU


$99.99
CORSAIR RM750xGPU


$199.99
GIGABYTE GeForce GTX 1060 Windforce OC 3GBCASE


$43.99
Thermaltake Versa H15 ODD


$19.99
LG 24x DVD Writer GH24NSC0B
---
The AMD 2600 processor is a powerful six-core CPU and it fully will take on any games with little effort. Performance difference between Ryzen 2600 and 2600x is the X series is just about 5% faster, hence you save $50 for going with the 2600. The great thing about AMD is you can also make a few minor overclocking adjustment to bring this CPU as fast as its more expensive sibling.
With that in mind, we use the extra $50 to drop in a mechanical hard drive for preference. Otherwise, this build would have been priced the same as the Intel Build.
On other hand it might look like we take a seat back on SSD for going with the 860 EVO instead of 970 EVO as we do for the other system. Yet for a gaming build and pretty much all daily activities on this system, nobody can tell the difference between the two. We throw these SSDs in each build just so you know there are choices out there. Perhaps you might end up with the Crucial MX500 or Sandisk Ultra 3D at the end of day, they are also great candidates at a great price.
Intel Build
CPU


$219.99
Intel Core i5-8400 Processor 6-Core 4.0 GHzMOBO


$106.86
ASUS ROG Strix B360-HRAM


$57.99
Patriot Signature DDR4 8GB (2x4GB) 2666MHzSSD


$79.99
Samsung 970 EVO 250GBPSU


$88.99
EVGA Supernova 650 G3CASE


$43.99
Thermaltake Versa H15GPU


$145.99
MSI Gaming Radeon RX 570 ODD


$19.99
LG 24x DVD Writer GH24NSC0B
---
Build Estimate: $763.7900000000001
@ Amazon
– Why i5-8400 ?
"…if you are upgrading from three or older generations ago and does not care about overclocking –this is the best bang, well masked, powerful 6-core CPU that meets both the performance and budget. Did we mention it's also super energy-efficient @ 65W?" —Differences between i7-8700K, i5-8600K vs. Kaby Lake and Ryzen 7.
– Why B360 motherboard?
Z370 is for overclockers. B360 is a great fit for a best bang for the bucks build for gamers. There is no performance difference. If you decide a z370 motherboard, you will also need to up the processor to K series but it will mostly be a waste of money and mana.
– Why 970 EVO?
"…each new Samsung SSD generation always brings along not only faster performance, more beautiful sale reps but also better price for the rest of us. So, bless these V-NAND plots." —All Samsung SSDs Comparison: 860 and 970 EVO/Pro vs. 850/960 Series.
– Why EVGA G3? What about G+ or G2?
"..With great success and momentum of the G2 in that year, EVGA gave their team the nod to start the G3 models with Super Flower. In fact, the G3 was the foundation for the G+ later on." —EVGA Power Supply Units Comparison.
– This chassis is plain, should I get a more fancy one?
Uhmm sure.. I guess? Max out that credit card today!
– $763.7900000000001 ??
We could have gone deeper…
$700-$800 range is a popular sweet spot for gaming pc, not too expensive yet sufficiently powerful.
---
---
CPU
$189.99
AMD Ryzen 5 1500X 3.7GHz Processor with Wraith Spire Cooler
MOBO
$99.99
ASUS Prime B350-Plus AM4
RAM
$59.99
Ballistix Sport LT 8GB Kit (4GBx2) DDR4 2400
SSD
$99.99
Samsung 850 EVO 250GB
HDD
$49.99
WD Blue 1TB SATA III
PSU
$69.99
CORSAIR CXM series CX750M 750W
GPU
$336.99
EVGA GeForce GTX 1070 SC GAMING ACX 3.0 8GB
CASE
$65.99
Thermaltake Versa C22 RGB Snow Edition
---
Build Estimate
Here you probably notice that I have push the budget a little high just to cover all bases, but there are several things that could be compromised: the GTX 1070 is the most expensive item on the ticket –you could switch to GTX 1060 or Radeon RX 580 to lower the total. The case is definitely fancy, you could shave half off the cost by going with Thermaltake H22 Versa in the builds above. Other than that, it's a solid build that isn't afraid of any games. Take this to MicroCenter and you could probably get all parts for a lower price using their monthly in-store coupon.
For the $900 Intel Build below, the only changes are CPU and MOBO. The processor is 6600K unlocked because it's only $5 more than regular i5 6500 version at the time of this writing. However, I didn't go for an overclocking motherboard (Z270), you'd rather find a B150 in its place. This motherboard should handle minor overclocking just fine. If you are looking for a full blown overclocker edition, don't hesitate to make the jump but be sure you are actually going to overclock and equipped with a better CPU Cooler.
CPU
$197.99
Intel Core i5 6600K 3.50 GHz Quad Core
MOBO
$99.99
MSI Gaming Intel Skylake B150 LGA 1151
RAM
$59.99
Ballistix Sport LT 8GB Kit (4GBx2) DDR4 2400
SSD
$99.99
Samsung 850 EVO 250GB
HDD
$49.99
WD Blue 1TB SATA III
PSU
$69.99
CORSAIR CXM series CX750M 750W
GPU
$336.99
EVGA GeForce GTX 1070 SC GAMING ACX 3.0 8GB
CASE
$65.99
Thermaltake Versa C22 RGB Snow Edition
---
Build Estimate
---
CPU
$323.00
AMD Ryzen 7 1700 3.7GHz Processor with Wraith Spire LED Cooler
MOBO
$149.99
ASUS Prime X370-Pro
RAM
$119.99
Ballistix Sport LT 16GB Kit (4GBx4) DDR4 2400
SSD
$127.99
Samsung 960 EVO Series 250GB PCIe NVMe
HDD
$49.99
WD Blue 1TB SATA III
PSU
$94.99
EVGA 850 GQ, 80+ GOLD 850W
ODD
$19.99
LG 24x DVD Writer GH24NSC0B
CASE
$109.99
Corsair Crystal Series 460X
GPU
$529.99
EVGA GeForce GTX 1080 FTW GAMING ACX 3.0
---
Build Estimate
There are several ways to make this build cheaper. First, I'd aim for a more standard chassis if look does not matter. That probably takes at least $60 off the total. Then I may get a GTX 1070 FTW, instead of the GTX 1080. The GTX 1080 shines best under mutiple-monitor gaming environment or video production and 3D rendering tasks. That means if you are only looking to build a high-end gaming PC, going with a GTX 1070 could potentially brings this build down to a sub-$1200.
---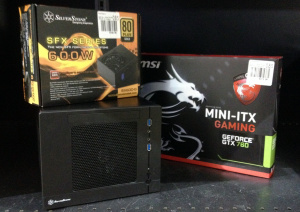 A High-end Mini ITX Gaming PC at The Size of A Shoebox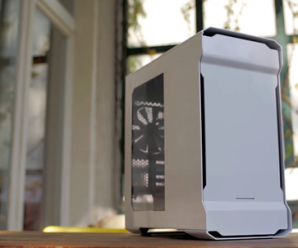 Build a $800 to $1200 Mini ITX Gaming PC with Intel Skylake Processor
We have also come across these cases for review throughout the years and they immediately made it to the list of our most favorites of all times. Many of them are recommended in the reference builds above as you can see. Enjoy!

$159.99
Corsair Graphite Series 760T


$45.99
Thermaltake Versa H22 Window


$49.95
Cooler Master N200


$49.99
Silverstone Tek Mini-DTX SG13B-Q


$67.99
NZXT S340


$114.99
NZXT H440


$114.99
Thermaltake CORE P5


$59.99
Corsair Carbide Series SPEC-02


$159.99
CM Storm Stryker
---
Other chassis reviews
---
$9000 High-End Workstation, Gaming PC - 2015
I decide to keep this build here in case you come across it somewhere in 2017. Check out what it's like to be a dream PC in 2015!

Here's everything you can imagine. When money isn't the problem. Actually, when nothing is the problem. Ridiculous!

So we begin it all with the latest and top of the line Haswell-Extreme processor as the brain for this beast. The i7 5960X is an 8-core CPU that certainly don't take no as an answer. It runs at 3.0GHz by default with an overclocking potential up to 4.2GHz fairly easily. Yet to keep everything stable –we're gonna pair the processor with the Corsair H110 Liquid Cooler to take care of heat and all other jealousy.

The Asus X99 RAMPAGE V EXTREME on other hand will be the host of this party. It supports 4-way SLI, brings along an 3×3 A/C 1300Mbps Wireless adapter, O.C LCD panel, High-end Gigabit LAN port, Bluetooth, SupremeFX sound chip, M.2 socket (up to 110mm in length) and of course, an array of USB 2.0/3.0/SATA/SATA Express 10 Gb/s ports at your disposal. This motherboard is also a monster in overclocking, if one day you start to question reality again.

Moving on, we also drop 32GB of DDR4-2800 in all 8 slots which also activate quad-channel for an insane throughput. On other tiny expense ($3.1k) is the 3-way SLI consists of 3 Titan video cards. You know, honestly, i know that 780 Ti's are more of a better choice due to pricing vs marginal performance, but since we already vow that money isn't an issue –this is what we get for such realistic imagination. Btw, you can go 4-way SLI but heating will be a major issue here since them video cards have to stack up on top of one another and airflow is very limited between them. Just to be safe. But who knows. You're rich.

Now when it comes to storage, we'll have two Samsung 850 Pro 1TB running in RAID 0 Stripping (or RAID 1 Mirroring, up to you) to max the hell out of data transfer rate. There are also three 6TB that could be setup as RAID 5 Parity or just as regular for 18TB in capacity. That should put our concerning mind as ease because them 1TB SSDs wouldn't be enough for anything these days, would they?

To close up, the whole system is housed in the beautiful 760T with tinted clear side panel and powered by a Corsair 1500W power supply unit just so you can have the highest electricity bill in the entire zip code.

Component

Model No.

Estimated cost

Processor

Intel Core i7-5960X 3.0 GHz Extreme
$1050

Motherboard

ASUS X99 RAMPAGE V EXTREME
$560

Graphics Chipset

3 x EVGA GeForce TITAN BLACK Superclocked Signature 6GB GDDR5
$3200

Hard Drive

2 x Samsung 850-Pro 1TB
$1400
3 x Western Digital Red 6TB (RAID 5)
$900

Memory

2 x Corsair DOMINATOR Platinum 16GB (4 x 4GB) DDR4 2800MHz
$1000

Power Supply

CORSAIR AX1500i 80 PLUS Titanium
$450

Chassis

Corsair Graphite Series Arctic White 760T
$190

Optical Drive

LG 16x Blu-ray Disc Rewriter
$60

Front Card Reader

NZXT Aperture M Mesh Card Reader with USB 3.0
$35

Liquid Cooler

Corsair Hydro Series H110
$110

Estimated:

$8955