### OLD AD CODE WAS HERE ?>
Why another m-ITX Gaming Build ?
Building your own power-house system is annoyingly easy these days. Everything made simple.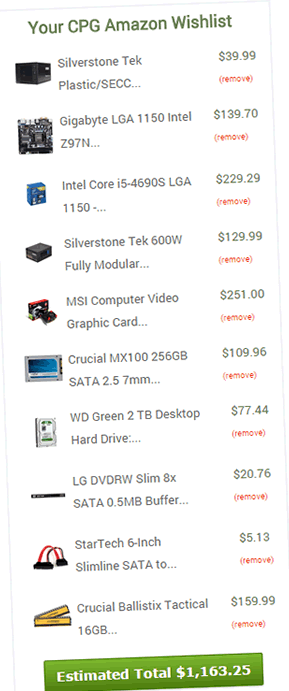 I always say to my friends who never built a computer before that if they can play Lego, they can put a system together on their own. Now that's really stretching the saying a little since Lego is insanely difficult.
But anyway, chop chop they go and gathered themselves parts for what always look like a gaming system. You will be surprised that few of them turn out not so happy forever-after with the machine. Half of these friends went from a laptop to a desktop and they are uneasy with the size and the weight of the PC big box.
I could argue all day long about ventilation, future expansion, capabilities of having a regular ATX chassis; they still think the sacrifice is too big (no pun intended, but to hell with that because real sacrifice is when Sam were ready to destroy himself only to kill Crowley once and for all. Now that's a sacrifice !).
Though, I can't deny the fact that I feel bored with normal towers sometimes and more than often wonder off the track with gaming mini-itx builds and chassis comparison scattered every now and then.
Despite the smaller size than mATX, those systems can definitely rock Skyrim at high-setting without much struggling. But my concern is those gaming builds yet earned the real "Wow" factor. They are fast, they are small but the size is not so petite that they could be an eye-opener for my stubborn friends. I could introduce the NUC but that totally defeats the purpose of building your own pc or adding parts and for future upgrades. Anything smaller might have been a badly nerfed version of Cass without wings in Season 9. Until today.
Like how Sauron desperately looking for his misunderstood ring, I went on a several days long research for find us another tiny build that will game like a beast.
Eventually, I got myself this.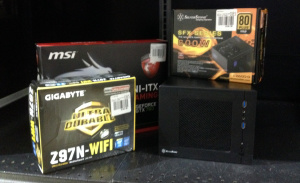 If you wonder what this is, well. It is a mini-ITX build with a chassis only a tad taller than your small shoebox.
What go in it are even faster than what I originally planned out to build (APU A10 with Crossfire). You'll find a fully modular 600W 80-Plus Gold power supply, a SSD, a 2TB drive, GTX 760 and a fast, power efficient i5 processor that fears no game. All wrapped in a tiny box (smaller than most consoles) that you can store all the emulators and hundreds of games in the world and bring to any friends' to introduce them the PC master race.
So let's take a quick ride around this awesome, high-end yet tiniest gaming build you've ever met.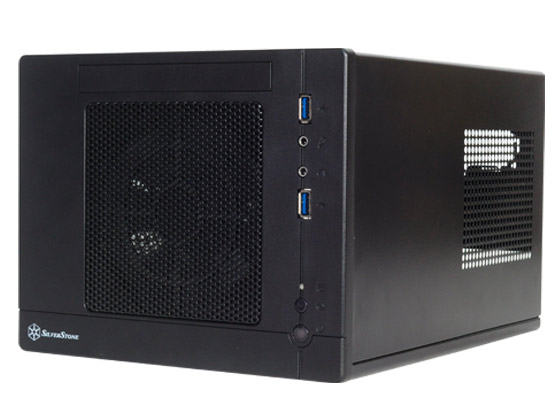 Silverstone is an innovative manufacturer and yet they aren't so well know to the mainstream enthusiasts as Corsair, Thermaltake, NZXT and other brands. However, they have a great respect from experienced builders so they got that going for them, which is nice.
Our chassis today belong to the Sugo family, code name SG05-Lite and it comes in two color variations. First off, this baby is really small, only 8.7″ in width, 6.9″ in height and 10.8″ deep (222mm x 176mm x 276mm). Which makes me wonder if a new-born puppy would have any chance to fit in it at all (but that is a good thing, right?).
Now they are also two other SG05 models. The regular one comes with a 300W 80-Plus Silver power supply and the SG05-450, as the name obviously implies, comes with a 450W power supply unit (80-Bronze).
Ventilation : because of size, the SG05-Lite comes with only one pre-installed 120mm fan behind the front panel. The rest of the cooling setup depends on all other three vents by both sides and top of the chassis. Airflow on other hand depends on the power supply fan, CPU fan and video card fan –in which I think is adequate for our gaming rig.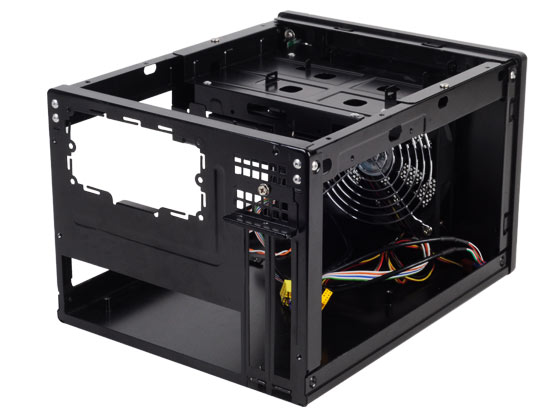 Hard Drive : there are spaces for one 3.5″ hard drive and one 2.5″ drive. So you can either throw in there a set of SSD and HDD, or just a SSD for the time being.
Optical Drive : it does not take any regular 5.25″ optical drive. However, there is slot for a slim-line drive –so not all hope is gone for those folks who still play with DVD and CD often.
PSU : you will be mounting the power supply unit at the top location but don't worry whether it will be get in the way of the CPU cooler. The SG05 only fits small form factor PSU so you can't squeeze an ATX power supply in and pray for the best. Fortunately, we got ourselves a great power supply to run this beast.
GPU : max-lenght video card for SG05 is roughly 9.3″ but don't sweat, we also got this!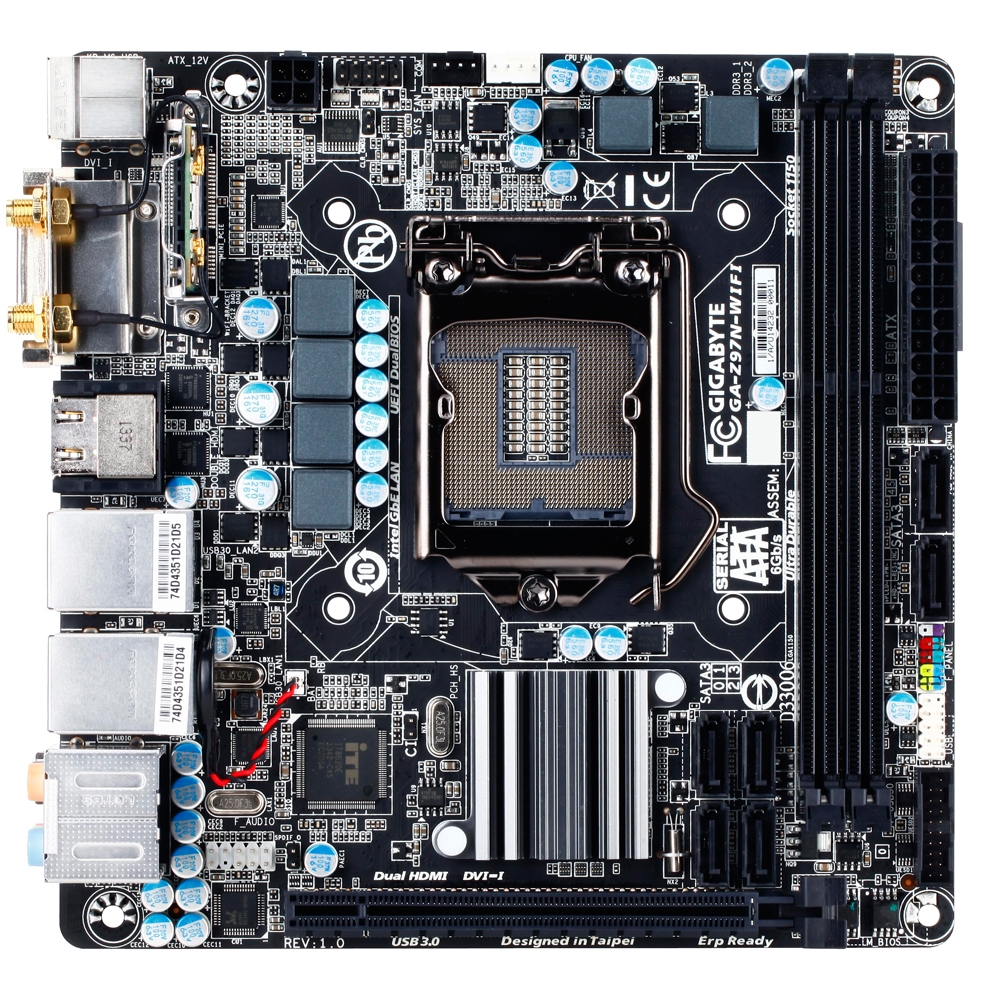 Now Gigabyte offers two different models of their mini ITX motherboards for the Intel Haswell controller; one has the Z97 chipset and the other runs on H97. The most significant difference between the two is that the Z97 can do overclock while H97 isn't as capable.
In the show off picture at the beginning of this build, you saw that I chose Z97 not because I was going to overclock the hell out of a mini ITX build but because at the time of my shopping the H97 wasn't in stock. So I went with the Z97 for roughly $30 more.
Asrock, MSI and Asus also offer their own mini ITX motherboards, but I lean to towards Gigabyte because down along the road, I might turn this system into a Hackintosh. Hence I want it to be ready when the bell rings.

If you don't have this plan otherwise, go with the brand you're comfortable with. Be sure to pick one that has built-in Wifi since due to its limited expansion slot, you can't add another Wifi card in place of the video card PCIe slot. I have seen people argue that they could have a USB Wifi adapter, but having that sticking out of the chassis is an eye sore sometimes.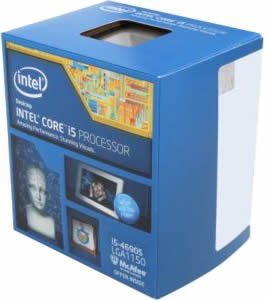 The Intel i5 4690S has a TDP of 65W with base clock speed at 3.2GHz and a Turbo speed of 3.9GHz. That's beast, consider its power consumption.
On other hand, both the Intel i5 4690K (3.5GHz) and i7 4790k (4GHz) has a TDP of 88W.
As you see, our processor has the bext mix of raw performance and power efficiency among the three top of the line of Intel Haswell family. We're going this far, we can't go back and settle with an i3 even though its TDP is only 34W. You're building a gaming rig here so the i5 is your best bet for today and future-proof. Carry on my wayward son!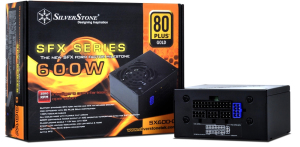 Ok, you probably think this is conspiracy. Right? Really? A Silverstone chassis that only takes a SFX size power supply and that SFX power supply happens to also comes from Silverstone. This is totally a coincidence! Totally.
Sarcasm aside, I would have thought the same but I gotta give credit where credit is due.
This little monster PSU is really your war nuclear power plant here. After I put the system together and run a 48-hour intense 3D-Mark Vantage tests, it didn't go nasty for a moment. Temperature stayed nicely in the 60°F and power drawn from the wall is roughly 460W. The 80 Plus Gold, Fully-modular, Single Rail are all ice cream and cherry and fruit on a good cake, but the PSU itself seems like a very solid, reliable build and it's also backed with a three-year warranty by the manufacturer.
Anyway I have the next three years to find out how truly reliable this PSU is and I promise I'll get back to update the story. But for now, I'll go with the pc builder's instinct and trust it is a good buy for our system.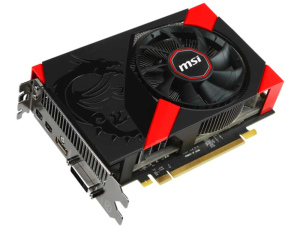 Due to a small chassis that we choose, not every high-end video card will have a chance to fit in here. Look at this GPU list recommended by Silverstone SG05's specs :
ATI Radeon HD 5670 – 6.7″
ATI Radeon HD 5750 – 8.15″
ATI Radeon HD 4850/4830/5770 – 9″
ATI Radeon HD 5850 – 9.5″(ST45SF PSU recommended)
NVIDIA GeForce GTX 680 – 10″
NVIDIA GeForce 9800GT – 9″
NVIDIA GeForce 9600GT/GSO – 9″
NVIDIA GeForce 8800GS/GT/GTS – 9″
NVIDIA GeForce GTS 250 – 9″
NVIDIA GeForce GTX 460 – 8.25″ (ST45SF PSU recommended)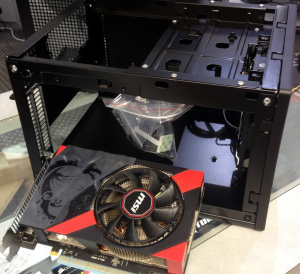 In no hell we would ever go with a GTX 460. Bollocks!
Fortunately, MSI cares and MSI offers us a really great mini-ITX video card. Our MSI GTX 760 (N7602GD5/OC ITX) is not your every day GTX 760.
This is advanced GTX 760. Very science.
This particular model of GTX 760 is only 6.6″ in length (170mm) which is not even near the maximum 9″ length where our chassis could accommodate.
It also requires only one 8-pin PCIe connector, so that helps a lot on the total system power consumption. The clock speed is set at 1033MHz with the 2GB GDDR5 memory runs at 6008MHz. MSI uses Samsung IC's, therefore you should be able to increase the Memory clock speed over 7000MHz without any problem.
Now when it comes to gaming, check out this video for your viewing pleasure:
Update December/2014
GTX 970 is now available in mini-ITX platform!
6. The Rest – RAM, SSD, HDD and ODD
Solid State Drive
It's either Crucial MX100 or Samsung 840 EVO. Choose the capacity that best fits your budget. Personally, I opted for the Crucial MX100 because of its price point and a 2TB for all the academic videos that I got from brazzer Discovery channel.
Memory
Once again because our small motherboard only has a pair of DIMM slots, you might as well try to squeeze in the best it could handle now and don't have to worry about future upgrade ever again.
If you want a pair of 4GB, that is fine too. But I don't want to rain on your parade –if you think of upgrading to 16GB later, you have to find use for the existing set of RAM because they can't stay.
Now in this system, I pick out the Crucial Ballistix Tactical due to the nice latency and affordable price it has.
Alright, that's it for now. Goodbye stranger !