### OLD AD CODE WAS HERE ?>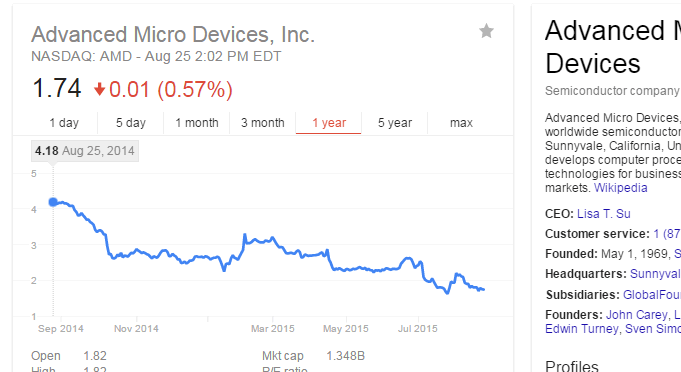 As its stock slowly but consistently dives from $4.18 to a mere $1.70 lately (73% within a year), AMD is surely having water right above its throat. However, to be fair –Apple stock, Tesla stock, Microsoft's, Intel's etc…are all down anyway; which shows too clearly on my betterment account as of August 2015.
NVIDIA GTX 1070 / GTX 1080 vs Radeon RX 480 – Valar Morghulis
Anyway, on one front AMD has to face Intel, who has just recently released 1151-socket processor line up and the powerful 2011-socket under its sleeve. And then on the other side, there is NVIDIA aggressively raising the level of the playing field every few quarters, recently with its GTX 900-series. As the way things currently unfold, this might be just a matter of time before AMD goes under water; but I hope that won't happen ever.
Why not? Most important reason is because I have some stock in AMD laugh nervously. But hey, buy slow and sell high is the risk investors are willing to take right ? nervous laugh intensifies
If the new R9 300-series could save the company, or at least somewhat helps AMD carry the cross, maybe –just maybe– I could be a multi-millionaire sipping margaritas on a remote, peaceful island before my 40s. Otherwise, you guys gonna see me living the rest of myself on a remote, jungle island. And the scary part is, there is no Internet on that particular island.
So without further ado, let's compare all the new AMD R9 300's models and find out if they can keep up to their counter parts that of NIVIDIA.
TL;DR
Stock
AMD stock is dropping and I'm booking a one-way flight to some isolated, lonely island. Unless it goes back up, then I'll buy each one of you a R9 390X or a GTX Titan X. And I know it will.
Especially when AMD Mantle, Fiji, Dual-Graphics, 20nm architecture, TrueAudio, Stacked-die High Bandwidth Memory and Heterogeneous Computing techs are already on the horizon for the end-user market. What I also like is that the technologies that AMD develops will very often become available for free to anyone, including their competitors to use. This has earned a respect for AMD from me.

Although as the leader of the 300, the R9 390X is actually a rebadged R9 290X 4GB; but with twice the amount of GDDR5 memory –8GB. Both have the same codename known as Hawaii.
When the R9 290X was released, it was meant to compete with GTX 970 in a very violent, bloody battle. And it was a good match because if things were real, both of those video cards would come out barely alive. Now let's look at the specs of the new kid on paper.
Shader Units: 2816
Architecture: 28nm
Core Clock: 1050 MHz
ROPs: 64
Codename: Hawaii
Transistors: 6.2 billions
Memory Size: 8GB
Memory Bus Width: 512 bit
Memory Clock: 1500 MHz
Shader Units: 2048
Architecture: 28nm
Core Clock: 1126 MHz
ROPs: 64
Codename: GM204
Transistors: 5.2 billions
Memory Size: 4GB
Memory Bus Width: 256 bit
Memory Clock: 1750 MHz
If anything tells you from the infos above, it's that the R9 390X seems to be a lot more beefy than GTX 980 –especially when it's about the memory. Having 8GB on board is a huge advantage for those of us who wish to fire up their game all across 3 or 4 monitors at a resolution where porn in-game graphics is as beautiful as real life and without stuttering.
For normal resolution performance however, it shows that GTX 980 is faster than R9 390X in over 80% of the games tested at 1080p but not by a far margin. If you take the resolution up a few notches, the R9 390X performs at the same fps as the GTX 980 for half of the games we tested. For the other half, the R9 390X leads the race.
In short, the R9 390X brings your game's fps very close to the GTX 980 performance yet for $80 less than its competitor's price.
Now on the hand, the R9 390X consumes a staggering amount of power.
On full load it easily breaks over 275W, versus 165W for the GTX 980. More power means more heat, means less overclocking potentials. As the result, if you are willing to spend on the GTX 980 then overclock the crap out of this card then you'll have the R9 390X throwing in the towel before time's up. And you cannot overclock the R9 390X very much, so it's no question here.
It seems as though we have a clear winner already, which is the GTX 980 and I can't argue otherwise. However, there is one area that R9 390X shines like a hot babe on the beach is the 4K matches. It costs ~$80 less than GTX 980 and it's faster in most games at this ultra resolution. It also costs ~$250 less than GTX 980 Ti 6GB and it's only a few fps behind it.
My conclusion is the R9 390X is a value, high-performance gaming video card based on the Hawaii architecture but it looks like just a fill-in-the-gap before the next generation, more power efficient Fiji raises hell.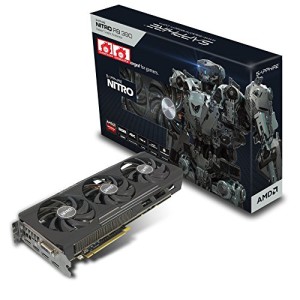 To dial thing down a bit, AMD gives us the R9 390 with 2560 shader units –256 counts less than either R9 390X or R9 290X. Fortunately, the memory clock speed remains at 1500 MHz which is the same as the R9 390X; but higher than that 1250 MHz of the R9 290X.
Here's the math : R9 290X pulls similar frame rates as the GTX 970 and the R9 390 is faster than the R9 290X. So if you already figure out the pattern, the R9 390 sits a tad above the GTX 970 and costs up to $30 less.
But this is a very difficult situation for R9 390 because its performance isn't really more than 10% faster than GTX 970 but it consumes a whole lot more power than the GTX Titan X (223W) or GTX 980 Ti (211W) at 231W.
R9 390 has all the horsepower it needs to face the opponent but it comes with a huge set back: heavy power consumption.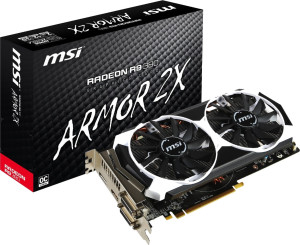 Most AMD fans fell in love with the R9 285 (codename Tonga) when it came out several months after the R9 280 and R9 290 were released. That card sips less power than the R9 280X but has a very similar performance, the price was good, too. To put it in comparison with today NIVIDIA card, you have something that is faster than the GTX 960.
Now we have R9 380 on the list, which is exactly the rebrand version of the good 'ol R9 285 back in the day; but with higher core and memory clock speeds. So again, we have GTX 960 < R9 285 < R9 380.
AMD video card once again leads the points in its own game, but in the similar fashion, that doesn't come cheap. First, the price difference between GTX 960 and R9 380 favors NVIDIA; as The R9 380 costs $10-$15 more. Second, the R9 380 consumes an average of 180W. To put it in perspective, that is the same amount of GTX 980!
If you cannot afford GTX 960, the R9 370 is only about 15% slower than the GTX 960. Plus it can plays GTA V on an average of 128W from the wall. To be honest, now that's not bad!