### OLD AD CODE WAS HERE ?>
In the market mainly dominated by Samsung as of late, other SSD manufacturers have to invest significantly more resources, mineral and construct more pylons to deliver the better products for us; while being aggressively competitive in price for survival. Last article —Samsung 850 Pro versus 840 EVO SSD Series, I hoped to see other players rising up in this SSD battle, now guess what? We are actually getting a handful last couple of months!
Which brought me up to this point. Today seems to be the most appropriate random day to dig into the Crucial SSD line-up and find out what goodies are up their sleeves; for the love of PC builders and hot gamer girls/wives everywhere.
Back in the day, the Crucial M4 was the top tier seller in the SSD market just a few steps behind the OCZ Agility and Vertex series.
Though Crucial has not been able to claim the crowd of the SSD kingdom, it has been a very stable and steady sail for them. OCZ took a beating due to mass failures in their drives that used Sandforce controller. By the time they took action, it was a little too late and a lot (and I mean A LOT) customers had lost faith in them.
Crucial on the other hand made use of an older, more carefully developed Marvell controller. Hence they didn't risk all the eggs in the wrong basket. But Crucial didn't rise to the very top, either. Because their SSDs were slower than Intel's in general, and then later its lunch was taken by Samsung due to better pricing strategy.
Anyway, the M500 came about last year –fired up the ever busy market again with the large 128Gbit NAND die supplied by IMFT (versus M4's 64Gbit die).
Larger die means there are more room to pack the new 20nm MLC NAND into the drive; hence increasing storage capability, power efficiency while decreasing production cost. It's the win-win for both worlds. But not win-win-win though, because performance certainly takes a hit which I'll explain why in a second.
Yet for the first time in forever from that day, 1TB SSD was made a whole lot more affordable to the consumer market. However as you can see there isn't much difference in term of technologies from the M4 to M500, except for the NAND.
Strictly speaking, Crucial did pair the newer Marvell 88SS9187 Controller to keep everything in the right order. The 9187 model is a performance upgrade over the 9174 of the M4, and of course it also uses Crucial's custom firmware to ensure quality standards.


Once you have the basic understandings of Crucial Mxxx series, the next few models are as easy to grasp as taking a Dalmatian for walk in the park and ended up with 100 more of them just cause.
Now let's talk why performance would take a hit when going with bigger NAND die. The M550 uses 64Gbit die for its 128GB/256GB models and 128Gbit die for 512GB/1TB models. The reason Crucial brings back 64Gbit die in the M550 series is because it has great benefit for performance.
The keyword you want to know now is Parallelism; the higher capacity a NAND die can store, the less die it needs to reach goal capacity –eg. you need 4 x 64Gbit die to make 256GB, but you only need 2 x 128Gbit die to make 256GB. However, two NAND dies always receive data a lot slower than four NAND dies.
That's why in most benchmarks you may see smaller capacity M500 such as the 128GB/256GB with 64Gbit die (instead of the new 128-bit die) have very aggressive scores all across the board, because there are more dies and cost more. We'll talk more about Parellelism in the MX200 Series below, one step at a time so it'll be easier for you to digest the information.
Nevertheless, another key factor that affects performance of SSD is the controller. Fortunately, M550 comes with an updated Marvell controller: the 9189 series (vs. M500's 9187). The newer controller adds support for Low-power DDR cache and better optimization for DevSleep (a feature that helps reduce power on SATA devices). Crucial also added their own tweaks to maximize performance of the M550 and a proprietary full power loss protection to prevent data corruption in a write cycle when the power is suddenly out.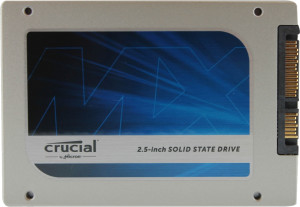 MX100 is the one of the best sellers Crucial has brought to the SSD party.
It means to replace the M5xx series with smaller 16nm NAND (really, really better pricing and greater power efficiency) and equips the same Marvell 88SS9189 controller as the M550 (really, really fast and stable).
In my opinion, the MX100 could easily replace the M550 when it comes to performance, reliability, pricing and security; but as Crucial wants to keep that model as an high-end choice –it is what it is. Therefore, Crucial caps the MX100 series at 512GB while leaving 1TB option available only to M550 series. If you ask how MX100 compares to Samsung 840 EVO, I'd say that the MX100 is a slightly better bang for the bucks.
MX100 easily tops the chart (second place is 850 EVO series) in small random file writes, but loses to 840 EVO in small random file reads. It goes at the same level as 840 EVO in sequential writes and even beats 850 EVO in sequential readings. It performs on par with the more expensive M550 and also supports Redundant Array of Independent NAND (R.A.I.N) — which is a Micro's technology that automatically creates a portion of backup parity to prevent data loss. Though it still lags behind the Samsung 850 Pro by a quarter mile in every race –but then again, that is like comparing a electronic bicycle to a motor bike; it just isn't fair.
The MX100 is made for mid-level consumer market who wants to get the great performance of SSD without putting a hole in the wallet and going through a divorce, while the Samsung 850 Pro is obviously designed for the power enthusiasts at a very beasty level.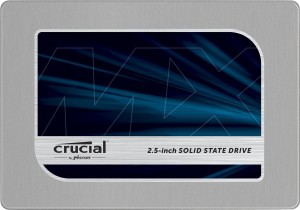 Over the course of one year since the MX100 was first released, Crucial finally announces the MX200 series in the beginning of February 2015. This new model comes with a few upgrades, while also available in different I/O interfaces and applications for mainstream consumers such as SATA 2.5″ (7mm height with 9mm bracket), mSATA, M.2 Type 2260/2280.
Now even though the MX200 is the direct successor to MX100 series, it is not a giant leap in evolution. When you look at the core of MX200, you'll find the same Marvell 88SS9189 controller used in the previous generation. You will also find the similar 16nm 128Gb MLC NAND once defined the great reliability and power efficiency of the MX100. So what's new?
Dynamic Write Acceleration — this technology has first been seen in Sandisk SSD we mentioned last week, which is known as nCache over there. The Dynamic Write Acceleration was originally developed for Micron SSD series (mother company of Crucial) and now implemented in the MX200 models. What Dynamic Write Acceleration does is giving traditional MLC NAND flash a plot twist in design.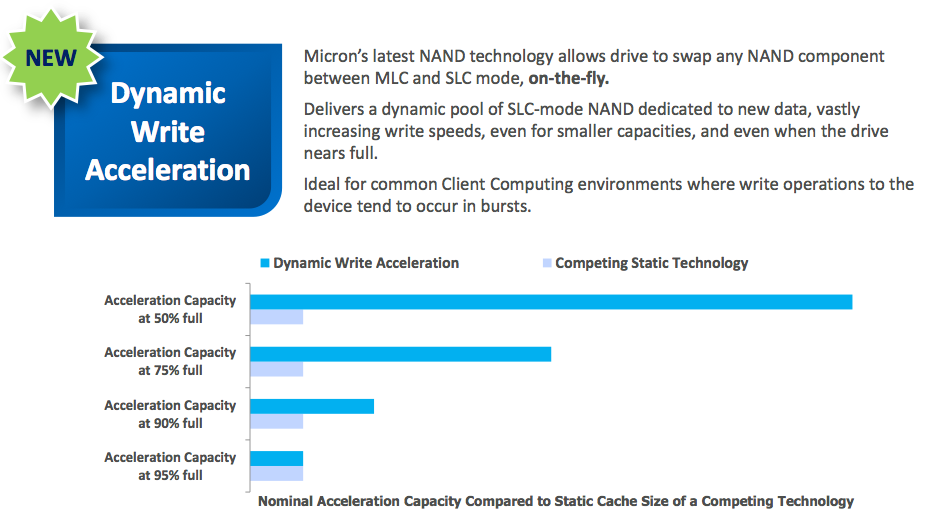 If you already know, MLC is a 2-bit per cell storage and is a lot cheaper for manufacturer to produce than SLC NAND, thus we have very affordable SSDs today. On the other hand, SLC NAND type consumes more power and is very expensive; however it's twice as fast in term of performance and has a longevity that outlasts both MLC and TLC NANDs.
To solve this problem, it'd be great if someone comes up with something right in between, right ?…So here we have the Dynamic Write Acceleration technology that automatically creates and adjusts a portion of NAND to operate as SLC mode right among the traditional static MLC NAND.
Other Features — Besides the existing Power Loss Protection, Redundant Array of Independent NAND (R.A.I.N) and 256-bit encryption, Crucial now adds Adaptive Thermal Protection to enable greater power efficiency of the drive by shutting down storage components that are not in used.
The MX200 with most specs are identical to the MX100 series is expected to delivered very similar performance to its predecessor. However, Dynamic Write Acceleration will give MX200 more burst speeds when writing small files and having SLC cache also extends the overall lifespan of the MLC NANDs; Though this technology is only available in the 500GB and 1TB models, due to parallelism is already fast enough to eliminate the need for Dynamic Write Acceleration.
If you are looking for one of the most reliable SSDs in the market, the MX100 and MX200 are your best bet. MX200 don't shine a lot in the performance races but you certainly get many valuable features only found in enterprise Solid state drives, especially parity scheme R.A.I.N and Data Path Protection. The MX200 has a life expectancy up to 320TBW, while Samsung 850 Pro is maxed out at 150TBW.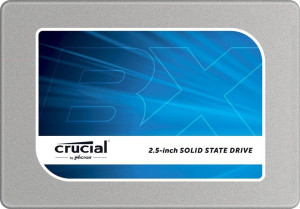 As MX100 and MX200 are serving mid-tier power users, the value-oriented BX100 targets the entry-level market where consumers are taking first steps towards the higher performance that of Solid State Drives. Crucial puts in quite an effort to have BX100 join the competition against Sandforce-based or Samsung's early TLC solid state drives, at a very very affordable price point.
Now first thing you need to know is that unlike the rest of the Crucial Mxxx SSD family, BX100 isn't paired with a Marvell controller.
Instead we have a relatively new, less familiar 4-channel SM2246EN controller manufactured by Silicon Motion at the heart of the drive. If anyone knows, this controller has presented itself before in ADATA SP610 solid state drive and so far it has shown to be the better alternate option of the older Sandforce-2281. Specs wise: the SM2246EN has higher IOPS, smaller packaging and better optimization for an array of different NAND technologies from different manufacturers.
Speaking of NAND, you'll find the same Micron 16nm 128Gbit MLC that we've been talking about –since last year MX100 and yesterday MX200. Well time flies, huh. But no surprise dickbutt here, so move on!
Let's talk about where the BX100 belongs.
However, when you look at the price of this drive at this very moment, I'm seeing $380 for 1TB — that is impressive because MX200 1TB is $445 and Samsung 850 EVO 1TB is $420. Cost may change in the future but the only thing we will be sure of is the price of BX100 will continue to get better.
Now before we close up, there are features that not available in BX100 when compared to MX200 and I feel obligated to let you know.
The BX100 does not have Dynamic Write Acceleration (no SLC cache), is not available in M.2 and mSATA platforms.
It has a standard 72TBW lifespan versus 80/160/320TBW of MX200.
Even though the SM2246EN controller supports AES 128/256-bit encryption, the BX100 does not support hardware encryption –meaning no Bitlocker.
You don't get a free copy of Acronis® True Image™ HD as you would do with MX100/MX200.
BX100 does not support Redundant Array of Independent (R.A.I.N) which is a server-class RAID technology made available to consumer-grade SSDs thanks to Crucial.
It also does not have some of the premium features such as Exclusive Data Defense (prevent corrupted files), Adaptive Thermal Protection (shutdowns storage components when the drive temperature exceeds 75°C), Power Loss Protection (preserves data during power loss) and Data Path Protection.
If you can live on soundly without those missing features, the BX100 is definitely a nice and great SSD to upgrade from that older mechanical drive.

MX300
5 Best Budget SSDs : Crucial MX300, Samsung 750 Evo, Intel 600P and OCZ RD400 Comparison
Benchmarks & Specs Comparison
3 Quick Steps to Optimize Your System for a Solid State Drive
The Differences between Sandisk Ultra Plus, Ultra II and Extreme PRO