1 – The 8th Gen Family – What's New ?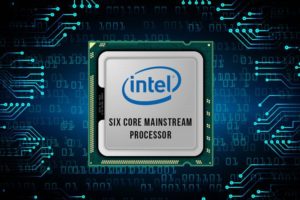 Good day fellow PC builder, this is your captain oblivious reporting for duty. According to our recent gov't short-funded research, the Intel 8th Gen family a.k.a Coffee Lake apparently consists of three unlocked processors:
i7-8700K
i5-8600K
i3-8350K
and three casual versions of them which are i7-8700, i5-8400 and i3-8100 –as of Oct 2017. Not sure what the future holds, but que sera sera –yet let's hope it's a box of chocolate.
Prefer older gen CPU?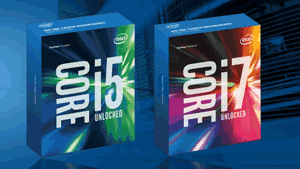 Skylake i7 6700k, i5 6600k vs. Haswell – 125% Brutal
!
---
Since Sandy Bridge generation, unlocked processors have been affixed with letter K to their name to show off the fact that they are genetically better. These CPUs allow you go dracarys all you want, probably until some wall burned down if needs be.
On the other hand, if you are not so keen on spending more money for a cooling kit just to overclock the Daenerys out of these K processor, the i5-8400 is one of the best-bang-for-the-bucks CPUs of the entire 8th Gen line up as of today.
Though we are aware of AMD 6-core offering since forever, let's give Intel the spotlight for just a moment today. Intel mainstraim Core i-series processors surprisingly dominates their equivalent AMD counterparts when it comes to single-threaded applications, performance-wise. However, they gradually run out of breath upon heavy duty video processing tasks where the 8-core in Ryzen 7's are fully appreciated.
There is not much difference when it comes to gaming at Ultra settings, though –which should answer a question many folks may have in mind. At Ultra settings, the test becomes GPU-dependent hence it's time to get them GTX 1080 Ti in SLI while you are at it.
I'll expand all these claims a little further down in the benchmark section. But here is the first comparison chart, specs wise.
Using Kaby Lake / Sky Lake Motherboard for Coffee Lake CPU?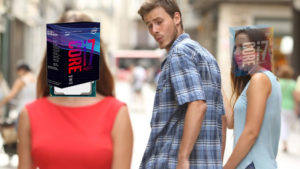 For those who are hoping to ditch your i7-7700K or i7-6700K for the hot new i7-8700k –or any current Kaby Lake / Sky Lake for Coffee Lake for that matter, not so fast!
There are average news and terrible news for you.
The average news is Coffee Lake generation remains the same physical LGA-1151 socket as your current Sky Lake's or Kaby Lake's. The terrible news is none of the Coffee Lake offerings could actually work with your older Z270 motherboard, even with a compatible LGA-1151 socket or after firmware upgrade.
I have a feel that Intel wants us to buy new motherboard while at it. There's some kind of well-covered conspiracy here but I'm not Benjamin Gates enough to discover the truth about it. But the good news is we're aware…Well.
Any way, the newer Z370 chipset has different power allocation in order to meet Coffee Lake voltage requirements –along with better support for DDR4-2400 RAM; hence a slightly different pin pattern than the original LGA-1151 to accommodate the changes. However, since the notches to keep you from installing a wrong CPU into the socket are the same as the 7th and 6th gens, the 8th gen CPU will actually fit older Z270 mobos easily!
Therefore, dropping a i7-8700K into a Z270 motherboard should promptly hand you a very joyful series of unfortunate events. Be sure to post it on r/TIFU for others' viewing pleasure if it happens..
2 – Differences in Cores and Threads
Now on the other hand, the most significant internal difference between Coffee Lake family vs. Kaby Lake, Sky Lake or older gens is that Intel has upped the Core and Thread count in each of the new mainstream processor division.
In 2007, Intel first introduced the quad-core processors to the common market. Ten years later today, we finally have a chance to welcome the first official mainstream six-core CPU for everyday PCs.  An Intel 6-core processor before this was only meant for workstation / serious enthusiast build and it alone costs over $400 to own.
Take a look at this quick comparison below.
Coffee Lake vs. Sky Lake Mainstream Processors : Cores and Threads

CPU

i7 Coffee Lake

i5 Coffee Lake

i3 Coffee Lake

i7 Sky Lake & Older

i5 Sky Lake & Older

i3 Sky Lake & Older


Cores

6
6
4
4
4
2

Threads

12
6
4
8
4
4
www.custompcguide.net
---
As you can see, a mainstream i3 Coffee Lake is now just as many cores and threads as an i5 of the last gens. This change is great and very impactful. Intel really brings much more value to end-consumers this time around as we finally get a good jump in performance for the price of yesterday. Well technically that's how life is in the PC world anyway, but wouldn't you be glad it happens!
This also must be a direct answer from Intel to AMD, since Kaby Lake has been having a run for its money as of late, due to the wraith of the Ryzen family.
Competition directly keeps the users happy and the market moving forward at a faster pace. So even though today is all about Coffee Lake, I think we should also find opportunity to support AMD once in awhile –build a workstation out of Ryzen or so somewhere in time, you may actually fall in love with the performance for the price spent. That would help AMD stay in the game and keep battling Intel as long as the future holds.
In absence of a push for market dominance, we only have inferior improvements from any manufacturers; just as how it turned out for Broadwell, Skylake and Kaby Lake the last couple of years. They were good indeed, but not impressive nor it would give anyone much excitement like i5-2500k and i7-2600k did 5 years ago. Look at me..I was this happy on the shopping day @ microcenter when I saved enough money to get the i7 2600K –with a 3-year replacement plan that I didn't even use to upgrade because all the love was for Sandy Bridge:

3 – Differences in Die Size
Anandtech has a very lenthy article explain in details about the changes in Intel die sizes and whatsnot, you could head over for a read. But here's a TL;DR, note the + and ++.
Microarchitecture

Process Node

Conroe/Merom
65nm
Penryn
45nm
Nehalem
45nm
Westmere (1st)
32nm
Sandy Bridge (2nd)
32nm
Ivy Bridge (3rd)
22nm
Haswell (4th)
22nm
Broadwell (5th)
14nm
Skylake (6th)
14nm
Kaby Lake (7th)
14nm+
Coffee Lake (8th)
14nm++
Cannon Lake (9th)
10nm
www.custompcguide.net
The 14nm process node has been implemented since 3 generations ago; starting with Broadwell in 2014, then to Kaby Lake and now Coffee Lake.
Intel seems to be a little behind schedule because according to 2015 planning, today would have been the prime day for 10nm process node.
Without 10nm anywhere near the horizon last year, the Kaby Lake instead implements a modified version of the 14nm; and it becomes 14nm+. The differences? Intel goes more easy on the manufacturing parameters. The relaxing 14nm+ also sports a new Fin Field Effect Transistor (FinFET) profile to achieve higher frequencies and stability during overclocking.
Coffee Lake 14nm++ is similar to Kaby Lake in every features, except an even more chill Transistor Gate Pitch. In other words, the gate pitch increases in size from 70nm to 84nm which essentially allows higher clock frequencies and peak power.
The trade off is a bigger overall die size, more heat and power consumption on system idle. Is it all a step back? Yes and No. Intel took a compromise to deliver more. I think we are OK with that for the value the 8th Gen provides.
4 – Specs Comparison
Intel i7-8700k vs. Kaby Lake i7-7700k, Sky Lake i7-6700k and the legendary Sandy Bridge i7-2600k.
i7-8700k

i7-7700k

i7-6700k

i7-2600k

Base Clock
3.7GHz
4.2GHz
4.0GHz
3.4GHz
Turbo Boost
4.7GHz
4.5GHz
4.2GHz
3.8GHz
Cores
6
4
4
4
Threads
12
8
8
8
L3 Cache
12MB
8MB
8MB
8MB
DRAM Support
DDR4-2666
DDR4-2400
DDR3-1600
DDR4-2133
DDR-1333
Integrated Graphics
HD 630
HD 630
HD 530
HD 3000
IGP Frequency
350MHz
350MHz
300MHz
850MHz
IGP Boost
1.2GHz
1.15GHz
1.05GHz
1.1GHz
TDP
95W
95W
91W
95W
MSRP
$380
$319
$314
$160
www.custompcguide.net
i5-8400

i5-7400

i3-8100

i5-2500k

Base Clock
2.8GHz
3.0GHz
3.6GHz
3.3GHz
Turbo Boost
4.0GHz
3.5GHz
3.7GHz
Cores
6
4
4
4
Threads
6
4
4
4
L3 Cache
9MB
6MB
6MB
6MB
DRAM Support
DDR4-2666
DDR4-2400
DDR4-2400
DDR-1333
Integrated Graphics
HD 630
HD 630
HD 630
HD 3000
IGP Frequency
350MHz
350MHz
350MHz
850MHz
IGP Boost
1.05GHz
1.0GHz
1.1GHz
1.1GHz
TDP
65W
65W
65W
95W
MSRP
$190
$185
$120
$150
www.custompcguide.net
---
5 – What You Should Know
The Turbo Boost speed you have seen above is effective only on 1 core. The rest of other cores may not run at the maximum frequency declared, and the actual speedy doo bee doo will no longer be discussed by Intel according to their new public policy. But that does not stop PC enthusiasts from discovering the secret data. Below is the Turbo Boost frequencies per core of Coffe Lake 8th Gen family.
Coffee Lake Non AVX Turbo Boost Speeds
CPU
Base
Core 1
Core 2
Core 3
Core 4
Core 5
Core 6
i7 8700k
3.7GHz
4.7GHz
4.6GHz
4.5GHz
4.4GHz
4.4GHz
4.3GHz
i7 8700
3.2GHz
4.6GHz
4.5GHz
4.4GHz
4.3GHz
4.3GHz
4.3GHz
i5 8600k
3.6GHz
4.3GHz
4.2GHz
4.2GHz
4.2GHz
4.1GHz
4.1GHz
i5 8400
2.8GHz
4.0GHz
3.9GHz
3.9GHz
3.9GHz
3.8GHz
3.8GHz
i3 8350K
4.0GHz
4.0GHz
4.0GHz
4.0GHz
4.0GHz
i3 8100
3.6GHz
3.6GHz
3.6GHz
3.6GHz
3.6GHz
www.custompcguide.net
Highlighted are the more interesting processors. The i5 8400 in particular, has a shocking low base clock frequency of 2.8GHz. But when it decides to go super saiyan, the scouter indicates an average of holy-shit-nappa 3.8GHz in power. The i5 8400 expects to run for $190 and what you get is a 6-core, low TDP @ 65W, big boost frequency CPU that as competitive as the more expensive i5 8600K that has much higher TDP. As I mentioned earlier, this i5 8400 would have been a very fast $400 six-core i7 of just a couple of generations before.


on sale

Speaking of the i5 8600k, most dedicated gaming PC builders may choose the i5 8600k but overlook the i7 8700 non-K version. Under boost mode, the i5 8600K has the average speed of 4.3GHz which is a little less than the i7 8700 @ 4.4GHz. I know that 100MHz does not make much of the difference but on the other side of the coin, the i7 8700 has a very low TDP @ 65W, TWO extra cores and a higher L3 Cache than the i5 8600K for less than $50 more. That's $25 per core. Core i7 8700 is a much better value, faster performance for those who are not interested in overclocking.
Integrated Graphics Chipset HD 630. For folks who are on a budget or don't want to spend on discrete graphics card, you'll find that iGPU in the new Coffee Lake gen are 50MHz faster than Kaby Lake and supports HDCP2.2. Other than that, not much of a difference to its older sibling.
z270 vs z370 chipset: everything is the same. z370 delivers up 20-24 PCIe 3.0 lanes, six SATA III ports with RAID 0/1/5/10, 14 USB ports consists of 2.0 or 3.0, and support for network controllers, Thunderbolt 3 as well as booting from an Intel Optane memory.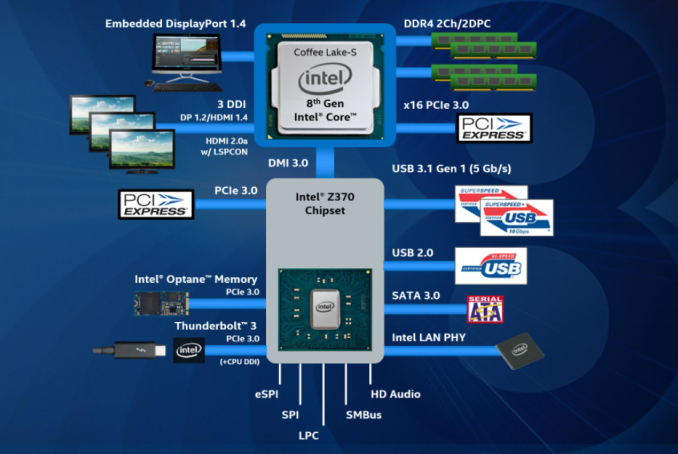 6 – Benchmarks
It's all fun and smiles like Negan, until we line up all these AMD and Intel processors and hit them with a bat bunch of stress tests to see which one pukes out a brain first. Remind us of an episode of Walking Dead lately.
FYI, we'll be using the recommended DDR4-2666MHz 32GB RAM for an i7-8700k build and DDR4-2133 32GB RAM for Ryzen 1700X build. The z370 chipset, according to Intel's own explaination, now officially supports DDR4-2666 which makes it different to z270 chipset. But once again, we have to (x) doubt on that because Asus said they could have made z270 compatible with everything Coffee Lake demands just fine. Our rig showed a default speed of 2400MHz for RAM before we made the changes. Everything else is maxed out to the best stable condition the system can handle during long stress tests.
---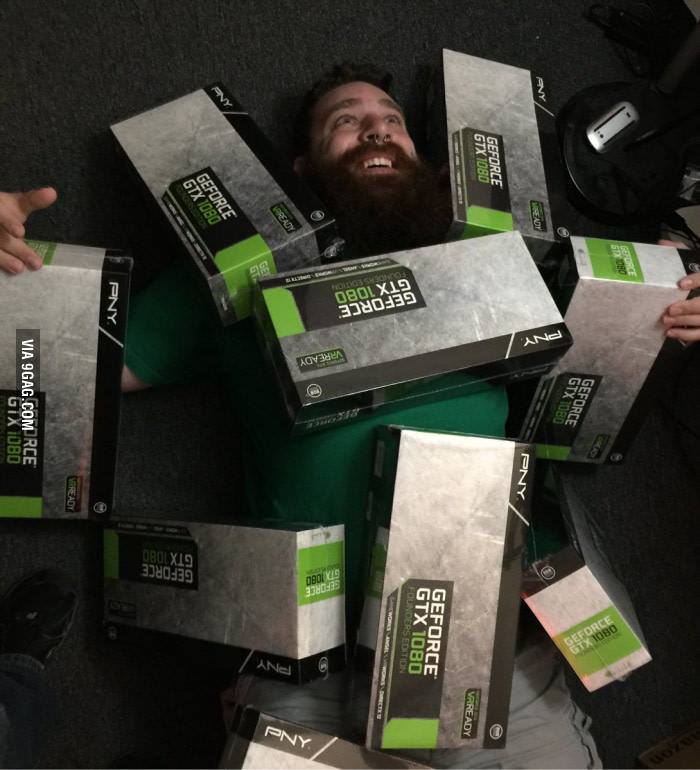 Legend says this editor's life and dream have been filled with happiness ever since then. He still continues to space out like that to this day.
---
---
---
---
---
---
However, you may have noticed that these tests run on High settings instead of Ultra.
PC Gamers who own an high-end graphics card such as GTX 1070 or RX 570 usually tick the Ultra settings. At such level, you guys will not notice any difference between the CPU performance at all, since most of the intense rendering are now accounted for by the GPU. So it does not matter what CPU you have anymore.
---
Which One Coffe Lake Processor Should I Get ?
It will be a tough question since there are so many variations.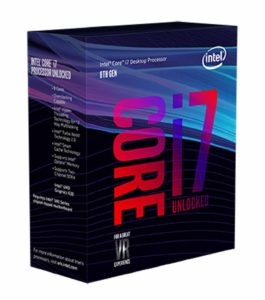 i7 8700K: It's the top of the line in the mainstream Coffee Lake family today. The i7-8700K is pretty efficient in term of single core performance. When overclocked, it's a powerful beast compare to Ryzen 8-core 1700X or even the 1800X. The drawback is this generation runs a little hotter and draws slightly more power than the last, maybe it's a worthy trade-off.
But beware, folks who does video editing or utilize applications that can take advantage of more cores should be going with Ryzen 7 processors instead. The 1700X and 1800X shine beautifully under such conditions.
i7 8700: For reasons mentioned above, I really think this processor would give the i5 8600K a hard sale, if the buyer knows. It is everything better, has more cores, lower TDP –but without the overclocking capability and it costs about $40 more. Which one would you go with?
on sale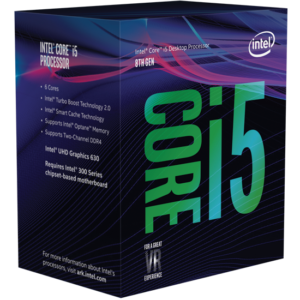 i5 8400: if you are upgrading from three or older generations ago and does not care about overclocking –this is the best bang, well masked, powerful 6-core CPU that meets both the performance and budget. Did we mention it's also super energy-efficient @ 65W?
i3 processors are for those of us who wants a great living room PC that occasionally plays a couple of Starcraft matches or CoD when friends come over. Or girlfriend who wants Netflix and porn chill. Say no more. It'll play the wincest GoT at 4K without breaking a sweat.
Drop a vote in the comment section to let us know which one you'd want to go with! NO? OK!!! No feel got hurt.