1. Antec Sonata III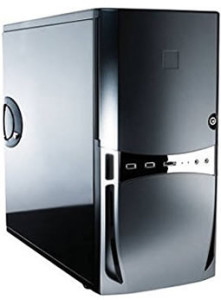 Antec has successfully designed Sonata III as an elegant and sleek looking case. The front panel comes with the standard two USB 2.0 ports, one eSATA and HD Audio/Microphone jacks.
The metal double-hinge door has a mechanic lock that restricts access to optical drives. It can be opened using the provided key, but I find little use for it. Sure there are still hackers out there who totally want to jack your computer but they would do it via a complex network like someone in Watchdogs. Right? Guys? So the case seems to be just for show. Or maybe prevent kids and dogs from chewing out your optical drives.
The case also comes with Antec's Earthwatt line power supply unit. This is one of the very good quality, energy-efficient and reliable PSU on the market. However, if you desire to throw in n high-end gaming video card or turn Sonata into a powerhouse Workstation, you may want to look at other options.
PROs:
Each hard drive bay comes with its own silicone grommets to absorb hard drive vibrations.
500 watts energy-efficient power supply. Those who are looking to cut a budget may find this an attractive deal.
Solid and thick panels to filter internal noise.
Very quiet and nice, sleek looking design.
Comes with a key for front panel door lock. It might be extremely helpful for some of us, but I can't think of any good reason for myself. Or maybe someday when I start doing the herbal medicine business and suddenly someone wants to search the room.
CONs:
As much as opposite to the exterior look, the interior materials feel cheap and plain.
All rear brackets and drive bays requires a screw driver to work with but this is just a minor issue.
The greatest concern I have about Sonata III case is its cooling ability. It comes with only one rear fan and has just one more option for the front fan. All other areas of the case are solid metal and does not provide great ventilation. Direction of the airflow totally depends on just the rear and front fans, with the aid of power supply's fan mounted at the top of the case.
The power supply in Sonata III is installed at the top and it sucks hot air from other components towards its own hardware before blowing out to the back of the case.
Little cable management.
Limit space for long video card, only up to 10.5″ in length.
---
2. Antec SOLO II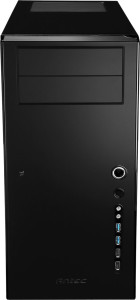 SOLO II immediately gives you the impression of a modern, elegant chassis with its glossy finish. The chassis frame has a nice, simplistic and minimalist look; while the front panel delivers a great amount of peripheral connectors : two USB 2.0 ports and 2 USB 3.0 ports as well as Audio output and Microphones input.
PROs
The top and side panels are polycarbonate and steel electro-galvanized cold-rolled coil (SECC) that can effectively absorb internal noise and dampen loud sound.
2.5″ drive bay is ready for Solid State Drive Installation.
Power supply is mounted at the top of the chassis, but this time it is not a bad thing when you can make use of the open vent at the top of the case to reduce hot air.
CONs
Limited amount of internal bays : only two 5.25″ optical drives, three internal 3.5″, and one internal 2.5″ slots. However, that is a reasonable number for most of us.
The glossy design is very pretty but it's also a fingerprints magnet.
---
Define R4 has become very popular choice for the enthusiast custom PC builders ever since its launch date to replace R3 series.
The unique front panel has a sleek, modern and beautiful design; though it may seem boring to a gaming build, but many of us have fallen in love with the simple yet unique look of the R4. The chassis materials feel very sturdy and heavy at times, especially when you start to stuff it up with more high-end components. The only thing that I would personally love to have on the R4 is an external hard drive bay (like the NZXT H2 below), which could become really convenient when you need it.
PROs
All buttons and connectors are located at the top of the case.
Very quiet operation.
Side panels have sound dampening sheets to reduce noise.
There is fan grill cover in place of unused fan slot to block the escape of internal sound.
Large cutout on motherboard tray for easy installation of cooling bracket.
Good cable management support.
Removable top drive bay to give space for high-end video card.
CONs
Model that has clear side panel is slightly louder.
Internal temperature could rise as high as mid-70°C if all drive bays are equipped.
Lacks a hot-swappable hard drive bay.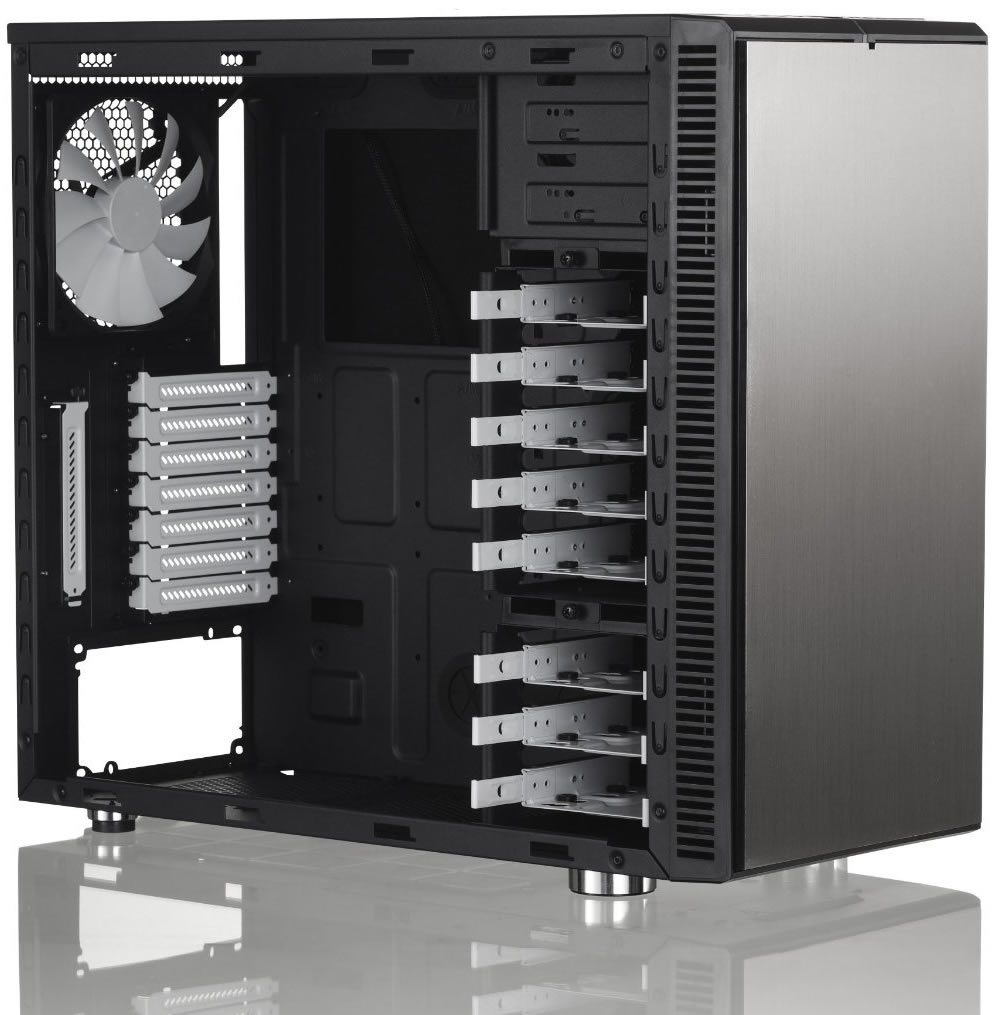 ---
4. Antec P280
The P280 will definitely bring you on a feel train of beautiful, modern and high-tech look on the first impression. Similar to Define R4, this case also has minimalist look but blessed with a more luxurious, bolder design. The set of USB and Audio ports are located at the top of the front panel, yet they still manage to blend so nicely with the case sleek designs.

PROs
Good looking.
Open vent along the rear panel on the side of the motherboard tray.
Large hidden front vent for extra air flow, covered by a dust filter.
Bottom-mount Power supply.
Fan controllers are available in the back of the case.
Bottom dust filter.
2.5″ SSD bay is available
Large top vent that is good enough for two 120mm fans or 240mm radiator.
Excellent cable management.
---
---
5. Corsair Obsidian Series 550D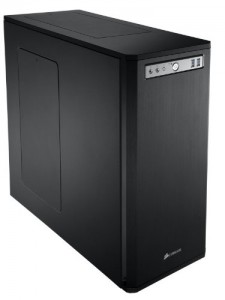 Obsidian 550D is Corsair's first silent case in the chassis market. They have designed many successful lines of gaming cases such as 400R to the good-looking 600T and 850D. It is very bit surprising to see Corsair wants to tap into this more quiet side of the market.
The first sight shows that 550D has a mixed look of both Fractal Design Define R3 and Antec P280. All ports and connectors cluster for peripheral devices is fixed on the front panel and blends in from the open area of the swing door.

PROs
Front door can swing to either left or right side, thanks to the unique C-clasp design on the four corners of the door.
Excellent cable management with rubber grommets.
Bottom-mount Power supply.
Sound-dampening foams attached to all side panels, very effectively reduces noise level created by internal fans.
Eight brackets on the rear panel means the case supports many add-on cards.
2.5″ Solid State drive is supported.
Roomy space for very easy assembly.
Removable dust filters.
Supports up to eight fans.
CONs
Roomy space which means 8-pin CPU cable on some power supply may not be able to reach the destination.
Door hinges feel cheap and may have some long-term durability issue.
---
6. NZXT H440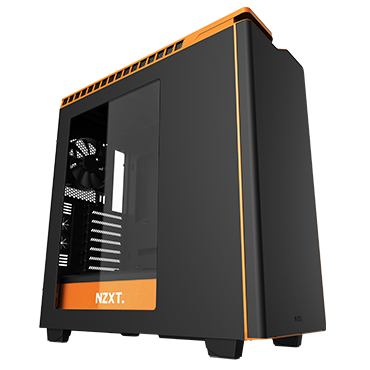 I'm gonna introduce you this latest, hottest design in the quiet chassis market directly from NZXT. This case packs so many great features and looks so nice that it'd make your girlfriend jealous. Let's weigh the pros and cons to see whether this is your best fit.
PROs
Nice look.
Very smart screw design on side panels. You only need couple of turns to detach the side panel from the case and the screw won't go any further. That helps guys like us tremendously because screw tends to fall into black hole when they hits the floor.
Excellent cable management.
There is rubber grommet on each of the three cable hole and each one physically tilts a little bit, rather than sits flat on the mainboard tray.
Plenty of room to hide cable in the bottom compartment.
Top and Front vents are pretty. They come in different color and look more like an accent touch for the overall design than being there as the vents.
Four USB ports at the top panel with two of them being 3.0
Three fans pre-installed behind the front panel.
1x120mm Fan on the back (also fits 140mm).
Top panel can hold up to 240mm radiator or 2 additional fans.
Clear side window that shows off the components and the LED NZXT logo (can be turned off via a switch on the back).
Two 2.5″ bays sit on top of the power supply frame.
Five 3.5″ tool-less drive bays.
Hold full-size 305mm or 406.2mm video card.
Thick noise-cancellation foams on side panels and front panel.
Easily removable dust filters on the front panel and at the bottom of the case.
Comes in 5 different colors: White, Orange, Red, Blue, Green.
CONs
No optical drive bay and no other front panel bay. It's a solid frame.
A bit heavy.
Slightly more work to put the power supply in.
No external SATA bay.
No fan speed control.
---
7. Nanoxia Deep Silence 5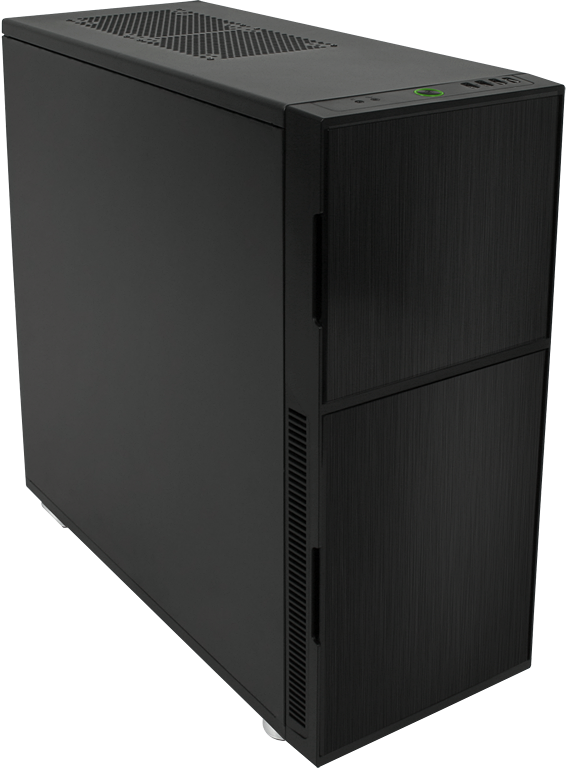 Nanoxia is an interesting two year-old chassis manufacturer who is half across the world from us –Germany. Know how I revealed their origin? It's hidden somewhere on the box.
Nanoxia is a fresh and young company but they have quickly earned a very respectable number of enthusiast PC builders lately; mainly accounted for the success is the Deep Silence series that hit the market in early 2013. The first and oldest of this series is the Deep Silence 1 but we'll be looking at the newer 5th model today. There aren't many significant differences between each model except for the size of the chassis.
Deep Silence 1 is a badass looking mid-tower that fits ATX motherboard.
Deep Silence 2 is also a mid-tower (18.4″ in height) but it's a big bone one that fits even E-ATX motherboard.
Deep Silence 3 is another shorter mid-tower (17.9″ in height) that houses up to ATX-size motherboard.
Deep Silence 4 is a m-ATX tower.
Deep Silence 5 is a full tower and Deep Silence 6 is probably about the same size as the Barad-dûr, but with a retractable chimney.
Follow right up with the health warning above, this chassis weighs 35lbs. And due to the wide size it has — 9.1″ W x 21.6″ D x 21.6″ H (232mm x 550mm x 550mm) — you will be able to use this case for a routine wide grip dead-lift superset as a bonus. Now that is before any other components assembled, so you shouldn't be surprised when the scale hit 45lbs+ (20kg).
Ok with that lifted off my chest (no pun), let's look at all the best highlights of the Deep Silence 5 !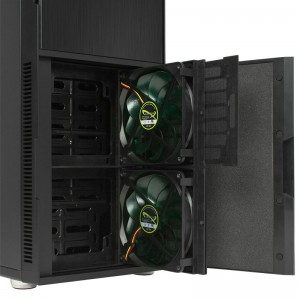 PROs:
Elegant, minimalist design.
Very sturdy and strong build quality with the entire main frame is actual steel.
Preinstalled with 3 Fans (Two 140mm front, One 120 back).
Two USB 2.0 and Two USB 3.0 ports at front top panel.
Dense sound-proof foam with honeycomb pattern on left side panel.
Dual-layer noise absorption & insulation sheets consists of bitumen fabric and compound foam.
Removable noise-dampening squares at top vent for installation of two 120mm or 140mm fans.
Front fans are equipped with dust filters and sit on tray that swings open.
Two on-board fan controllers for up to 6 fans.
Tool-less 5.25″ optical bay.
Bottom 5.25″ bay has built-in removable 3.5″ bracket for installation of media card reader.
Excellent cable management.
Four cutout holes at the top of back panel for custom water cooling setup.
Tall chrome feet with vibration-dampening rubber center help leverage the chassis high off the floor.
All metal drive-bays are modular and removable.
Bottom-mount PSU location with raised rubber feet to reduce vibration and promote airflow.
Fits even XL-ATX and E-ATX.
Comes in Black and White.
Window side panel model is also available.
Great ventilation.
Most quiet case in this round up –it's perfect for server, workstation, gaming machine.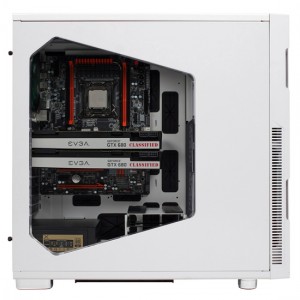 CONs:
Very heavy at a time. You'll get used to it with daily increase in protein intake (Optimum, anyone?).
Door that swings open to the right.
Plastic door feels cheap when compared to the steel and metal chassis frame materials.
Bulky. The Deep Silence 1, 2, 3 and 4 are the smaller alternates.
If you want to go really big, go with Deep Silence 6.
Hard drive bays are no tool-less.
No external hot-swappable drive bay.
---
8. Cooler Master Silencio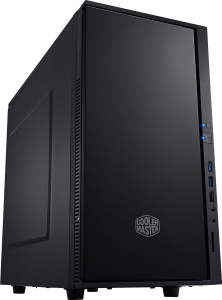 Most people know Cooler Master by their famous lineups of HAF and CM Storm gaming chassis. The mini-itx crowd on the other hand finds pleasure in the Cooler Master Elite series that we accidentally mentioned them in 5 Best Mini-ITX Chassis the other day. What about for those of us who need still peace and quiet tranquil while we're rising hell in enemy's base ? BUT NOBODY EXPECTS THE SPANISH INQUISITION!
And there, Cooler Master has brought us the new and pretty Silencio series –which means "quiet" in English.
First off, the Silencio is quite a small family when compared to Elite, HAF and CM Storm's.
The 450, 650 and 650 Pure are Silencio's first generation and they bear an older, less attractive design.
The 452, 550 (Black & White), 652 and 652S are the second generation, look very good and we will be mainly discussing the 652/652S models today. Note : The higher the model number, the taller the tower is. Just like our Nanoxia Deep Silence above.
PROs:
Steel chassis frame feels solid and sturdy.
Beautiful, elegant design on top of minimalist aesthetics.
Stylish door that doesn't take space of the whole front panel. Opens to left.
Front vertical vents run on both front sides of the chassis.
Buttons, two USB 2.0 & two USB 3.0 ports, SD card reader are located on the right of front panel.
4 top smart, tool-less, removable drive bays and drive sleds that can transform to accommodate both 2.5″ and 3.5″.
3 bottom tool-less permanent 3.5″ drive bays.
3 hidden mounting locations for 2.5″ drives.
Removable plastic covers on the top and left side panel for optional installation of 180/200mm fans (left side) or two 120mm fans (top).
The top panel can also be used to 240mm radiator.
Thick acoustic foams installed on both side panels.
Intuitive, and spacious interior.
Excellent cable management with rubber grommet on every cut-out hole.
Dust filters available at the top, bottom, front, side panels.
Supports video card up to 423mm in length (16.6″)
The 652S model comes with 3 premium Silencio FP 120 fans (2 x front, 1 x rear) with noise level less than 11dBa and speed up to 1200+ rpm. The superior fans have a life-expectancy of 160,000 hours and an IP6X dust-proof design.
The 652 model has one 180mm installed on the front panel and one regular 120mm fan by the rear.
Bottom-mounting with rubber stand-offs for power supply unit to reduce vibration.
Very good ventilation, very quiet.
CONs:
Heavy side panel. Overall weight is also heavy (10.4 kg or 22.9 lbs). Situation can be remedied with GOMAD diet.
Fans are screwed in on the inside of the front panel and their cable are wired through a hole to the right side panel for installation. Which makes maintenance a bit hassle.
The 652/652S are tall mid-tower at 8.7″ W x 20″ H x 20″ D (220mm x 507mm x 508.6mm).
Look for Silencio 550 / 452 / 352 if you want smaller frame.
The 452 chassis is an economical series thus the material feels more flimsy and the cable management isn't as great as the 550 and 652 series.
No Fan control.
No hot-swappable drive bay.
---
 9. NZXT H2 (Discontinued)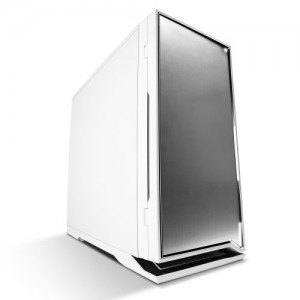 H2 was known to be the first silent case that surprisingly made itself so appealing to the BYOPc enthusiasts.
Besides the integrated low-profile yet practical fan controller plus two USB 2.0 ports and one USB 3.0 port along with the typical audio/microphone jacks on the top of the case, the H2 also has a hidden hot-swappable 2.5″/3.5″ SATA hard drive bay at the top of the frame.
The chassis even comes with two color options of black and white for your choice. One drawback might just be a door to swing open to the left.
PROs
There are noise-cancelling foams on left, right panels as well as the front door.
Two front fans are attached to the case via direct contacts, therefore you can quick detach them for maintenance purposes without the need to disconnect the power wires.
Bottom and front dust filters.
Magnetic cover for top vent to keep noise level down. It can house an additional 140mm fan for exhaust.
Bottom-mount power supply.
Fan controller.
2.5″ / 3.5″ hot-swappable hard drive bay.
Excellent cable management.
2.5″ Solid State Drive bay.
Fit any of the 120mm prefilled liquid coolers.
CONs
A little noisy when fan at maximum speed, but that is still much less than a typical pc case.
Insufficient air volume at high-speed fan setting.
Internal temperature is slightly higher than average but can be effectively reduced in a push-pull liquid cooling setup.
Update : H2 Series has been discontinued. You could say it has been replaced by the H440 in #6 above. I'm gonna miss this case so much and I hope they'll change their mind and bring it back from the death.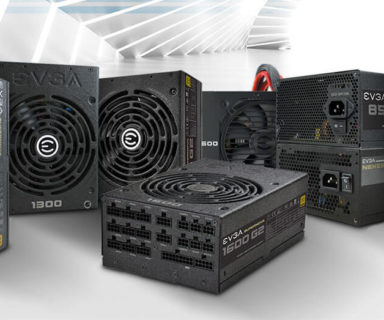 The differences between EVGA W, B, BT, BQ, B3, G, G+, GQ, GS, PQ, P2 and T2 Power Supply
--...So EVGA boss wakes up one day and asks the ultimate question: how can we cause chaos? And the severely under-paid marketing intern probably answers:..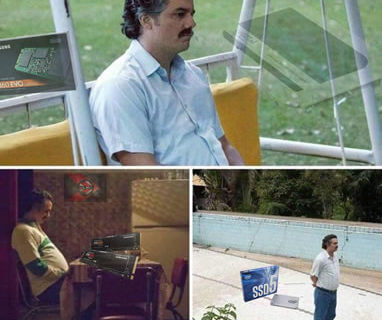 Samsung 860/970 Series vs. Crucial MX500, Intel 545s, OCZ TR200 and Sandisk Ultra 3D
--...During sequential writes, the TR200 manage to have a heart attack and come out worse than its predecessor. Maybe it was seeing things..