### OLD AD CODE WAS HERE ?>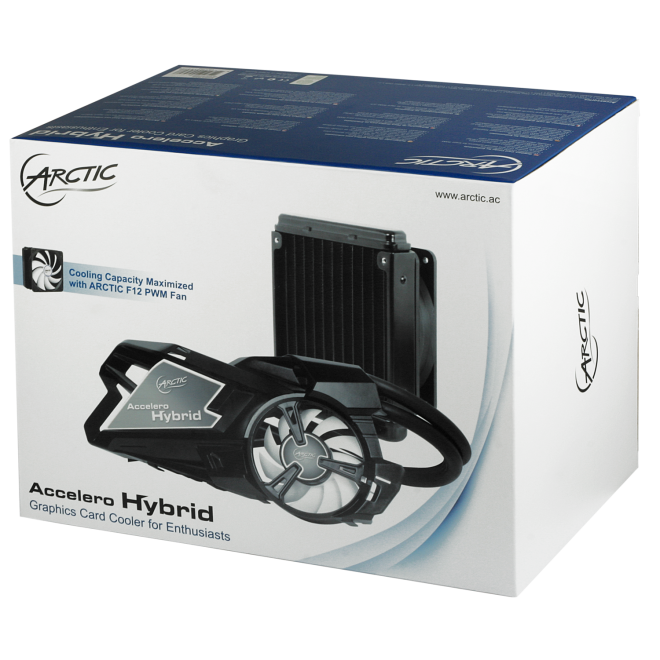 If you have been keeping an eye on the pc cooling market lately, you should have recognized many more strong leap and bound in the liquid cooling technology than it was just a couple of years ago.
Today, we have a variety of reputable manufacturers that now offer self-contained liquid cooler kits for enthusiast and power users who do not want to build a custom liquid cooling system from ground up.
Perhaps, you get to save yourself from a lot headaches by going with these products because they are pre-assembled, simple to install, maintenance-free, leak-proof and come in form of plug-and-play (no planning or testing required).

They are also a lot cheaper than custom loop yet manage to deliver the same level of cooling benefit overall, if not more.
Also Read :

10 Most Quiet Power Supply Units Your Computer Will Love
For the past years, these products are mainly for the central processing unit thus we were beyond the reach to any alternate options for other components in the system, especially the video card. But now that has been no longer an issue when ARTIC released the official mainstream closed-loop liquid cooler last June 2012.
And the good news is it's designed for most of today mid-range and high-end video cards.
We will soon take a further look into this Accelero Hybrid unit, but first let us make it clear which video cards are compatible with the device so there should be no unhappy surprise later on (this chart is directly pulled from ARTIC website).
ATI Radeon

7870, 7850
6970, 6950, 6870, 6850, 6790, 6770
5870, 5850, 5830
4890, 4870, 4850

NVIDIA

680
670* (w/o stacked power socket), 670 (stacked power socket)
660 Ti
580, 570, 560 Ti, 560 SE, 560
480, 470, 465, 460 SE, 460
Also Read : Radeon vs. NVIDIA Gaming Graphics Cards Round-Up : Let The Right One In
If you see your video card on the list above, you are in good shape for the Accelero Hybrid.
First Look
In the similar fashion to self-contained CPU liquid coolers, the Accelero Hybrid replaces the air cooling set (heatsink and shroud) that is pre-installed onto the video card unit itself.
As the name implies, this unit carries both forms of cooling technology : air and coolant. The GPU waterblock is covered by a plastic shroud that also houses a small fan next to it to dissipate extra heat from VRAM memory and the voltage regulator modules.

Being a self-contained cooler, the pump and contact plate are integrated with the waterblock which gives products in this market a fair advantage over customized liquid system : low foot-print and better space-efficiency.
This approach is once demonstrated before by PNY in their liquid-cooled GTX 580s but it is restricted to this specific video card only.
On the flip side, most self-contained liquid coolers still come with different part components rather than a single unit even though their physically connected. You can easily find two rubber tubes permanently assembled to the heat exchanger (radiator) in which work as the pathways for liquid coolant to travel back and forth. The heat will then be taken care of by one 120mm fan.
It is possible to configure a push and pull setup to enhance the cooling efficiency.
In this particular setup, you would sandwich your radiator by two fans that blow in the same direction. This method is used to increase the volume of air that move through the radiator fins. It is really recommended to implement if you see fit.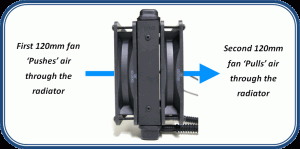 Installation
I have several video cards that fit the list but since the GTX 480 runs the hottest, it surely gives us a clear answer if the cooler is worthy.
During the assembly of the Accelero Hybrid onto the video card, the first thing I'm concerned is the void of warranty when the stock cooler is removed. It is probably not for the weak of hearts, but that is an unavoidable exchange for better cooling performance.
On the side, ARTIC also provides us the MX-4 thermal grease (which I used to max the i7-2600k at a stable 5GHz clock with the Corsair H70), extra aluminum heat-sinks for smaller component modules and a few insulation strips to cover the logical board during the installation; that is to prevent us from accidentally shorting out the video card.
Putting the waterblock on the GTX 480 made me a bit nervous but luckily it went smoothly and I didn't short-circuit anything; which is really an obvious blessing.
I position the radiator on the rear panel of the chassis (CM 690 II) where the 120mm fan can act as an intake source. The tubes seem bent a little bit but they are leak-proof therefore I will place a high bet on safety.
Now on a serious note, the intake-setup for liquid-cooling kit always gives a dominant benefit over having these fans exhaust the hot air from the inside out. Doing this usually effectively reduces the the temperature reading anywhere between 10°C to 20°C.
It could be pretty awkward for those of us who already have a closed-loop kit for the CPU, you guys may end up having the radiator of this one sitting somewhere on the front panel; which is fine, too.
Conclusion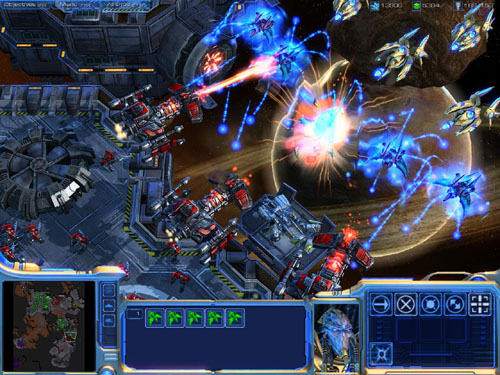 I ran a couple of in-game tests on the GeForce GTX 480 before and after it has been dressed up with the Accelero Hybrid. Having Starcraft at ultra settings and played a couple of multiplayer games with random people for roughly half an hours, I was quite impressed with the temperature results.
On the stock air-cooler, the GTX 480 sits idly at 46°C and dramatically jumps as high as 84°C to 87°C on load. These numbers are reduced to 29°C on idle and mid-60°C on high load when the GPU is paired with the Accelero Hybrid.
That is about twenty degree better. The noise level is also just at bare minimum, another great improvement over the insanely loud whoo-ing sound of the manufacturer cooler. Sold!
If Accelero Hybrid can do this good on a GTX 480 which is famously known for its second role as a personal heater, I'm sure it will give us a lot more head room for overclocking on newer GPU models. Liquid-cooling the video card also prevents performance drop during high load.
This is a very great add-on for those of us who want to squeeze every extra bit of performance from your video card without setting it on fire along with the computer and the rest of the house utensils, or people.
Related Topic : Top 6 Most Silent Computer Cases for Quiet Computing