### OLD AD CODE WAS HERE ?>
This is the first gaming configuration in the lower budget category.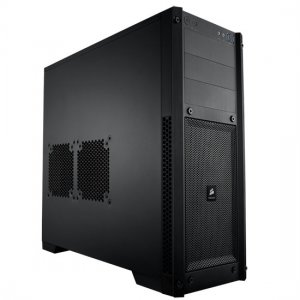 Yes it'll play Starcraft, Diablo, Skyrim, Battlefield and other taxing games.. at a modest setting (except for porn, you'll get 1080p with the correct video format). This configuration has a very optimal processing power, fine quality Radeon HD 6670 entry-level gaming video card and still-modern DDR3-1600 memory. What could be better than that ? Plus it's only $30 more than the previous $480 Home / Work / Entertainment PC build!
On the scale of honesty, let's admit the fact that the Dual-Core i3 2120 from the other system is slightly faster than AMD Quad-Core FX-4100 in many synthetic tests, however actual world performance does not only depend on the processor alone. Daily computer users could barely notice the difference between these two comparable processors. We may surrender an insignificant processing power on purpose for a better gaming experience, but that helps us stay within the budget.
The trade off opens possibility for a dedicated graphics card, higher bandwidth memory, a more reliable Corsair power supply unit (The Differences between All Corsair Power Supply Units). What else makes it a gaming computer? A handsome case, the Corsair Carbide 300R :)
The 8GB DDR3-1600Mhz (pair of 4GB) is the sweet spot for both balance and latency of memory units. The reason we go with higher bandwidth is to prevent unnecessary bottleneck that may occur during system buffering, and the latency is still CL9. I recommended to throw in a Solid State Drive in the near future to further enhance the overall performance.

Alternate Options : These following products are potential substitutes for the original specs. Since building your own custom computer means you get thousands of flexible combination, I do my best to give you a guideline to narrow down what components you need to fit your demand and budget. You do not have to exactly stick with my advice. You can extend, modify and change parts as you would like to but all the parts here are carefully considered to stay under a price range that was defined. If you stray away too far, just be sure that all hardware are compatible to one another. Ok, now go have some fun!