Most Corsair PSUs are made by Seasonic, one of the most reputable power supply unit manufacturers in the PC world. I think that there is a chance Fitz were using them to power the servers on the Zephyr One after all these times. Who knows, it lasted 78 years into the future.
But I digress. Now truly, a lot of folks underestimate the significance of having a decent and quality-built power supply unit until a random power spike fries everything inside their chassis on a weathered day. Taking the "sacrifice everything" to a whole different shocking level. Hence, bros dont let bro use bad psu –I hope this Corsair PSU guide could help you avoid the worst of those dark days, and may it be a protector to your rig in places when all other lights go out.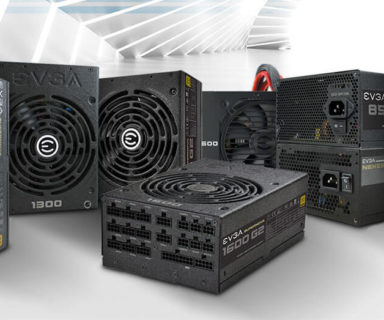 The differences between EVGA W, B, BT, BQ, B3, G, G+, GQ, GS, PQ, P2 and T2 Power Supply
--...So EVGA boss wakes up one day and asks the ultimate question: how can we cause chaos? And the severely under-paid marketing intern probably answers:..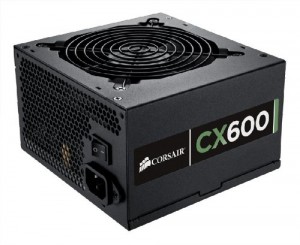 This is the entry-level of Corsair PSU family, formerly known as CX Builder Series. The CX series has 80-Plus power efficiency so you get a little of that energy saving feature whereas other generic power supply units lack of.
The internal 120mm fan is sleeve-bearing, meaning it does make a little more noise than the more premium categories. In general, this power supply is ideal for work computers, basic workstations and gaming system on a tight budget.
Those of us who are in need for power supply to replace their older one might also be interested in what the CX series has to offer. In 2013, Corsair added modular models to the CX Series, namely CX600M, CX700M, etc…That gives a basic customization for new system builders to tinkle with cable management as a learning experience.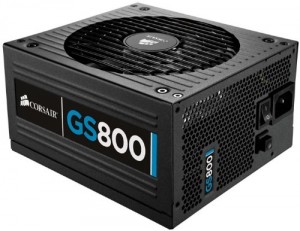 This is Corsair's non-modular, flashy power supplies that are purely made for Gaming PC Builds. It has a RGB LED just to add that fabulous touch to your 
gaming rig
.
However, the GS series is only rated 80-Bronze efficiency. Though that is a little less than the CX's but in return the GS series supports SLI / Crossfire Technology (in which setup requires higher power input on the +12V rail). The new GS line also uses pro-active fan control management. When the PSU itself is under certain load or temperature threshold, the ball-bearing fan stays off, simply to promote quietness, Zen and other highly enlightenment stuffs.
According to Corsair, future accessories will be released so you can change the color of the ring around the PSU to match other components. It'd definitely be a party if you have a window side panel chassis to pair with these PSUs.
Minimum noise level

0 dBA up to 20% load.

Maximum noise level

38 dBA

+3.3v

25A

+5v

25A

+12v

49A

-12v

0.8A

+5Vsb

3A

Wattage on +3.3v & +5v

150W

Wattage on +12v

588W

Wattage on -12v

9.6W

Wattage on +5Vsb

15W

Power Efficiency

83% at half load. Maximum 85%.
Minimum noise level

0 dBA up to 20% load.

Maximum noise level

38 dBA

+3.3v

25A

+5v

25A

+12v

58A

-12v

0.8A

+5Vsb

3A

Wattage on +3.3v & +5v

150W

Wattage on +12v

696W

Wattage on -12v

9.6W

Wattage on +5Vsb

15W

Power Efficiency

83% at half load. Maximum 87%.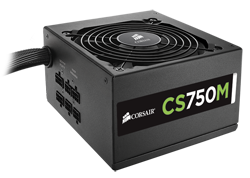 As the gaming industry continues to grow, the hardware market will always be flooded with new PSUs from every corner of the world. Gamers in particular, will be having a hard time to pick out a reliable, sufficient-wattage power supply that doesn't really break the bank.
As you have seen, the the GS series above is a great power supply for gaming system but it doesn't have very good energy efficiency and is non-modular. On other hand the TX series coming up next is a professional power supply that runs a little more quiet, all Japanese capacitors and labeled 80-Plus Gold; but of course it'll come with a price. So Corsair mixes up the ingredients and brings forth the CS series — an excellent blend of both world at an affordable cost.
CS-series has 80-Plus Gold power rating, semi-modular cable management, thermally controlled fan that doesn't pick up much noticeable noise (max at 24 dBA) until system is over 50% load. And to ensure consistent power delivery on such mid-range gaming PC, the CS750M for example, is designed with 62A on the +12V single rail. That is plenty of power for a SLI/Crossfire setup. However, both NVIDIA and AMD are slowly phasing dual GPU tech because in reality, most gaming system don't need to have two videos to renders beautifully these days. Unless you are doing experiment on the Inhumans like Hydra.
Last piece of info for those who are interested, the CS-series runs at 90% power-efficient on 50% load, 87% on 100% load (115Vac). It's very impressive.
---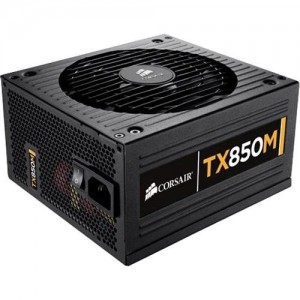 All new Corsair TX-M power supply units are semi-modular while its earlier gen TX isn't.
This was a right direction that Corsair had made because the TX is well loved by custom computer builders. This Series is also a direct step-up from the CX level where the cooling fan is ball-bearing which is quieter than sleeved, and also larger (140mm). It also has a higher wattage range for system with high-end video cards which inherited from the GS Series.
Another the advantage this series has over CS-series above is all Japanese capacitors and a tigher ripple supression with a factor of less than 0.99.
---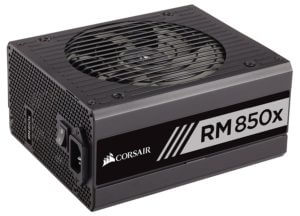 RMx series was first released to fill in the void of silent PSUs where they are desperately needed for a long and fruitful marriage. But since fan technology got better and most hign-end Corsair PSUs such as AX and HX series are so quiet, all you'd hear is the newborn crying in the house.
That leaves little difference between the RMx and other two Corsair flagship models.
First, all these three models RMx, HX and AX are fully-modular PSUs which makes cable management a breeze. Hx and Ax comes with 80 PLUS Platinum certification, while RMx models only go as far as 80 PLUS Gold. That means RMx is a tier lower than AX and HX in term of energy efficiency.
RMx, quiet as it is, thanks to the smart fan controller that only fires up the fan when the system reaches certain load threshold. That means the fan won't start spinning until it's over 40% load. However, some of the top of the line Ax models can hold up to 65% at 0 rpm fan speed.
Then again, this situation must entirely rely on how fast the internal temperature inside your chassis rises up. If heat can be dissipated quickly, the fan won't have to move one bit. I'm sure you realize this is a chicken and egg thing. In order to remove warm air outside fast, there gotta be more chassis fans and that is where the noise comes from, not the PSU. Hahah, that sucks.
But since our focal point is the PSU, let me get back to the RMx. Noise level of the 750W model and above is at most 23 dBa, but the lower wattage models won't even exceed 20 dBa. On a scale of 1 to 10 for communication methods, that is like sign-language speaking there.
The last thing, which is also the reason why I'd personally picked the RMx, is the equipment of 100% all Japanese caps –which is more reliable and have greater heat-resistance than China-sourced capacitors. Though I gotta admit, China has gotten a lot better producing top-quality caps and diodes these days than decade ago.
Anyhow, the RMx has the techs of the higher models but the budget for the everyday gaming build. If you are still seeking a decent option for your rig, you probably have found it now, unless your budget allows an 80 PLUS Platinum PSU from the AX and HX series to join the family.
---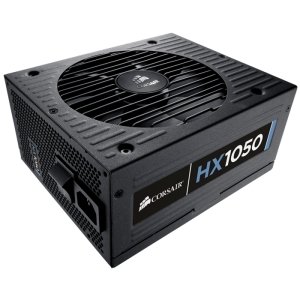 This is the beginning of the high-end class of Corsair Power Supply Units.
First off, Hx has a fully-modular cable design compared TX-M semi-modular. Everything is detachable, no hardlines and all cables are sleeved.
In its initial release, Hx Power Supply Units measured up to 80 PLUS Silver but improved to 80 PLUS Gold power efficiency couple years later, and now it has reached 80 PLUS Platinum. Packed with a good energy-efficient performance, all HX models also use 140mm double ball-bearing fans to cool the internal core. Noise level is moderated by a smart controller that won't start off the fan until it reaches 40% load. Most models generally produce roughly 23 dBi at its maximum fan speed. This means for most of the time you won't hear a thing from your power supply.
The HX750W series, in particular, is known to be the most quiet PSU in Corsair entire power supply line up –at maximum fan speed, the Hx 750W is only about 17 dBa. That's death whisper level.
You probably love the HX series for its prettier fully-modular design, high quality component, big wattage on the 12V, plus badass energy efficiency and commendable noise level. But the question is –does your wallet also love it, too?
---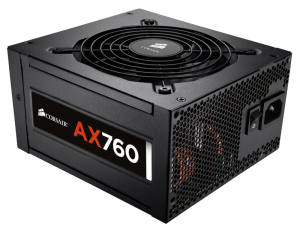 You have come to the flagship model of Corsair PSUs.
In 2012, Corsair released the new AX Platinum Edition (replacing the old standard AX) where they essentially optimize the power efficiency of the AX line to the 90% Platinum standard. This line-up only houses the two models: the 760 Watts and 860 Watts.
Later in the same year, Corsair managed to introduce the new i-version of the AX Platinum featuring intelligent digital fan and temperature monitor link. This add-on allows you to connect the power supply to one of the motherboard headers and use Corsair proprietary software to take more control of your PSU (monitoring +12V rail and control fan speed). The digital edition of AX Platinum series comes with the same 760 Watts and 860 Watts similar to the non-i edition, plus an addition of the 1200 Watts model. By the time you are reading this, the 1500W and 1600W should also have been released to the market. Cryptocurrency miners would be glad. I'm not. I just want GPU price to be back to somewhere humanly affordable.
On another note, even though they are the same series, the regular non-i AX Platinum is manufactured by the renowned Seasonic with better fan components, while the digital version is done by Flextronics. However, all models have a very tigh 12V regulation with 0.99 ripple surpression and all Japanese caps. It's one PSU that's worth going in a server/media production build.
Minimum noise level

0 dBA up to 60% load.

Maximum noise level

30 dBA

+3.3v

25A

+5v

25A

+12v

63A

-12v

0.5A

+5Vsb

3A

Wattage on +3.3v & +5v

125W

Wattage on +12v

756W

Wattage on -12v

6W

Wattage on +5Vsb

15W

Power Efficiency

91% at half load. Maximum 91%.
Minimum noise level

0 dBA up to 60% load.

Maximum noise level

30 dBA

+3.3v

25A

+5v

25A

+12v

71A

-12v

0.8A

+5Vsb

3A

Wattage on +3.3v & +5v

125W

Wattage on +12v

852W

Wattage on -12v

6W

Wattage on +5Vsb

15W

Power Efficiency

91% at half load. Maximum 91%.
Minimum noise level

0 dBA up to 30% load.

Maximum noise level

25 dBA

+3.3v

30A

+5v

30A

+12v

100.4A

-12v

0.8A

+5Vsb

3.5A

Wattage on +3.3v & +5v

180W

Wattage on +12v

1204.8W

Wattage on -12v

9.6W

Wattage on +5Vsb

17.5W

Power Efficiency

90% at half load. Maximum 92%.
---
Fancy another read?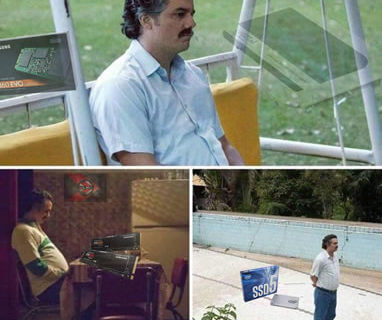 Samsung 860/970 Series vs. Crucial MX500, Intel 545s, OCZ TR200 and Sandisk Ultra 3D —…During sequential writes, the TR200 manage to have a heart attack and come out worse than its predecessor. Maybe it was seeing things..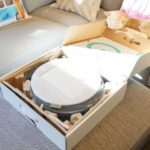 Affordable Robotic Vacuums Comparison : Eufy RoboVac 11S vs. Ecovacs Deebot N79S.
...hence I ordered two entry-level yet features-packed robotic vaccuum cleaners, hoping they could fight each other like what I saw them Battlebots do on Youtube...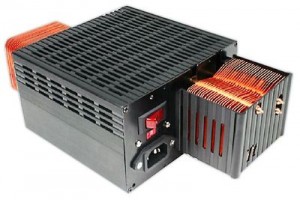 10 Most Quiet Power Supply Units for your Zen PC Build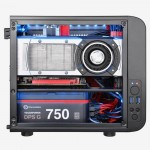 5 Best Mini-ITX Chassis for A Petite Gaming and HTPC Build