Looking for ASRock Z87 ? Read Click here.
Asrock is a fairly young motherboard manufacturer founded back in 2002.
They have been working diligently the past ten years to earn their place to be one of the top motherboard makers in the market. They have sold over a million more from inventory than ECS and MSI last 2011, and continued to gather a stronger fan base every month, thanks to the quality and friendly price offers.
As the result, enthusiast and budget-conscious custom computer builders have become very happy with Asrock manufacturer when the name is called.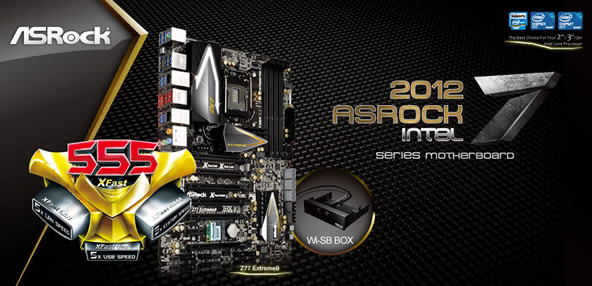 If you have read The Differences between all Asus Z77 V-Series Motherboards, you won't be very surprise to know that both Asrock and Asus are produced by the same mother company named Asustek.
You may find Asrock motherboards are a little cheaper than Asus lineup, but they are still well-equipped with many impressive and quality core features. On the flipside, in order to meet the lower tag price you will see fewer accessories or add-on bonus in Asrock motherboards.
However, by no mean that alone should be the judge for the performance of the product. While Asus brand is the main focus and the premium offer to power users, budget enthusiasts seem to find better values from Asrock brand. They have been consistently delivering outstanding and reliable products for OEM or DYI computer market in the past few years, at a very competitive cost. Well, I say that fits our goal of building a custom computer.
p.s : If you can recall it, we had the Asrock Z77E-ITX motherboard for the $800 / $1200 Hybrid Gaming HTPC Build and that configuration is plain awesome :D !
Even though most of these information can be found on Asrock website, it seems pretty time-consuming to compare the data. There is a rising number of reader emails suggesting for a summary between Asrock Z77 motherboards, therefore I know it is a need for us to gather all these valuable information for our convenience now and in the future.
You will be able to see the major differences between many Asrock Z77 mainstream motherboards; such as Asrock Z77 Pro3 vs. Asrock Z77 Pro4 vs. Asrock Z77 Extreme6 and the Fatal1ty Series, etc..
Keep in mind that the tables below mean to point out the important changes between all the motherboards, in order to help you quickly understand the technical differences.

All other minor features such as 4 DIMM Slots, Audio headers, location of ports,etc.. are the common standards and will not be covered. Those specs can be found on Asrock Website easily :)
Asrock Z77 Pro3

Solid Capacitors

4 + 1 Phase Power Design

2 x SATA III Cables
Heatsink on Voltage Regulator Modules and Capacitors above CPU Socket
Small Heatsink on Z77 Chipset
Realtek ALC892 Audio Chipset
RTL8111E Gigabit LAN

SATA Ports :

2 x SATA III ports using Intel Controller
4 x SATA II ports

USB Ports :

4 x USB 2.0 ports
2 x USB 3.0 ports
3 x USB 2.0 headers
1 x USB 3.0 header

PCI Expansions :

1 x PCI Express x1 Slot
2 x PCI Express x16 Slots — second one runs at x4 Mode
Supports CrossFire Only
2 x legacy PCI Slots

Graphics Ports :

Asrock Z77 Pro4

Solid Capacitors

4 + 2 Phase Power Design

2 x SATA III Cables
Thicker Heatsink on Voltage Regulator Modules and Capacitors above CPU Socket
Heatsink on Z77 Chipset looks better with Asrock logo.
Realtek ALC892 Audio Chipset
Audio Optical Output
RTL8111E Gigabit LAN

SATA Ports :

4 x SATA III ports ( 2 using Intel Controller support RAID, 2 using Asmedia Controller)
4 x SATA II ports

USB Ports :

6 x USB 2.0 ports
2 x USB 3.0 ports
2 x USB 2.0 headers
1 x USB 3.0 header

PCI Expansions :

1 x PCI Express x1 Slot
2 x PCI Express x16 Slots — second one runs at x4 Mode
Supports CrossFire Only
3 x legacy PCI Slots

Graphics Ports :

VGA + DVI + HDMI video outputs


Asrock Pro4-M

Solid Capacitors

4 + 2 Phase Power Design

2 x SATA III Cables
Thick Heatsink on Voltage Regulator Modules and Capacitors at the top and left side of CPU Socket
Small Heatsink on Z77 Chipset.
Realtek ALC892 Audio Chipset
Audio Optical Output
RTL8111E Gigabit LAN

SATA Ports :

4 x SATA III ports ( 2 using Intel Controller support RAID, 2 using Asmedia Controller)
4 x SATA II ports
1 x eSATA port

USB Ports :

4 x USB 2.0 ports
2 x USB 3.0 ports
3 x USB 2.0 headers
1 x USB 3.0 header

PCI Expansions :

1 x PCI Express x1 Slot
1 x PCI Express x16 Slots
2 x PCI Express x16 Slots — one runs at x4, the other runs at x1
Supports CrossFire Only
3 x legacy PCI Slots

Graphics Ports :

VGA + DVI + HDMI video outputs

Asrock Z77 Extreme4-M

Premium Gold Capacitors

4 + 2 Phase Power Design

2 x SATA III Cables and 1 x two-way SLI Bridge
Big Heatsink on Voltage Regulator Modules and Capacitors at the top and left side of CPU Socket
Big Heatsink on Z77 Chipset with Asrock logo.
Realtek ALC898 Audio Chipset
Audio Optical Output
Realtek RTL8111E Gigabit LAN

SATA Ports :

4 x SATA III ports ( 2 using Intel Controller support RAID, 2 using Asmedia ASM1061 Controller)
4 x SATA II ports
1 x eSATA port

USB Ports :

4 x USB 2.0 ports
2 x USB 3.0 ports
3 x USB 2.0 headers
1 x USB 3.0 header

PCI Expansions :

1 x PCI Express x1 Slots
2 x PCI Express x16 Slots – ( Mode : single at x16/x8 or dual at x8/x8)
1 x PCI Express x16 runs at x4 Mode
Supports Quad or 3-way or 2-way CrossFire / Quad or 2-way SLI

Graphics Ports :

VGA + DVI + HDMI video outputs


Asrock Z77 Extreme3 (New)

Solid Capacitors

8 + 3 Phase Power Design

2 x SATA III Cables and 1 x two-way SLI bridge
Thick Heatsink on Voltage Regulator Modules and Capacitors at the top and left side of CPU Socket
Small Heatsink on Z77 Chipset
Realtek ALC892 Audio Chipset
Audio Optical Output
RTL8111E Gigabit LAN

SATA Ports :

2 x SATA III ports using Intel Controller
4 x SATA II ports

USB Ports :

4 x USB 2.0 ports
2 x USB 3.0 ports
2 x USB 2.0 headers
1 x USB 3.0 header

PCI Expansions :

1 x PCI Express x1 Slot
2 x PCI Express x16 Slots — (Mode : single at x16/x8 or Dual at x8/x8)
1 x PCI Express x16 runs at x4 Mode
Supports Quad or 3-way or 2-way CrossFire / Quad or 2-way SLI
2 x legacy PCI Slots

Graphics Ports :

VGA + DVI + HDMI video outputs

Asrock Z77 Extreme4

Premium Gold Capacitors

8 + 4 Phase Power Design

2 x SATA III Cables and 1 x two-way SLI Bridge
Big Heatsink on Voltage Regulator Modules and Capacitors at the top and left side of CPU Socket
Big Heatsink on Z77 Chipset with Asrock logo.
Realtek ALC898 Audio Chipset
Audio Optical Output
Broadcom BCM57781 Gigabit LAN

SATA Ports :

4 x SATA III ports ( 2 using Intel Controller support RAID, 2 using Asmedia Controller)
4 x SATA II ports
1 x eSATA port

USB Ports :

2 x USB 2.0 ports
4 x USB 3.0 ports (ASM1042 Controller)
3 x USB 2.0 headers
1 x USB 3.0 header

PCI Expansions :

2 x PCI Express x1 Slots
2 x PCI Express x16 Slots — ( Mode : single at x16/x8 or dual at x8/x8)
Supports CrossFire/ Quad or 2-way SLI
2 x legacy PCI Slots

Graphics Ports :

VGA + DVI + HDMI video outputs
Asrock Extreme6

Premium Gold Capacitors

8 + 4 Phase Power Design

4 x SATA III Cables and 1 x two-way SLI Bridge
Front Bay USB 3.0 with rear bracket.
Combo Cooler Option : Interconnected Heatsinks on Voltage Regulator Modules and Capacitors at the top, left and bottom side of CPU Socket
Big Heatsink on Z77 Chipset with Asrock logo.
Realtek ALC898 Audio Chipset
Audio Optical Output

SATA Ports :

2 x Broadcom BCM57781 Gigabit LAN ports
4 x SATA III ports ( 2 using Intel Controller support RAID, 2 using Asmedia ASM1061 Controller)
4 x SATA II ports
1 x eSATA port

1394 Ports :

USB Ports :

2 x USB 2.0 ports
4 x USB 3.0 ports (Etron EJ168A Controller)
1 x Firewire header
3 x USB 2.0 headers
1 x USB 3.0 header

Additional Connectors :

Molex Power Connector for SLI / xFire
1 x Floppy IDE connector

PCI Expansions :

1 x PCI Express x1 Slot
1 x mini-PCI Express Slot at mid-board
2 x PCI Express x16 Slots — ( Mode : single at x16/x8 or dual at x8/x8)
1 x PCI Express x16 Slot runs at x4 Mode
Supports Quad / 3-way CrossFire or Quad / 3-way SLI
2 x legacy PCI Slots

Graphics Ports :

VGA + DVI + HDMI + DisplayPort video outputs

Asrock Z77 Extreme9 (New)

Premium Gold Capacitors

8 + 4 Phase Power Design

6 x SATA III Cables
2 x two-way SLI Bridge
1 x three-way SLI Bridge
2 x Molex to SATA Power Cables
1 x Wi-SB Box (Front Panel box with Wi-fi Antennas, 2 x USB 3.0 Ports and 1 x SSD tray)
1 x Wifi + Bluetooth Adapter
Interconnected Large Heatsinks on Voltage Regulator Modules and Capacitors on the left and bottom side of CPU Socket
Large Heatsink on Z77 Chipset with Asrock logo.
Realtek ALC898 Audio Chipset
Audio Optical Output
2 x Broadcom BCM57781 Gigabit LAN ports
Memory O.C speed supported up to 3000MHz

SATA Ports :

6 x SATA III ports ( 2 using Intel Controller support RAID, 4 using Asmedia ASM1061 Controller)
4 x SATA II ports
1 x eSATA port

1394 Ports :

USB Ports :

2 x USB 2.0 ports
8 x USB 3.0 ports (4 by Intel Controller, the other 4 by Etron EJ188 Controller)
3 x USB 2.0 headers
2 x USB 3.0 header

Additional Connectors :

1 x Firewire header
Molex Power Connector for SLI / xFire

PCI Expansions :

1 x PCI Express x1 Slot
1 x mini-PCI Express at mid-board for the included WiFi + Bluetooth module
5 x PCI Express x16 Slots – ( Mode : dual at x16/0/x16/0 or quad at x8/x8/x8/x8)
1 x PCI Express x16 Slot runs at x4 Mode
Supports Quad / 4-way / 3-way / 2-way CrossFire or Quad / 4-way / 3-way / 2-way SLI

Graphics Ports :


Asrock Fatal1ty Z77 Professional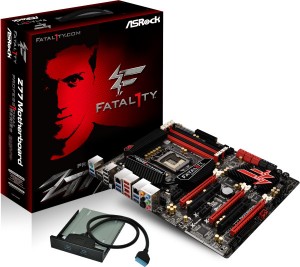 Premium Gold Capacitors
16 + 8 Phase Power Design

6 x SATA III Cables and 1 x two-way SLI Bridge
2 x Molex to SATA Power cables
Front Bay USB 3.0 with rear bracket.
Combo Cooler Option : Interconnected Heatsinks on Voltage Regulator Modules and Capacitors at the top, left and bottom side of CPU Socket
Big Heatsink on Z77 Chipset with Asrock logo.
Realtek ALC898 Audio Chipset
Audio Optical Output
2 x Broadcom BCM57781 Gigabit LAN ports
SATA Ports :
6 x SATA III ports ( 2 using Intel Controller support RAID, 4 using Asmedia ASM1061 Controller)
4 x SATA II ports
1 x eSATA port
1394 Ports :
USB Ports :
5 x USB 2.0 ports
6 x USB 3.0 ports (Etron EJ188H Controller)
1 x Firewire header
2 x USB 2.0 headers
1 x USB 3.0 header
Additional Connectors :
Molex Power Connector for SLI / xFire
1 x PATA connector ( supports 1 master and 1 slave IDE Hard Drives)
1 x Floppy IDE connector
PCI Expansions :
2 x PCI Express x1 Slot
2 x PCI Express x16 Slots — ( Mode : single at x16/x8 or dual at x8/x8)
1 x PCI Express x16 Slot runs at x4 Mode
Supports Quad / 3-way CrossFire or Quad / 2-way SLI
2 x legacy PCI Slots
Graphics Ports :
HDMI + DisplayPort video outputs