### OLD AD CODE WAS HERE ?>
The Differences between All Asus Mainstream Z170 Motherboards.

As we all know Asrock used to be a smaller sub-division of Asus back in the day, but they were doing so well for the budgeted mainstream niche that Asrock eventually was able to separate and stand on their own feet. Asrock has earned their reputation for consistently shipping out generations of solid and affordable motherboards that really pleased the BYOPC market. Personally, I know they had some culprits in the process that set them back a few steps some years ago — for cutting corners in order to reduce the MSRP — but they have improved a lot since Z87 Series. A quick survey from a local PC parts retailer reveals that the Asrock Z77 Extreme4 then, was actually the most successful seller of all times.
Anyway, couple years ago Asrock brought to the table the famous Fatal1ty series (similar to OCZ Fatal1ty power supply units) which –as you already guessed– is essentially built for the life of hardcore gamers.
Today with the new socket-1150 Z97 chipset, we have two perfect models available for all of your gaming desires.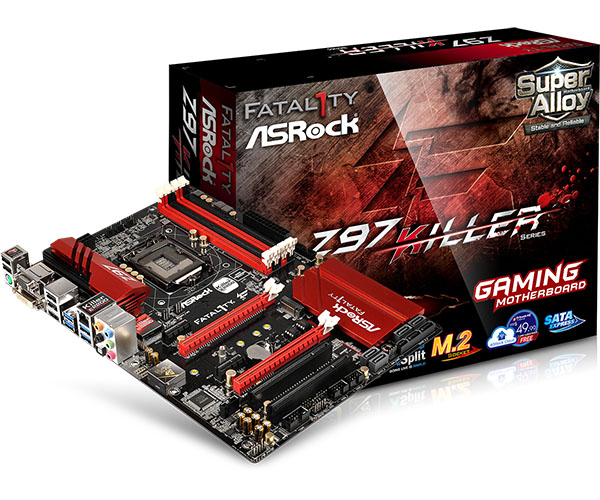 What's good about this motherboard ?
First off, I'm not gonna deny this is a pretty good looking motherboard for a red theme build with a clear side panel chassis. But you might be pleased to know that the board itself is just as great as how it looks.
Asrock used High-density Glass Fabric as the core material for the PCB (printed-circuit board) along with efficient NextFET MOSFETs (ESD protection), Dual-Stack MOSFETs, Premium Alloy Chokes and 12K Platinum conductive polymer capacitors (lifespan > 12,000 hours). Now those are meant to increase durability / longevity of the motherboard but if you're interested in overclocking –the large alloy heatsink that sits on top of the cap certainly helps with the venture. However, I'm gonna say the heatsinks feel a bit cheap overall and definitely only aid your overclocking to some moderate level.
On top of the above specs, this motherboard also finds itself with 15μ Gold-coated contacts on the memory DIMM slots and PCIe slot, plus a high-density CPU power connector. Fancy. It could be gimmick, it could be not but it's good to know.
Standout Features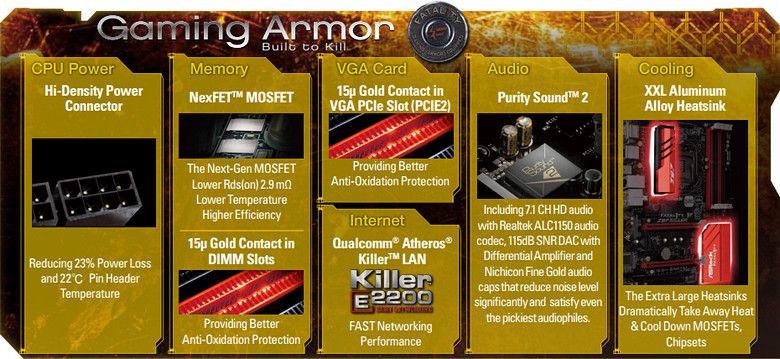 The Z97 Fatal1ty offers an array of goodies for your gaming life called Gaming Armor.
From the smallest touch, such as Full Spike Protection that technically prevents unexpected voltage spikes from damaging the motherboard components. I'd take that any day especially during the summer storms; yet you should still find yourself a decent power supply/surge protector just for safety measures.
Now here to the two features that make this a gaming motherboard :
Atheros Killer LAN E2200 : an intelligent ethernet controller that is optimized for online gaming. Fundamentally speaking, the controller works like any other NIC but has an internal QoS algorithm. This allows the system to identify and categorize flow of internet traffic and decide which one requires more bandwidth than the other. In this case, online gaming session would have lower latency, higher speed while it also puts less stress on the system resources.
Purity Sound 2 : essentially this audio technology based on Realtek ALC1150 codec found in most mid-range/high-end motherboards, featuring 7.1 HD Channels, 115dB SNR and two NE5532 amplifiers (Differential Amplifier and Premium Headset Amplifier).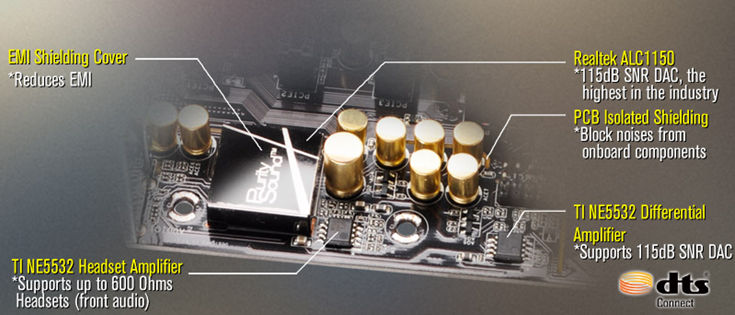 Integrated sound chip has come a very long way and they only get better every generation. I find it's less of a demand to purchase third-party sound card anymore. Now the reason behind the name Purity Sound mainly comes from a) how the audio chip is positioned and b) EMI-shielded on the board. Basically the audio controller and Nichicon fine-gold capacitors are isolated from signal noise generated by other components on the board. As the result, the output quality is less distorted and has a pretty commendable bass (of course the other half of the equation is the quality of your speakers/headset).
Other Major Specs
8-Power Phase Design.
One PCIe 3.0 x16 runs at x16
One PCIe x1 runs at x2
One PCIe 2.0 x16 runs at x4 (x2 if the PCIe x1 stated above is occupied)
Two standard PCI
Support only Crossfire / Quad Crossfire.
Six SATA III ports
One SATA Express
One M.2 socket
Three USB 2.0 and Four USB 3.0 on the back panel.
Two USB 2.0 headers and one USB 3.0 header on board.
One Thunderbolt header.
Fatal1ty USB Mouse Port
Bonus Software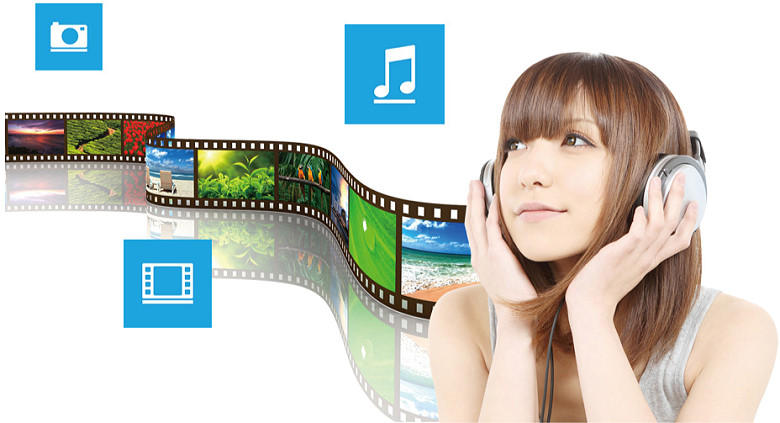 Asrock bundles several programs in the package but personally, I only see a few of them worth your attention. Here are the highlights of the whole she-bang:
Key Master combo includes Sniper Key (increases mouse accuracy) & Macro Key applications.
3-month Free of XSplit broadcasting app.
F-Stream uses with Fatal1ty USB Mouse Port to change polling rate from 125 Hz to 1000 Hz.
XFast RAM : This I like. It could be used to create a temporary virtual disk drive on your RAM (faster than SSD but loses data on shutdown). It's worth it to put your page file / cache on RAMdisk.

MSI has been in our market long before Asrock and even two years older than Asus and three years older than me (darn!) –1986, which only happens to be the same age as Gigabyte.
As one of the world's largest information technology manufacturers with its Baoan Plant in Shenzhen, MSI delivers a variety of IT products; from laptop, tablet to consumer electronics to video cards, All-in-One PCs and fortunately also including our main subject of this topic: custom PC motherboards.
MSI offers some of the most affordable mobos in the entry-level and still remains competitive on the high-end brackets; the M Power series is known as one of the best all rounded mainboards for gaming, overclocking enthusiasts at the price that is equivalent to a mid-range in other brands. I have picked out two of MSI's best candidates for a gaming PC builds for you, so let's find out which one will be at your service this year!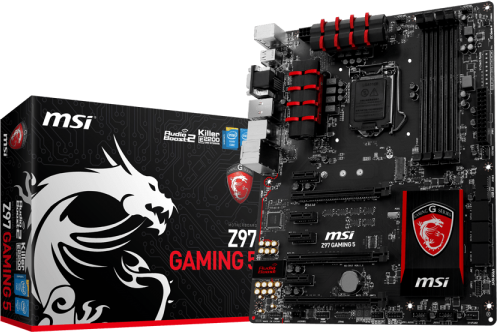 What's good about this motherboard ?

Now the Gaming 5 model is the sweet spot in term of pricing vs value when it comes to gaming motherboard (promo video).
First, the complete black theme with some red accents and the dragon logo on the Z97 heatsink leave this mobo with a pretty darn badass impression. Though in the same price bracket as the Asrock Z97 Killer, the Gaming 5 builds heatsinks for all capacitors at the top and left side of the CPU socket; which is a good indication for more overclocking and gaming potentials.
MSI also equip the PCB with Military Class 4 Components as they advertise — and this technology includes Hi-C Cap, Super Ferrite Chokes and Dark Caps.
Hi-c CAP is a very small, but high energy efficient (up to 93%) capacitor. This makes the Z97 Gaming 5 one of the most energy-efficient in the gaming mobo niche.
Dark Caps, on the other hand is a bit of a lower bracket than Asrock 12K Platinum caps in the Killer series above. However, Dark caps have been the used in many high-end mobos for its 10-year lifespan and be able to provide lower Equivalent Series Resistance (ESR) / Lower leakage when it comes to quality.
Standout Features
The Z97 Gaming 5 incorporates a Guard-Pro combo features that sure has a significant role for the longevity and durability of the motherboard itself. The Guard-Pro is a combination of protection against Humidity, High Temperature, Electro Static Discharge and Electromagnetic Interference.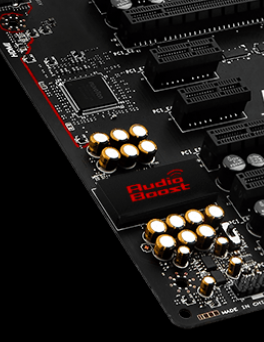 So that was a bit of FYI. Now we come to the main entrees of the party.
Atheros Killer LAN E2205 : similar to Asrock Z97 Killer's, this is an intelligent, QoS Ethernet controller that automatically optimizes your Internet connection for the best timing latency and accelerate / prioritize performance of a gaming session over other network traffics.
Audio Boost 2 offers a complete solution of high-quality audio experience directly from the built-in ALC 1150 codec on the motherboard.The whole Japanese Nichicon caps and audio circuitry, including two 600Ω headphone amplifiers,  are isolating by a red LED path to prevent distortion caused by electromagnetic signals from other components. This means the sound chip is separated and more like an add-on sound card to the mobo, which also leads to the optional Direct Audio Power to ensure a the best signal quality output.
On top of that, you also get golden 8-channel HD audio connectors and Sound Blaster Ciname 2 to drive the sound chipset to its greatest potentials.
USB Audio Power : if you your headphones have built-in sound processing unit and only connects via USB port — the MSI Gaming 5 provides a special USB port on the back panel that consistently pumps out stable 5V current to keep up with your headphones power requirement more consistently and further prevents unnecessary distortion over traditional USB port.
Other Major Specs
Three PCIe x16 Slots support SLI & CrossFire (runs at x16 or x8/x8 or x8/x4/x4).
Four PCIe x1
Six SATA III
M.2 Socket supports 4.2cm/ 6cm/ 8cm length module at 10Gb/s for PCIe or 6 Gb/s for SATA.
Four USB 3.0 and four USB 2.0 ports on the back panel.
One USB 3.0 header and Two USB 2.0 headers on the motherboard.
Compatible with SteamOS.
On-board LED readout
Bonus Software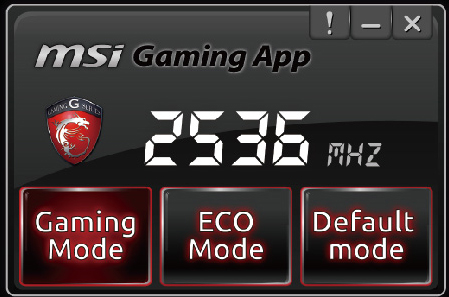 Just like everyone else, MSI packs a bunch of software right at your finger tip. You actually might find some of them useful.
MSI Gaming App — an utility that lets you overclock both your CPU and GPU.
MSI Click BIOS 4 — a super sleek UEFI BIOS and it's very to use.
Command Center and Live Update 6 — auto update all component's drivers.
Unlimited RAM Disk — similar to Asrock's RAMdisk, best used for pagefile and caches.
Smart Fan Control — as the name implies, this tool help you set up a temperature/speed pattern for your fans.

Gigabyte could be the good kid in your neighborhood that you have known since forever.Though without aggressive marketing, Gigabyte now is the only competitor that goes almost shoulder to shoulder with Asustek in the motherboard marketshare.
Last year, Gigabyte sold roughly 4.9M units versus Asus's 5M units, both of them combined to a whooping 60% of this niche. That was a very tight race.
So if you are a fan of Gigabyte, you may love these gaming mobos they have just brought into light lately and if you buy them you are totally helping the company against the giant, right? Good deed. If you are not, let's not be biased and find out exactly what good the Gigabyte Z97 Gaming 3 / Gaming 7 have up their sleeve –and how they are compared to Asrock or MSI above.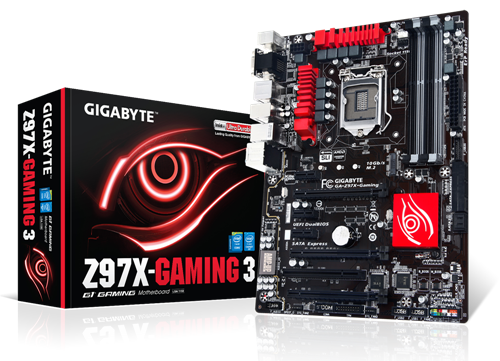 You wouldn't believe when I say these gaming motherboards of Gigabyte are just so similar to MSI's. From the name to the box design, I got confused by the two for at least three times or so before I totally gave up. But I crossed my fingers and hoped for the best that what's on the inside does make the difference. Was not completely disappointed.
What's good about this motherboard ?
If anyone asks what stands out about Gigabyte motherboards, people would definitely say it's the famous signature feature called Ultra Durable. From the macnufacturer's standpoint — it's a perfect blend of top-nothc components to ensure a high quality, energy efficient, great performance system board and an excellent thermal management for overclocking with no compromises. Now the good news is the two gaming motherboards we are looking at right now both carry this kind of technology at heart.
Standout Features
If Asrock has Fatal1ty series to attract gamers everywhere, Gigabyte has what they'd call the G1 Gaming series. I'd leave the explanation to Gigabyte's sweet interactive promo page to tell you what the G1 Gaming Series is about, but here let's see how it competes to other brands:
G1 AMP-UP Audio Technology: What I like about these gaming motherboards is the stronger focus on the quality of audio output than other brackets'. They all have a dedicated, insulated portion on the PCB for sound hardware components — and for Gigabyte, it is no difference.
But first, what you may not know about AMP-UP is its ability to equip with different operational amplifier (opamps) other than the original one as an upgrade for even better sound experience. However, because the Gaming 3 is an entry-level gaming mobo, it does not support opamps swapping fyi (sad, yeah).
Fortunately the manufacturer uses a very high-quality 8-Channel HD ALC-1150 SNR 115dB processor, along with a 600Ω amplifier for professional headset as the foundation of this custom AMP-UP technology. The whole audio system is then driven by Sound Blaster X-Fi MB3 platform, one of the most powerful engines fully designed for gaming purposes; eg. ScoutMode, 3Dsurround, VoiceFX and Creative ALchemy. Personally, I think the 3Dsurround is a gimmick but ScoutMode and ALchemy actually contribute great experience to FPS and RTS games that I played.


Finally, Gigabyte separates the entire audio hardware zone from PCB layers with a LED trace path lighting. They also take step further by separating the analog and digital ground, the left and right audio channels on each different layers to completely protect the output signal from EMI. As the result, no more hissing noise or distorted sound even when you turn the volume some notches higher than what your ENT doctor or neighbors would agree with.
Atheros Killer E2201: I'm so sure you wouldn't want to hear me repeat exactly what this thing does for the third time today. Just like how I sworn I'd punch a kid if I had to hear Let It Go one more time that day, turned out I realized five or six years from now there will be a bunch of Elsa running around in every school and that song won't go a way like, forever. So I just have to deal with it and meditate it away. Point is, I'm still gonna repeat what this Killer E2201 does. So deal with it. By the way, Anna is better.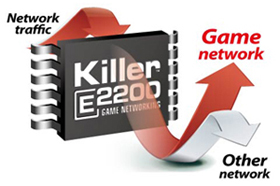 The Killer E2201 is a Qualcomm Atheros — an intelligent, adaptive Ethernet controller that implements smart QoS, manual traffic prioritization to deliver better gaming experience when needed.
For example, when you are playing online game, listening to background Pandora and at the same time torrenting god-know-what from the Internet –the chipset actively optimizes the connection for the best latency in your game and dedicates a more acceptable bandwidth to your music streaming and file download so they do not bottle down the entire bandwidth like a piranha in a goldfish tank.
UEFI DualBIOS: The mother has an additional BIOS ROM as a backup. If you screw up so badly on the first one, you can flip a switch and start it all over again.
Other Major Specs
8-phase digital VRM
Two PCIe 3.0 x16 Slots (x16 or x8/x8)
One additional PCIe 2.0 x16 slot runs at x4.
Three PCIe 2.0 x1. All three will be disabled if PCIe 2.0 x16 above is occupied.
One PCI slot.
Supports 2-way and 3-way Crossfire or 2-way SLI.
One M.2 socket.
One SATA Express port.
6 SATA III ports (M.2, SATA Express and SATA port 4-5 can only be used one at a time).
Four USB 3.0 ports on back panel.
Four USB 2.0 ports on back panel.
One USB 3.0 header and Two USB 2.0 header.
Two CPU fan headers (second header is great for water cooling fan).
Bonus Software
Some of you may find these bundled software useful. It's more of a personal reference but I'd suggest you give them a try. Who knows what a blind date turns out to be right?
GIGABYTE APP Center is a bundle itself with EasyTune ™ App and Cloud Station™ APP. One lets you overclock and fine tune the memory or processor. The latter gives you control, share resources from your PC to your phone and tablet via a wireless connection.
Game Controller is a macro / hotkey recording utility to make your enemies feels like a noob. If not, they are probably spending too much time on the PC, they should get a life!
USB Blocker — you can download this program else where for free but what it does is preventing house-invading hacker from plugging his USB device to your PC and does some crazy batshit.
Smart Time Lock: put it here so we can boycott this evil program.