### OLD AD CODE WAS HERE ?>
A few days ago, we went over the differences between the two new 14nm Skylake processors, i5 6600k and i7 6700k. Great stuffs. Had fun. Pretty brutal.
I know you guys enjoy reading handful of stuffs on Custom PC Guide.net lately for no reason, especially after that waterless car wash & wax article. So here it is. ANOTHER article for your viewing pleasure. But not a lot of funny side talks like other posts though; because now it's serious, OK?
p.s I've just learned this seriousness mentality from Master Ken the other day.
Now though Asus already has a comparison chart for their new Z170 motherboards up on the main site, I find it a bit too confusing to read. Hence, I tried my best to consolidate and explain the most random and important differences between each model of the series to help you choose the best mobo for your build.
Secretly, I hope this will take the confusion to a whole new level. So let's get right into the content.
AMD R9 390x and R9 390 versus NVIDIA GTX 980 and GTX 970.
Asus Z170 Motherboards Lineup : Specs Comparison
The Differences between EVGA GTX REF, Founder's Edition, Ti, ACX, SC, SSC, FTW, FTW DT and Classified
Foot Notes (TL;DR)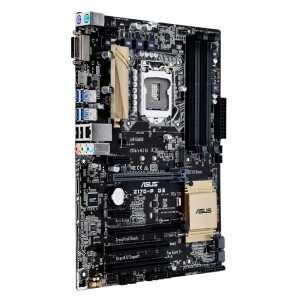 Z170M E D3 : it's a mATX motherboard that equipped with Z170 controller, but tragically supports just DDR3 memory. The E stands for Entry, D3 means DDR3 in case you suspect. Basically, you get all the basic stuffs on top of the basic platform for basic computing tasks. In short, it's a totally smart choice for 90% of everything computer-related. You can work on multiple programs without a hiccup, overclock the CPU a tiny here and there, discuss about that unexpected pregnancy with your girlfriend and ended up playing many of your games just fine for the very last time. All at a very affordable term, about the machine of course.
Z170M-PLUS : it's another mATX mobo with some nice/premium upgrades from the one above; such as DDR4, some heatsink, SATA Express, Type C USB 3.1 and a nice little Intel gigabit LAN.
Z170-P D3 : Entry level, full-size ATX motherboard. Since you are wondering why it doesn't have an E like the mATX does, but a P –so let me explain. It's because of the 5X Protection feature Asus has been bragging about since Z87 lineup. So this is not your everyday entry level, it's advanced entry level. However, note that this board only uses DDR3 memory.
Z170-P : DDR4 memory alright. Both the P and its D3 edition can only displays up to 2 screens when using the integrated graphics core from the CPU. Why? Because the bandwidth is being shared to many other components such as expansion slot, USB ports and screw holes.
Z170-K : at a glance, both the K and P look almost identical. Except with the implementation of ASMedia controller, it frees up some bandwidth for the maximum support of 3 displays from the iGPU, SATA Express port and you also get USB 3.1 Type A plus Type C on the side.
Z170-PRO Gaming : It's based on the K series above but with a cool dark theme look, better audio/lan chipset, SLI support. Also it says PRO GAMING on the Z170 heatsink.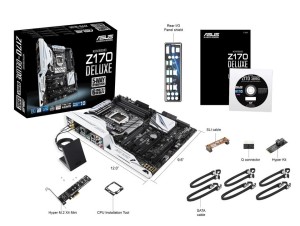 Z170-A / AR : A – Gold heatsink. AR – Silver heatsink. We're stepping into premium borderline here. These features-packed, mid-range mobos are great overclockers with SLI support, Turbo LAN and Crystal Sound 3. Besure to check on the comparison chart above to see all the techs incuded.
Z170-Sabetooth Mark 1 : this board is like a tier 2 mid-range. It has better overclocking capability than A-series and a ton of things you can do air-bending with. Also its military-graded caps are good indication for a workstation machine if intended.
Z170-DELUXE : ha ha. you're rich.
Z170-GENE / HERO : you're rich, too; but you can afford an immediate replacement when you "accidentally" fried the CPU from last night hardcore, steamy, innocent overclocking. The ROG-series comes with an extreme overclocking capability, SupremeFX 2015 audio controller and the luxury to adapt 1.6 millions RGB light color of the Z170 controller's heatsink.