### OLD AD CODE WAS HERE ?>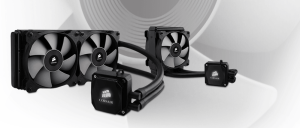 There are a few dozen great closed-loop liquid coolers available in the market for your beloved processor.
Closed-loop liquid coolers are maintenance-free, quiet, easy to install just like air coolers; it most likely take up to 10 minutes of your build time and practically lasts for the life of the computer (unless something dramatic happens such as a drive by shooting's bullet hit one of the coolant tubes).
When it comes to heat dissipation, these self-contained liquid coolers are far more efficient than air cooler; hence in the similar trend to Solid-state drives today, self-contained liquid coolers are slowly moving from a should-have to a must-have for most mid-tier or high-end system builds.
Now since you're thinking of getting your PC a closed-loop liquid cooler, you are on the right page today. Most of the articles on Custom PC Guide.net are fairly long because sometimes I wanted to bring the best technical details in every products comparison. But today, there isn't much talk.
Because first of all, Corsair is obviously a reputable company in the BYOPC market; thus the quality of these kits isn't a significant question. Second, everything else that matters has been simplified and set straight to the points. You only have to compare and choose the model that 1) fits your chassis based on radiator dimension and 2) fits your CPU socket and budget. Is that it? Well, maybe the design of the cooler for your own personal reference.
On a more serious note, the entry-level liquid-cooling model only lags behind the top-end model by less than 10°C in many extreme overclocking scenarios; hence you probably won't notice a major difference in temperature of your processor during daily activities. Plus any liquid cooler would already be far better than air coolers in any test.
So, I thought let's just keep it simple.
1. Side by Side Compare
2. Price Comparison
3. Corsair liquid-cooling kit's tubing 2011 vs. 2013/Newer
4. Corsair USB Digital Link
5. Benchmarks