### OLD AD CODE WAS HERE ?>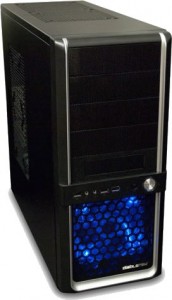 This system specification falls sharp onto the HD Entertainment, Multimedia and Productivity category. The Asrock Z68 Gen3 Pro3 motherboard is powered by the super quad-core Intel i5 2nd Gen 2500k 3.4GHz processor. Both of these main components are the stars of this computer build.
This Intel i5 2500k has integrated HD 3000 Graphics chipset that is able to draw two screens simultaneously, while still having plenty of power for graphics designs. Video transcoding processing also gains a healthy boost due to the new QuickSync technology, up to 80% faster than most high-end video cards. Thus this is also a potential light movie editing computer or be used to convert movie files.
Most of the rest of the components are taken from previous system: 8GB DDR3-1600MHZ, TR2 500Watts Power Supply by Thermaltake, besides the Diablotek EVO chassic. This baby includes four 120mm fans for an extremely appropriate negotiation, $45. The extra fans greatly help the ventilation of the interior. It's quite important to keep the air flow continuously for a stable performance, especially during high load.
On the other hand, the Intel i5 2500k is just as fast as the i7 2600k that costs much more. Take note that the letter k after the model number stands for Unlocked. Thus, that is the reason it's paired with the Pro series Asrock motherboard for some overclocking purposes. Power user will find it a wonderful deal to gain additional 10-25% performance boost. Overclocking also comes much easier than it used to be, thanks to the new BIOS screen called UEFI. You will find a very intuitive interface and most information are totally easy to understand. There is an option for the motherboard to auto tune the CPU speed which requires nothing but a click away from the BIOS configuration.
On the final words, this $700 PC (price if including Windows 7 Home Premium) could be the one PC you are going to keep for years to come.