### OLD AD CODE WAS HERE ?>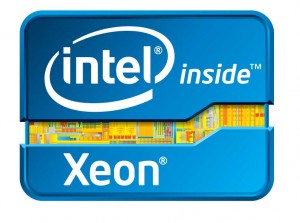 We often build custom computers for the fact that we can toy with the components to make machines that play everything we want at the most modest expense.
But at another place in a different time or dimension, some of us have the need to do very intense works on the pc for the sake of our career; and prebuilt systems or gaming pcs or even typical  mid-range workstation simply don't cut it.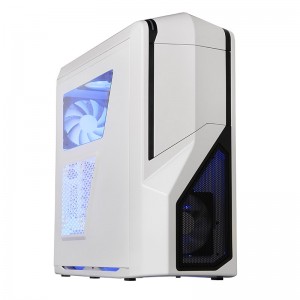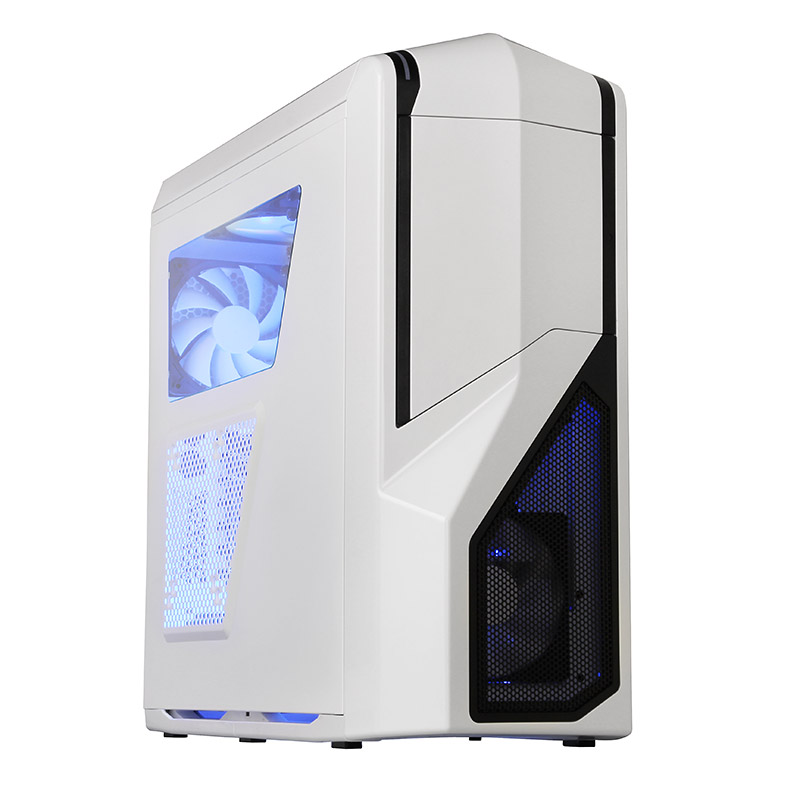 It's when you know you must tailor a computer that is totally specialized to serve all your creative properly. The system might be a little expensive yet on the long run it will be the greatest investment you could have ever done for your future (provide that you seriously use this machine for work-related materials!).
This will be a high-end workstation computer that can tackle super high quality graphics manipulation such as Photoshop, Maya 3D, AutoCAD as well as any serious video editing works on Adobe Premier, After Effects or Sony Vegas software, etc .. without showing any incompetence.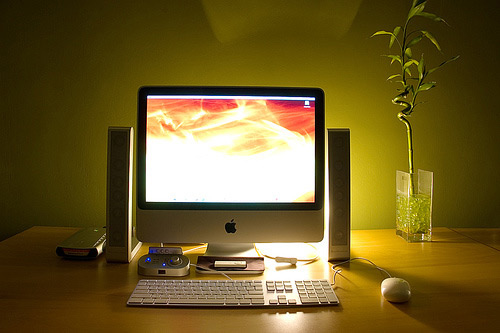 The machine must also allow your content to be  spanned across two or three monitors to the least, along with no sign of struggling or hiccups during extreme load. The core components will be enterprise-class products in order to stress the importance of data security, system reliability and top-end performance results.
Let's bring out that shopping cart and start the tour guide!
Processor and Cooling Kit
Similar to the  $1500 mid-range Workstation, you will see this system is blessed with an Intel 2011-socket processor.
If you haven't been familiar with 2011-socket cpus from the Choosing an AMD or Intel Processor for Your Custom Computer article, you soon know that they belong to the high-end business class desktop category; which Intel has to deliver to us enthusiast users.
In this bracket, you will approach two different families; the first one being the mainstream offer with the regular Core i7 processors while the second coming is the mean server-class Xeon processors.
Why Xeon Processor ?

The main value of 2011-socket is an enterprise-level hardware where the system is less prone to the common issues that usually annoys mainstream users (such as random crashes, blue screen, etc..). It also gives us quad-channel memory technology which doubles the bandwidth of the 1155-socket and twice as fast as the older high-end 1366-socket.
We used Intel 2011-socket i7 3820 in the previous workstation and found success with all resource-hungry work requirements. However, this time we shift course into the world of 2011-socket Xeon processors. Even though the enthusiast-level i7 chips are very good with impressive performance, they lack many significant factors in comparison to Xeon cpus. And here are the reasons:
First, in business or mission critical works, you will surely appreciate the support of ECC memory for a much more reliable environment. The error-correcting code RAM has the ability not only to detect but also fix the issues it may found from internal data transmission.
Second, Xeon processors are known as premium chipset with higher performance, larger L3 cache plus stronger endurance for 24/7 continuous usage; thanks to its lower heat dissipation and good power-efficiency.
The Xeon CPU Family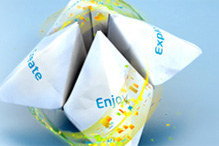 There are currently two different types of 2011-socket Xeon processors on the market, all based on the refined Sandy Bridge architecture : i5 Sandy Bridge-E (i5 E-16xx) and Sandy Bridge-EP (i5 E-24xx and i5 E-4xxx). The differences between these two lineup candidates are mainly accounted for the amount and type of memory supported, as well as single vs. dual processor sockets on a motherboard.
In short, the Sandy Bridge-E is good for high-end enterprise-class desktop environment because it will be able to handle up to 64GB of non-registered ECC memory by itself. These processors are the replacement of the previous gen 1366-socket, some of them do not support Turbo Boost technology and have a older Bus Technology called DMI instead of QPI.
The Sandy Bridge-EP on the flip side has an upper hand for the support of SIMD instructions up to SSE4, Turbo Boost that overclocks the processor when needed, faster transfer rate QPI, along with AES and AVX extensions; which is ideal for a high-end business or server type computers. This cpu family comes in two variants:
The Xeon i5 E-2600 Series is a new release that goes in between the top of the line Sandy Bridge-EP and the Sandy Bridge-E. It supports dual-processor configuration where you can install a second cpu (not a requirement) into the motherboard to provide higher boost in performance.
This article by Microway website has delivered an excellent detail information about the benefits of this series over the Sandy Bridge-E above.
The Xeon i5 E-4000 Series is a lot more expensive and meant for server configuration with a whooping 750GB registered ECC memory. You will be able to throw in three more CPUs onto the motherboard and begin the personal world domination plan, but before you start doing the damage it probably cost you an arm and a leg first.
Recommended Reading : Intel® Xeon® Processor E5 FamilyTherefore, it is wise for us we will stick with either a 2011-socket Xeon Sandy Bridge-E processor or one of those newer middle-line Sandy Bridge-EP Xeon i5 E-2600 Series.
As you see I have tried to narrow down all the options for the most important essence of this system build, but I have to leave the last decision upon your choice.
I personally prefer the i5 E-2600 Series for the processing-efficiency, newer technology to push the performance higher yet they come with a lot better energy-management system.
2011-socket Sandy Bridge-E Xeon i5 E-1600 Processors
2011-socket Sandy Bridge-EP Xeon i5 E-2600 Processors
Quad-Core Family
Recommended
High-End
Six-Core Family
Recommended
High-End
Eight-Core Family
Recommended
High-End
Detail Reading : List of Intel Xeon microprocessors on Wikipedia.
These premium chips do not come with a heatsink perhaps you must pick one out of the 8 Best Prefilled Liquid Coolers to take care of the thermal release, instead of air coolers.
Thermaltake Water 2.0 PRO/All in One Liquid Cooling System CLW0216

High Performance Copper base plate accelerates the heat conductivity.
High reliability Low Profile pump provides quick liquid circulation lowering the...
Pre-filled coolant reduces the liquid replenishment hassle
low evaporation tube decreases the loss of coolant effectively.
Motherboard and Memory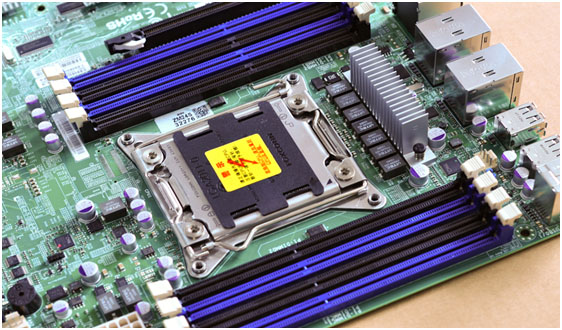 It'll be a hunt for a good motherboard to make use of our super microprocessor. You will not see the common brands such as Asrock, Gigabyte, Biostar, etc.. on the Xeon 2011-socket  motherboard shelf. To make things simpler for our high-end workstation, we will stick with regular ATX motherboard. This gives you less headache on choosing a chassis to house the motherboard as well as all other components later on.
By going with ATX motherboard, we do lose the ability to drop the second processor into the system to increase performance. However, it will not yield sufficient gain in our environment.
We have to keep it to ourselves that the processor we choose to go with is already in the very high league of its own and is more than enough for our personal career works. Anything other than that, will surely be discussed in the next article about building a server-class computer for your corporate :P !
Now, the foundation of our system is no one else other than SuperMicro X9SRA Motherboard.
SuperMicro Technology is a very reputable manufacturer when it comes to the solution offers for premium workstation and server needs. Founded in 1993 by Charles Liang in California, this company has been consistently expanding all over the worlds in a very short period of time.
You may not be very familiar with the name but those of us who have used SuperMicro before would absolutely know how superb quality and long-term reliability the product will be. That is perfect for our custom rig.
The X9SRA model supports either E5-1600 series or E5-2600 series, which means either processor you have chosen will be compatible with this motherboard (heck, it is even compatible with regular 2011-socket i7, too – if that helps on anything :D ).
Detail Reading : X9SRA Motherboard Specifications on Supermicro Website.

On the memory note, the motherboard can handle up to 256GB of registered DDR3 ECC RAM or the standard 64GB non-registered DDR3 ECC/non-ECC RAM in a total of 8 DIMM Slots. That simply means it will support a majority of memory selection you find in the mainstream market nowadays. However since we are aiming for stability, we will be looking further than just regular ram.
Most of workstations have to deal with resource-consuming applications, it is safe to say we should start out with this Kingston 32GB ECC memory kit (four sticks of 8GB) for the initial capacity. That leaves us four more DIMM Slots for future expansion.
Graphics Card
Our initial goal of making a custom computer that can easily challenge any extreme graphics rendering project such as photo designs, video editing, 3D architecture, etc.. which means we also have to go with a premium workstation dedicated graphics card.
As opposed to mainstream gaming video cards, these enterprise-class graphics cards come with carefully implemented driver, ECC on-board memory on some models, and specifically-designed technology to enhance the performance of work environments.
You will less likely to see your application randomly crashes and lose all your time-consuming hard works (both NVIDIA and Radeon pay top dollar on their researches to guarantee a stable condition in their server video card products; because large-scale companies will give them a lot of trouble when a crash occurs, it costs ton of dollars).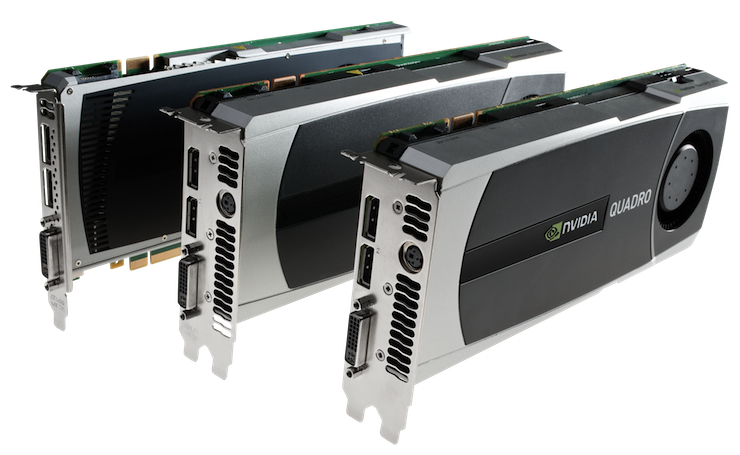 Now it's time to pick one that fits you best. There will soon be a comparison between all these video cards for those of us who love the details, but here I simplify the process and sort out the perfect fit for each purpose. It definitely saves you from unnecessary headache and get straight to the benefits of the product.
If you plan to work on intermediate graphics designs on Photoshop, Fireworks, CorelDRAW, inDesign, Illustrator, etc..
If you do all graphics designs above plus 3D rendering projects on Maya 3D, AutoCAD, Revit, Inventor, Sketchup, etc..and some high-quality movie editings.

If you do all graphics designs, 3D rendering works plus professional high-definition movie editing projects and concern a lot for performance or reliability (these video cards have on-board ECC memory) :
NVIDIA Quadro 5000

Quadro 5000 GPU
2.5 GB GDDR5 GPU Memory
320-bit memory interface
2x DP 1.2 connectors
If you want to do all of those above, but a lot faster.
Power Supply
One other essential parts of this setup is the power supply unit. We cannot neglect the importance of the PSUs, especially in such an expensive workstation. We are going to use the same power supply by PC Power & Cooling that we recently used in the Hybrid HTPC build : Silencer MK II 750 Watts Power Supply.
As once it was mentioned in Differences of All OCZ and PC & Power Cooling Power Supply Units, this power supply is a top-notch reliable product from a premium brand.

It is industrial-graded with Japanese capacitors and is designed for demanding workstation. This specific model also has 88% PLUS power-efficiency which is a surprisingly good bonus, despite the budget-friendly tag it carries. The last appraise you may be interested in is the large 135mm double ball-bearing fan that the unit is paired with. Typical 120mm size usually makes a not of noise during up-time, therefore bigger fans always have more significant advantages. The mature 135mm moves more air volume and is not as loud as the younger 120mm siblings.

One last key offer that makes the Silencer MK II owners smile from ear to ear is the seven-year warranty. It has the enterprise-class reliability, the great power-saving and the quietness we require for our custom HTPC. It also meets the sufficient wattage requirement for a our system as well as modular cable management to help with internal ventilation.
| | |
| --- | --- |
| Recommended | Alternate Option |
| | |
Storage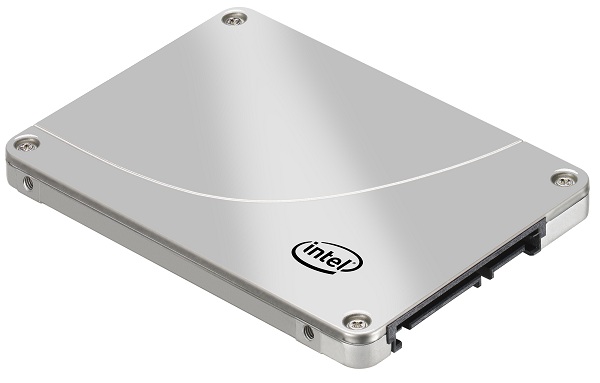 The performance of our custom workstation so far has not been compromised by any hardware component, and we are trying our best to keep it that way.
We will use a Solid State Drive, Intel 710 Series 100GB in specific,  as the main drive to house the Operating System and several other software suits for the professional works. This choice will effectively remove the bottleneck problem at storage data transfer rate. You will have a faster and more responsive system overall. The Intel 710 is with a business-class SSD, therefore data protection and drive reliability have been enhanced to serve our kick-ass premium rig.
Detail Reading about Intel 710 Series : Round-up of The Best and Fastest Mainstream Solid State Drives from 7 Reputable Brands
On a side note, the motherboard supports up to six SATA ports, meaning you could possibly add five to six more mechanical hard drives into the system to expanding storage capacity or running a RAID configuration.
Chassis
For the love of arts and from the eyes for beauty, I recommend our components to be sheltered by the NZXT Phantom 410 case.
This is a handsome mid-tower chassis that should make your workplace looks just as elegant and pretty. On the interior, the Phantom 410 case has all the modern features that worth its price : excellent cable management, tool-less drive bay, fine ventilation and a hefty amount of USB ports as well as fan controller switches on the front panel.
Recommended Reading : NZXT Phantom 410 Chassis in 12 Best Gaming Cases with Clear Transparent Window.

Alternate Reading : Top 6 Most Silent Computer Cases for Quiet Computing
The Rest
It has been quite fun to put together a truly decent workstation that could potentially serve as the corner stone for your career.
All the major hardware parts to make this custom computer powerful enough for your needs have been introduced properly (let me know if I'm missing any thing in the comment section).
The rest of the system components are listed below as optional parts, you will be the judge :)
Is this workstation not really in the right budget you are looking for ? Try the $1000 / $1500 Workstation and Super Gaming PC