This nicely put together wall-mounted PC is ultimately the goal of many custom computer builders.
Recoil P calls it "The RecoilMachine", which took him over 2 months to order and assemble the rig. Also according to Recoil P, he uses Plexiglass as the backplate for each component before having them planted firmly on a large vinyl-clad hardboard.
RecoilMachine has single loop water-cooling setup, Gigabyte EX58-UDP5, Intel Core i7 920 Socket-1366, Asus GTX 590, Samsung 250GB 840 EVO SSD, Western Digital 1TB Caviar Black and Seagate 1TB additional storage.
To put an accent touch to the final build, a few of these LED Strips with remote can be glued to the back of the Plexiglass of each hardware piece. The LED strip used in this build does not seem to have a remote control, hence it's probably only lit in Blue color.
Though the system is a little outdated when measured to today tech (and that crappy dell keyboard) -but it's a very, very beautiful piece of art nonetheless. Enjoy the photos! If you have one to show off, brag about it on our facebook page!
I – RecoilMachine – Part List
Aquacomputer Cuplex Kryos Delrin CPU water block
Alphacool Laing D5 Vario Pump
Monsoon Series Two Dual 5.25in Reservoir
Alphacool NexXxoS NVXP NV 590 Series GPU water block
Phobya G-Silent 12 1200rpm Fans, Black Silent Edition
Black Ice GTS-Lite 360 Radiator
Masterkleer Tubing PVC 19/13mm
19/13mm Compression Fitting 45° Rotary G1/4
19/13mm Compression Fitting 90° Rotary G1/4
II – RecoilMachine – Gallery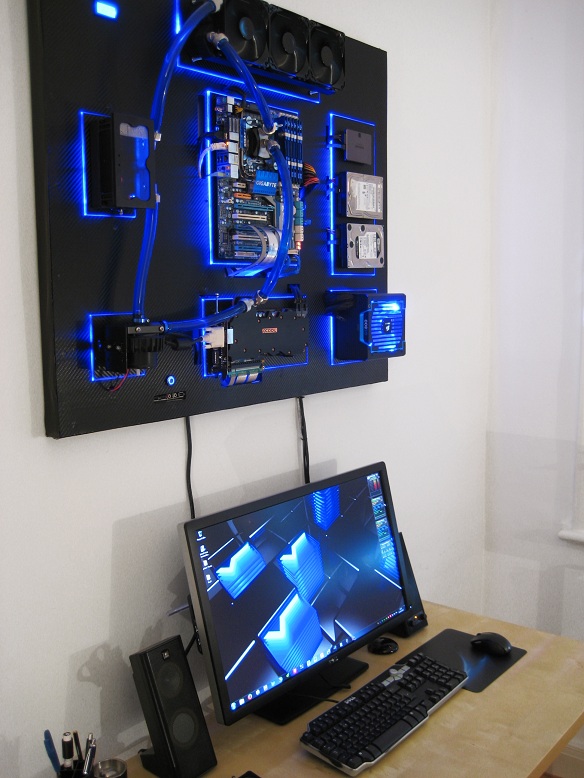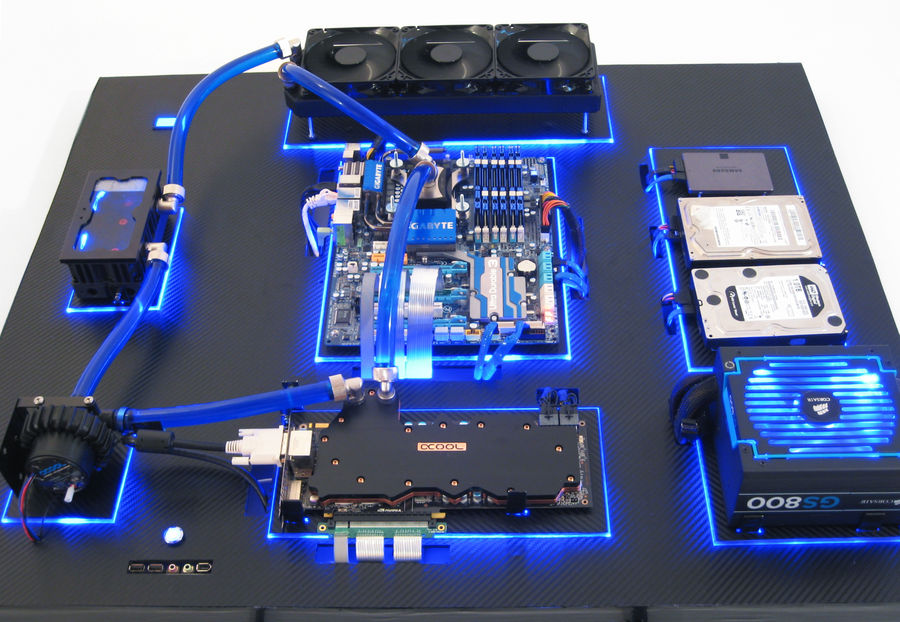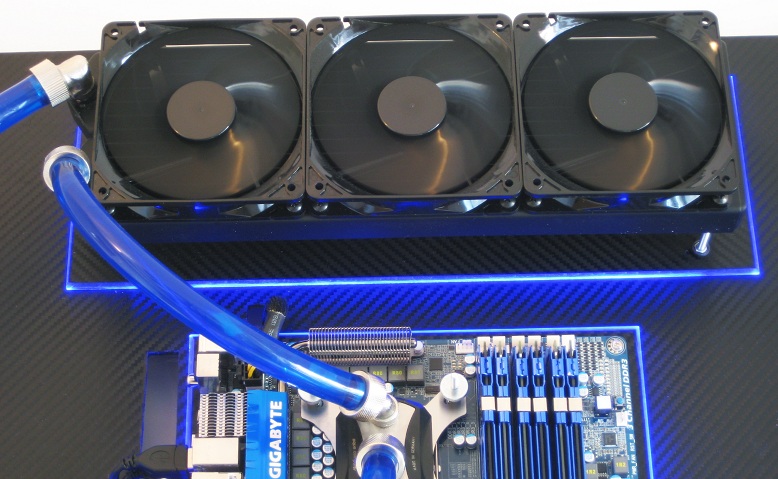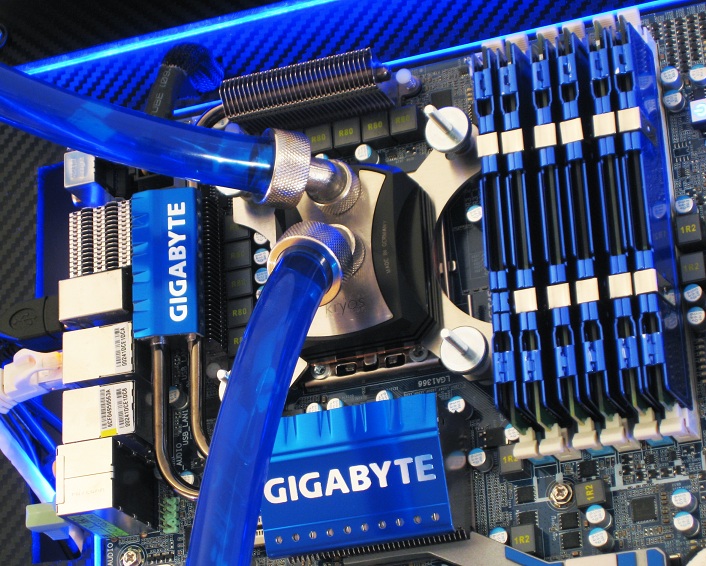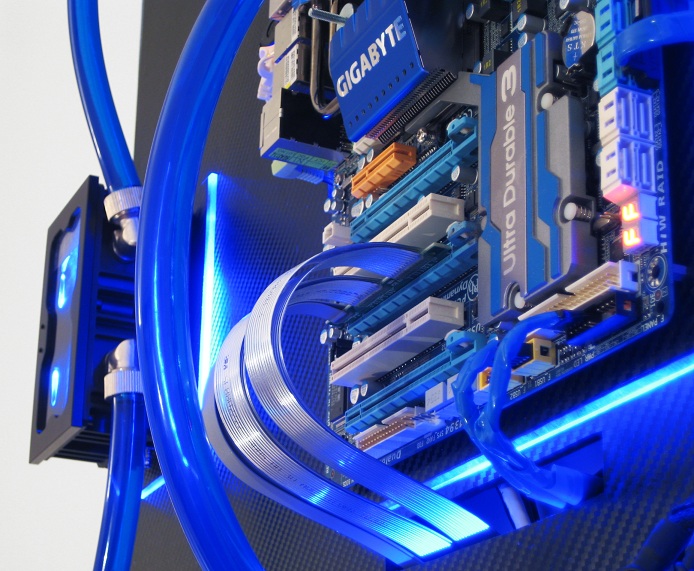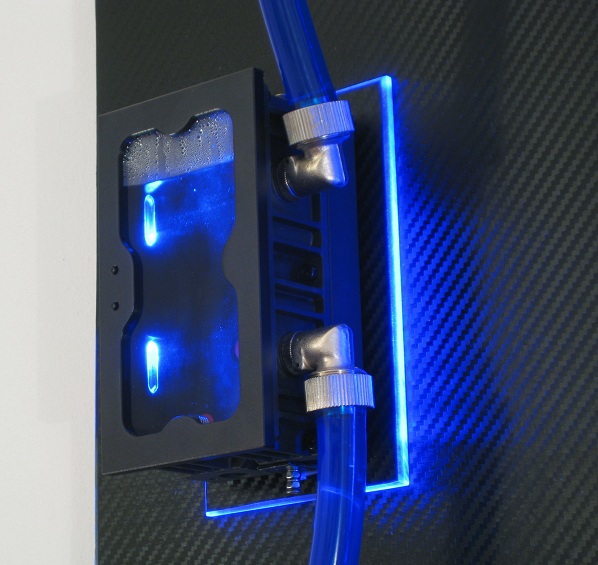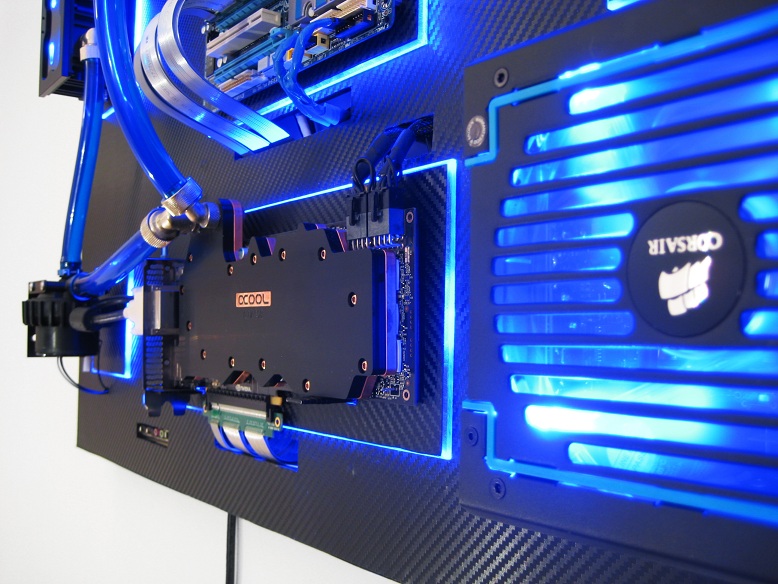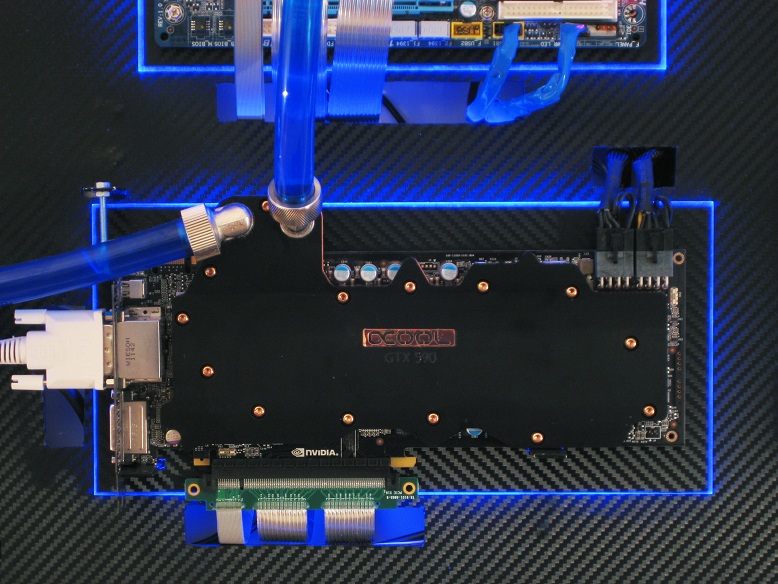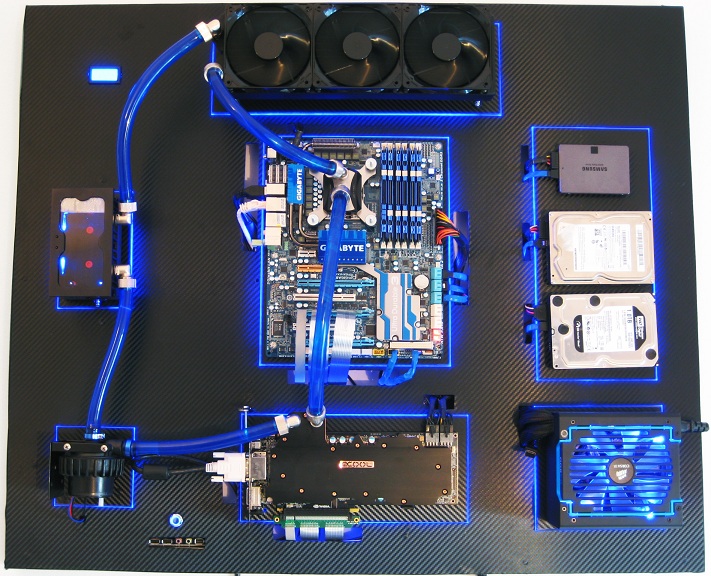 To close up this article, here is another treat for you. This is the older 2013 wall-mounted PC with custom liquid-cooling setup by show4pro; this project has inspired many other setups like the recoilmachine you have seen today and it's still spectacular !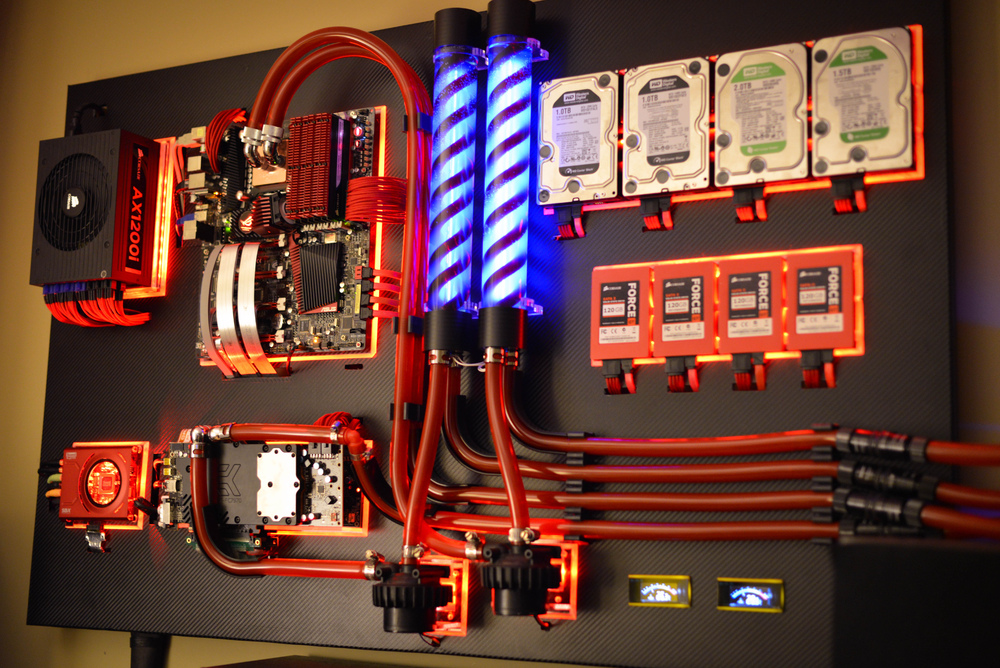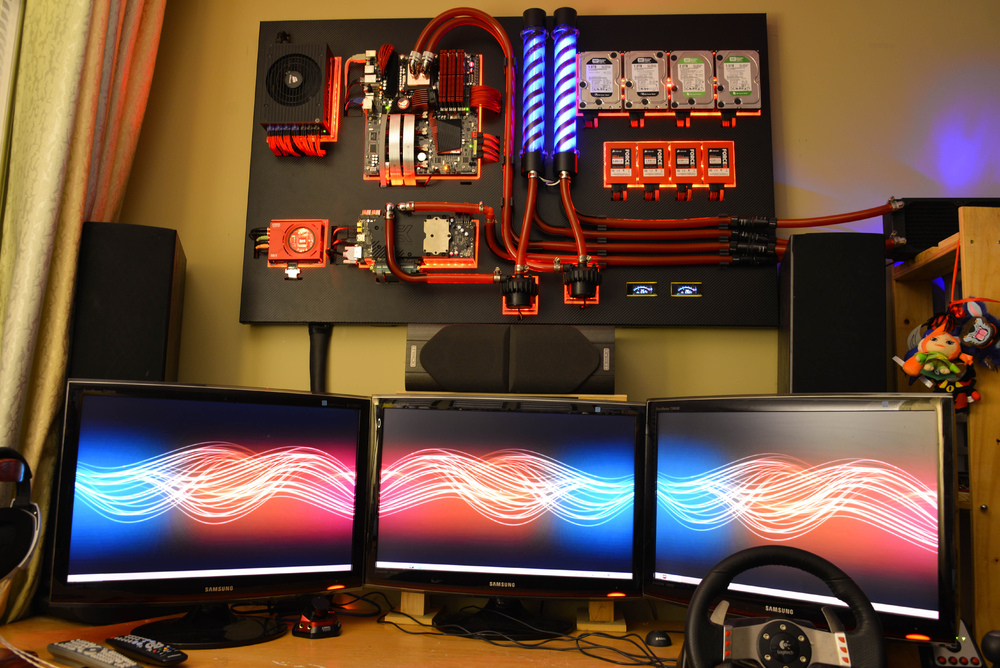 This is the second project by the same builder.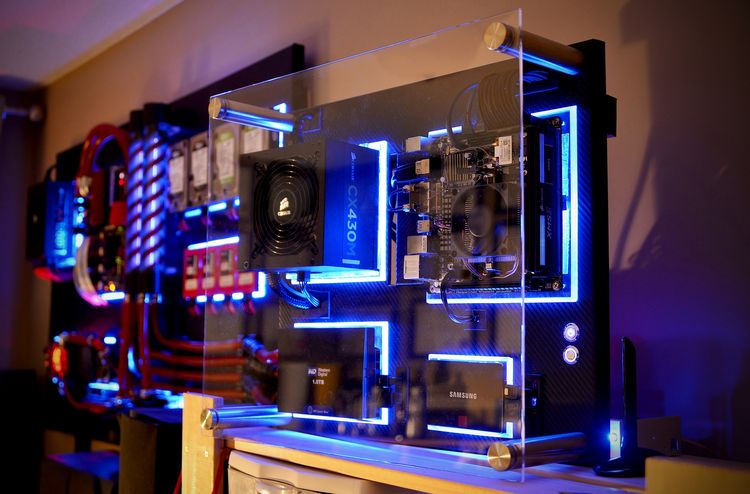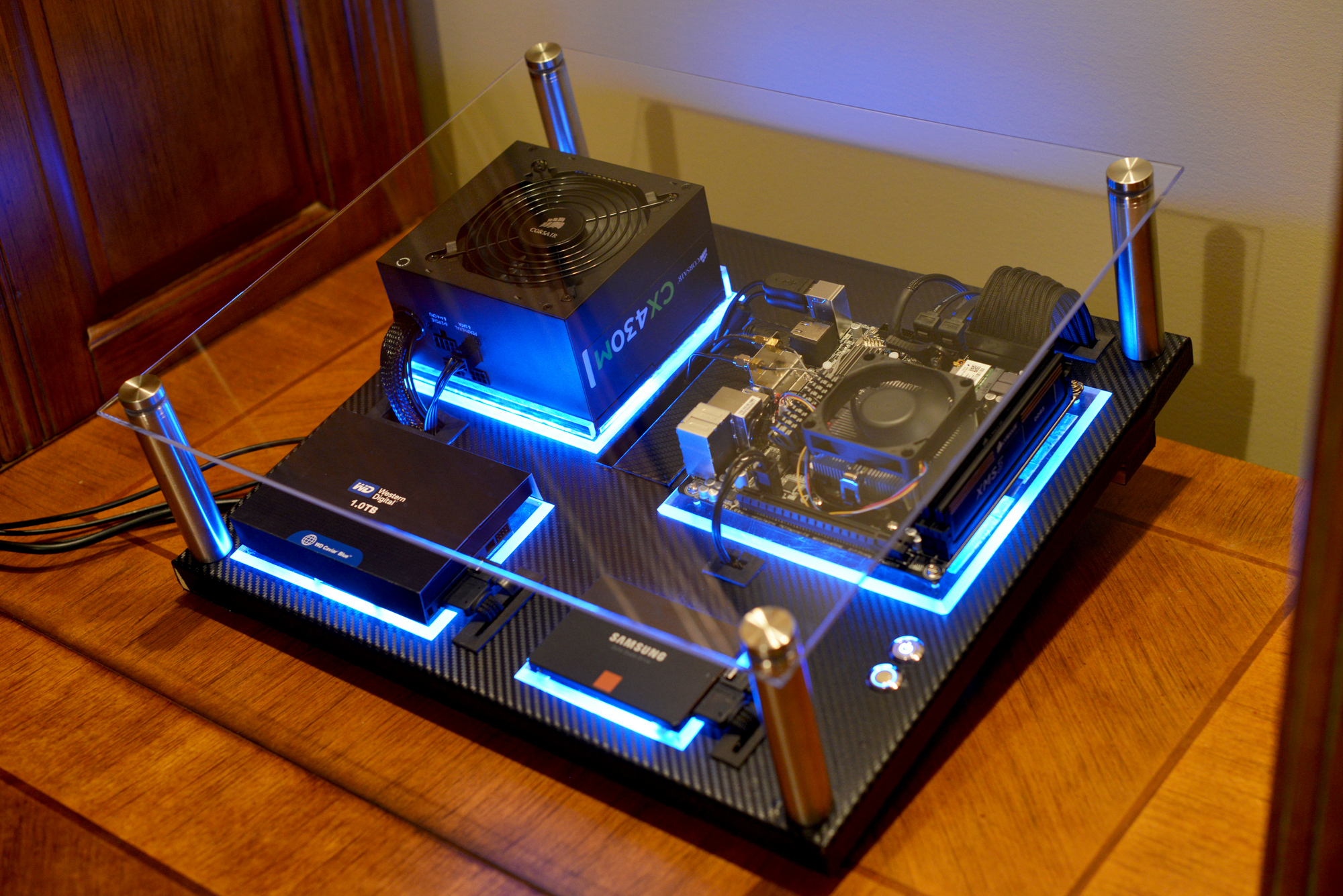 Personally, I think the biggest deal-breaker of having these system is the hassle to upgrade your components in the near future. You'll be stuck with what you chose now for the rest of the system life span unless you want to remodify the backplate, the GPU and CPU water blocks and the cable management…you know, the whole shebang all over again.
I also think about building a system in similar fashion; but rather than using a custom water-cooling system like this, I'd use a closed-loop kit that you can find them everywhere these days –then wrap around the tubing with some beautiful LED strips and see how it comes out.
Probably just meh haha. Or ended up with something like this:
---
…or you could get away with a Thermaltake P5 chassis.