### OLD AD CODE WAS HERE ?>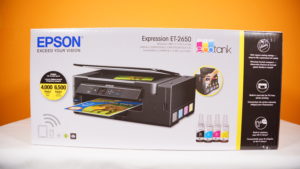 There was never a printer that I could love, until I met the Epson ET-2650. Here's the quick review.
It was the first time in my life I found an inkjet printer that could outdo the saving cost of a laser printer. The Epson ET-2650 is a member of the Epson EcoTank printer series, it does not use tiny little cartridges for ink.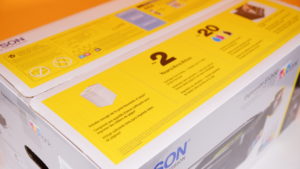 See, I grew tired of buying Magenta one day, then Yellow the next and ended up spending more for Black on the weekend. It was a never ending battle of cartridges replacement every month.
So what does the EcoTank mean? It means ink come in a bottle and you refill the big ink tank on the side of the printer whenever that color is depleted, like back in the very old days.
But that's what printers should have been nowadays instead of those expensive cartridges. Here, buy this printer for tree fiddy, but ink will cost you two kidneys. Ever feel like being scammed?
It has been a year now since I bought the ET-2650 and I still haven't used half of the ink supply that the printer came with. And I printed plenty.
The refill bottle costs less than $20 and buying all four colors would set you back ~$80. Imagine a single cartridge of other typical printer would have cost you $50 on average and only lasts 2-3 months top. I'm starting to believe I could go 2 years with this original ink supply before I have to order a new set of them.
So if my math done right…
– Epson Ecotank each color bottles (B,Y,C,M) is about $12. For a total of less $50, you have ink that last for up to 2 years with tens of thousands of color prints.
– Typical 4 color cartridges x $40 (average each) = $160 lasts about 6 months or less before you run out of ink. For 2 years, it would have been $160 x 4 = $640.
– Remanufactured version of those 4 color cartridges x $12 (average each) = $48. For 2 years, that's $192.
Good job, Epson!
Reviewed in this article
:
New release
:
Thank you for finishing a tiny review article!

The perk of blogging for Custom PC Guide.net is I get to spend much time, many money to acquire the latest tech components for reviewing purposes. It's a pleasure to know these hardware before finally sending them away for the monthly sweepstakes on Facebook. The historical downside is, that usually leaves me a net income of -$55,000 before the end of the month. Many folks block ads nowaday, even the sexy one --so we missed out a large stream of revenue that could buy us two large pizzas, a coke bottle and successfully fund for our political campaign.

Hence whenever I wanna buy something else for myself on the side now, I have to be very mindful and make sure it's absolutely worth it --for each and every dime that's leftover. Therefore, these tiny, light-hearted reviews are all about my random, totally impulse, buy-under-influence and unnecessary purchases that I have made throughout the years.

To be fair, some are really good stuffs though. So I hope you'll enjoy and check back often to see all the damn reasons why I'm always broke like a child of the Malcolm family. I wish one day I could have unlimited funding like S.H.I.E.L.D to operate, but your support in spirit will totally do it for now.

Home Security Kits Comparison and Setting up ENKLOV-W1 Wifi Smart Alarm System.
--..add this big siren outside so your neighbors are fully aware you are being robbed.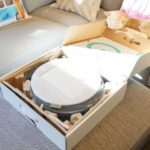 Affordable Robotic Vacuums Comparison : Eufy RoboVac 11S vs. Ecovacs Deebot N79S.
...hence I ordered two entry-level yet features-packed robotic vaccuum cleaners, hoping they could fight each other like what I saw them Battlebots do on Youtube...