Living in a house with kids and cats, I'm sure any same parent and pet owners would understand how messy life could be at some point.
Some day you woke up feeling like a crazy rich Asian's friend, but the moment you set foot downstairs you'd find the cats just totally destroyed your expensive carpet along with all the window blinds. So suddenly you're broke. Then you realized the children left random land mines of crumbs, Lego pieces and tiny sharp things in every room the night before. Now instead of happy breakfast, you gotta clean everything or stumble upon a deadly foot chakra every step of the morning.
You'd think after all this time I'd be ready. But look at me. Stretching one moment out into a thousand… just so that I could reminisce the peace. I wish there was a picture that could immensely show how my wife and I felt when the chaos unveiled itself that day.
Fortunately, that was a few months ago.
Time has changed and been manipulated for the better good. In other words I finally decided to buy a couple of these robotic vacuum cleaners to put them on perpetual, time-loop labor works. And of course, the purchase was absolutely on an impulse to stay true to the spirit of these Tiny Reviews.
Anyway, I didn't believe very much in these auto vacuum machines previously because –first they were overpriced, seriously $499? Ok I'll just dust off this floor with a $1 broom really quick for now –second they do the same thing that I can do and –third I didn't believe they could do a better, more reliable, more diligent job than me.
Glad I was precisely 92.7% wrong. The tech has gone a long way for the better.
However I figured I didn't need a $800 Neato D7 early in this game just yet. Hence I ordered two entry-level yet features-packed robotic vacuum cleaners sorted by the highest rating and best-bang for the bucks on Amazon; hoping they could fight each other like how I saw them Battlebots do on Youtube, besides just cleaning the house. And if one dies, I'm only out $200 instead of $800!
Unfortunately, the most evil thing these things could do was scare the cats. At least that'd put the kitties into place and teach them to know what is best. What is best is they comply. Compliance will be rewarded.
---
The
Eufy 11S Slim
has very nice packaging, but not as secured as the
Ecovacs N79S
. Though a few stuffs were out of place but there was no damage to any parts.
The Eufy RoboVac 11S wears a glossy, shiny anti-scratch tempered glass-top and that definitely makes it appears as a more expensive, more high-end device than its price tag.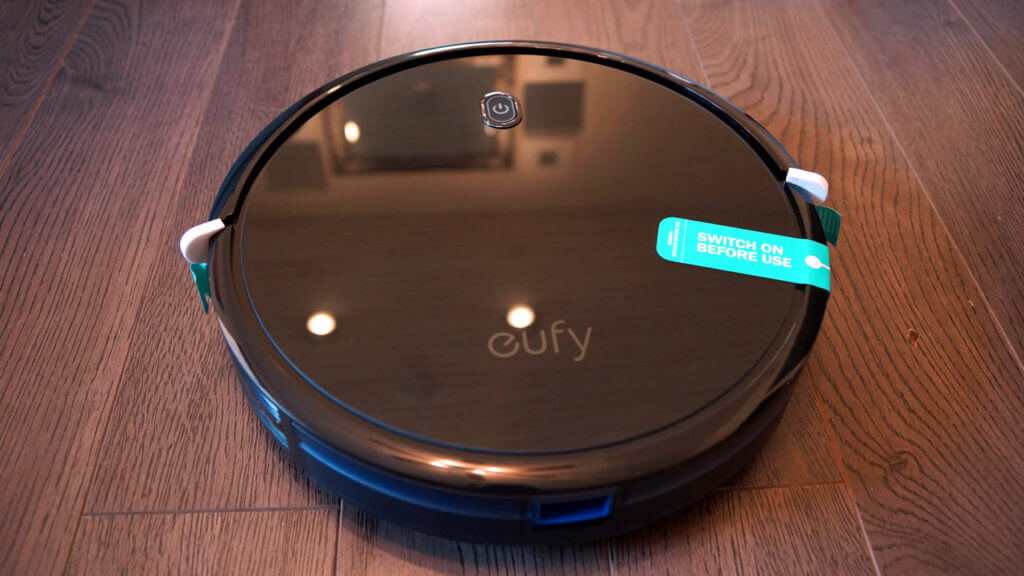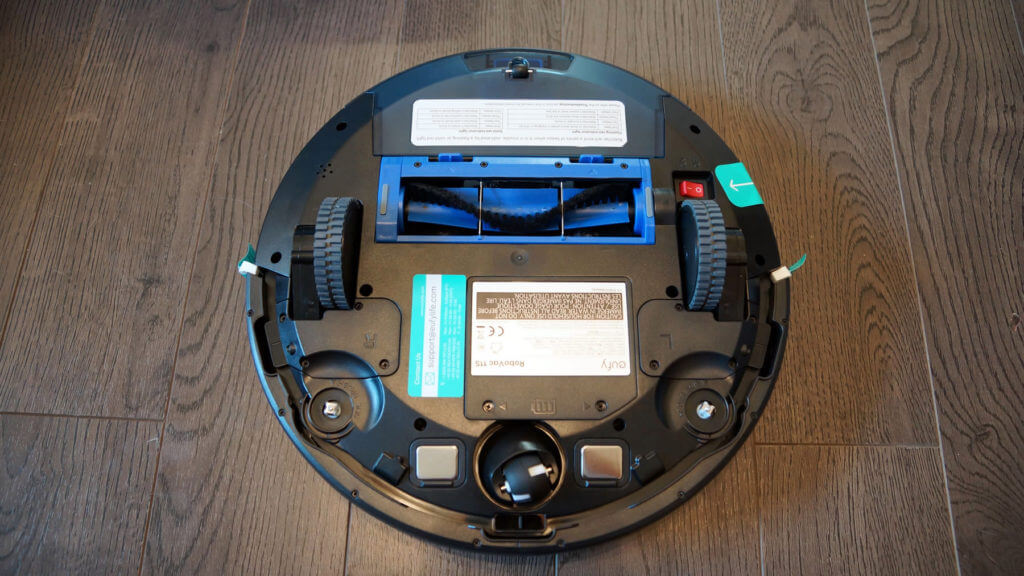 It comes with 2 sets of side brushes…Well, that is two times more generous than the Ecovacs Deebot N79S.
What left in the photo below are the remote control, cleaning tool, charging station and its AC adapter.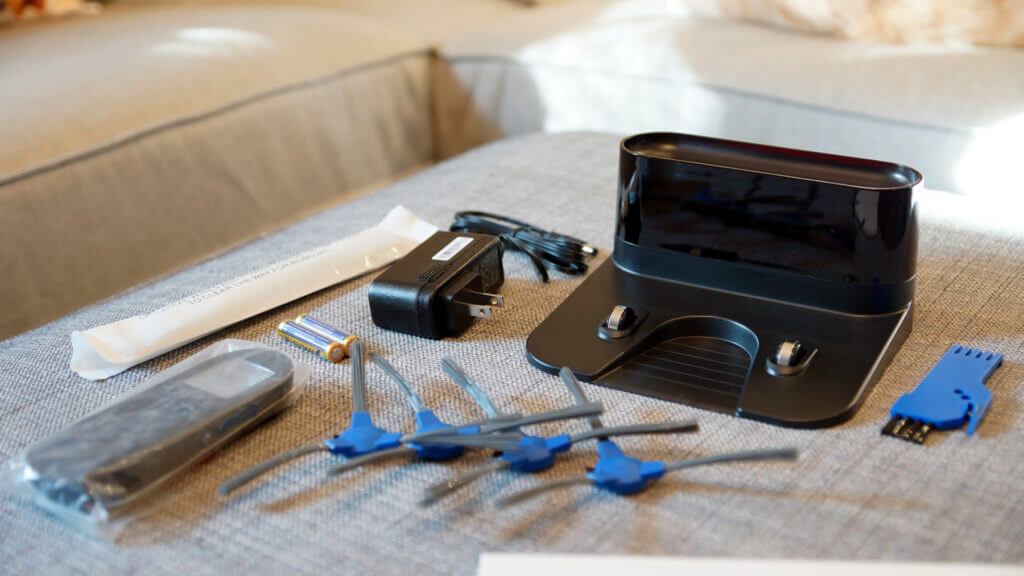 There is a hollow design in the back of the charging station where you can tuck the extra power cable behind, keeping everything nice and tidy around it. Very thoughtful approach!
Meanwhile, you can use the remote control to set up a daily cleaning schedule for the Eufy 11S to follow –only once a day though, while the N79S can do as many as you can brutally force it to. #HailHydra
On a side note, these naughty boys don't know what's coming to them yet. Ha ha. Don't let their innocent and carefree afternoon nap fools you.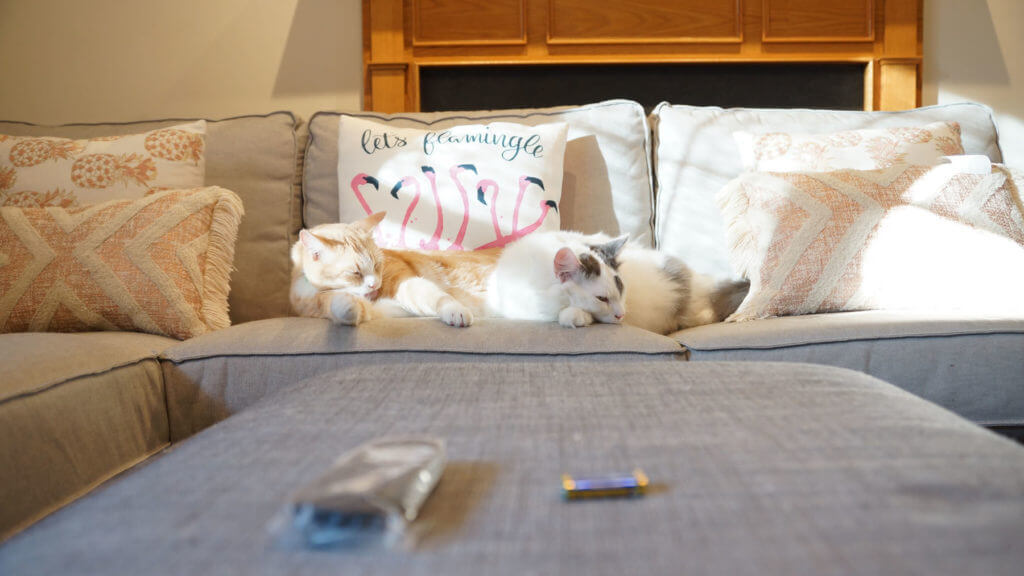 The assembly is simple. Plug the pair of side brushes into the front slots and you are ready for business.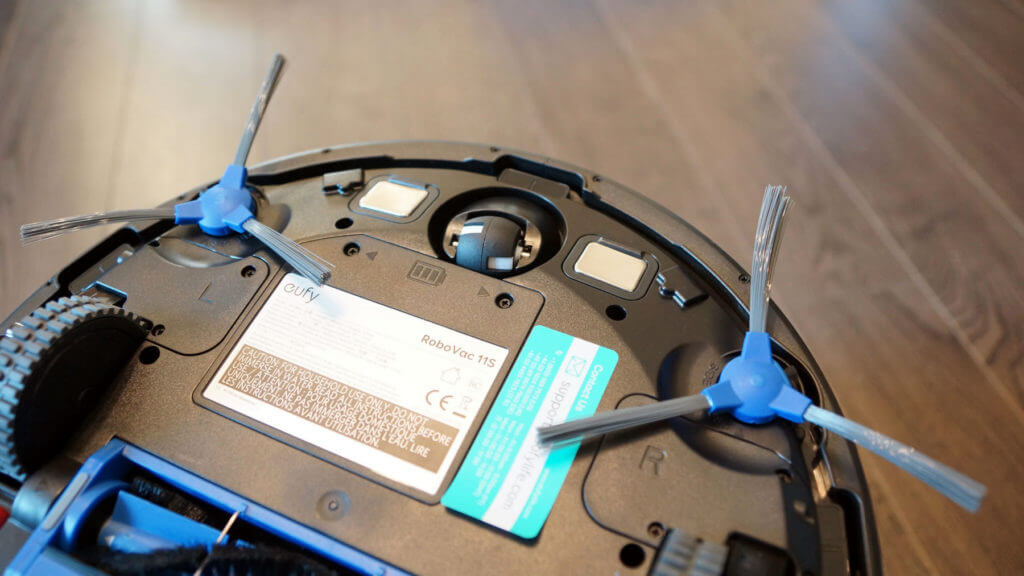 After an hour of mingling around the house, here we have the result.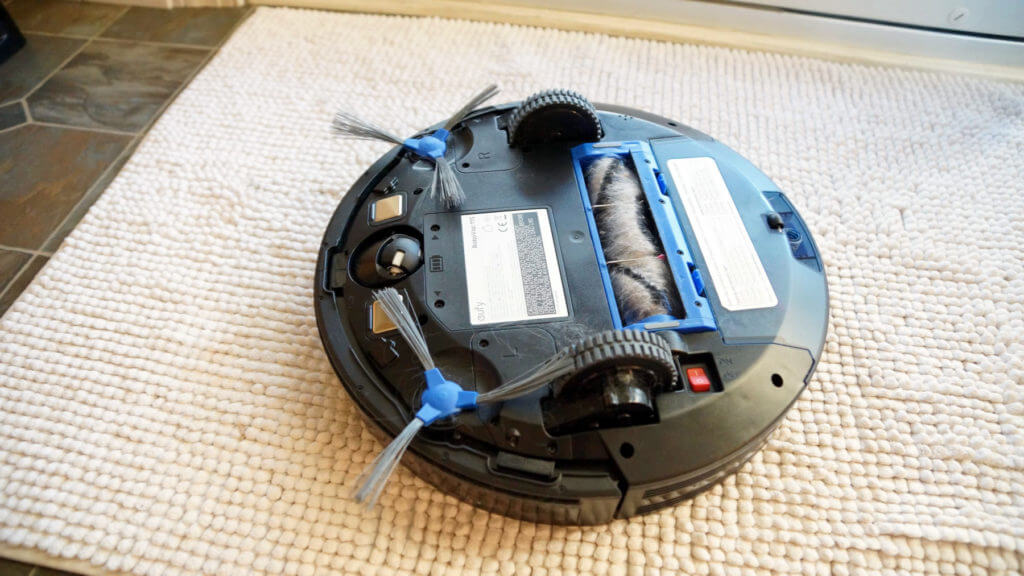 I thought I didn't clean the floors well enough the other day because the Eufy 11S dust bin was packed to the to rim. However, I soon learn that this becomes the norm every. single. day. It's just ridiculous. Keeps asking myself HOW.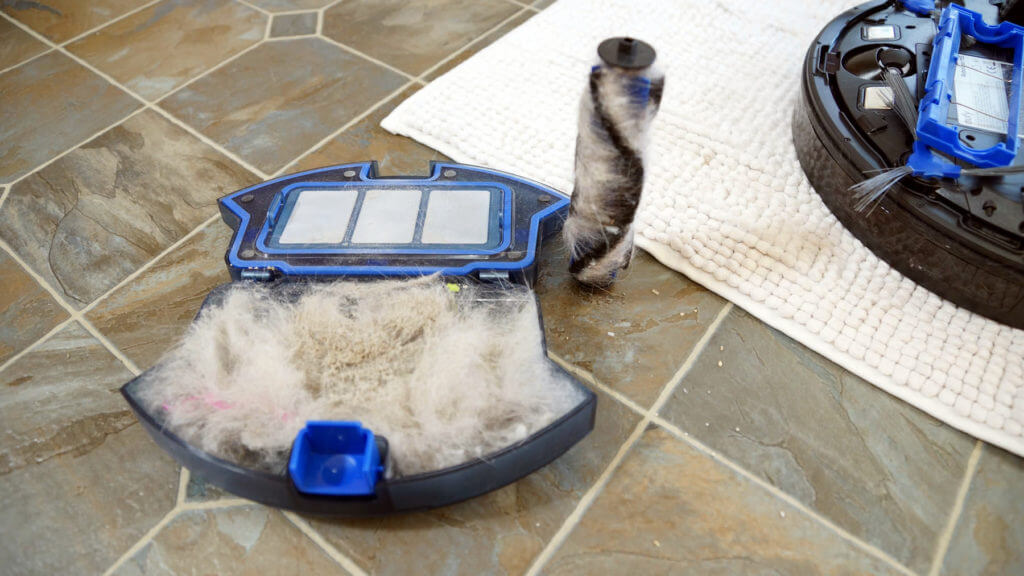 Look at the amount of dust, hairballs and diamonds it picked up!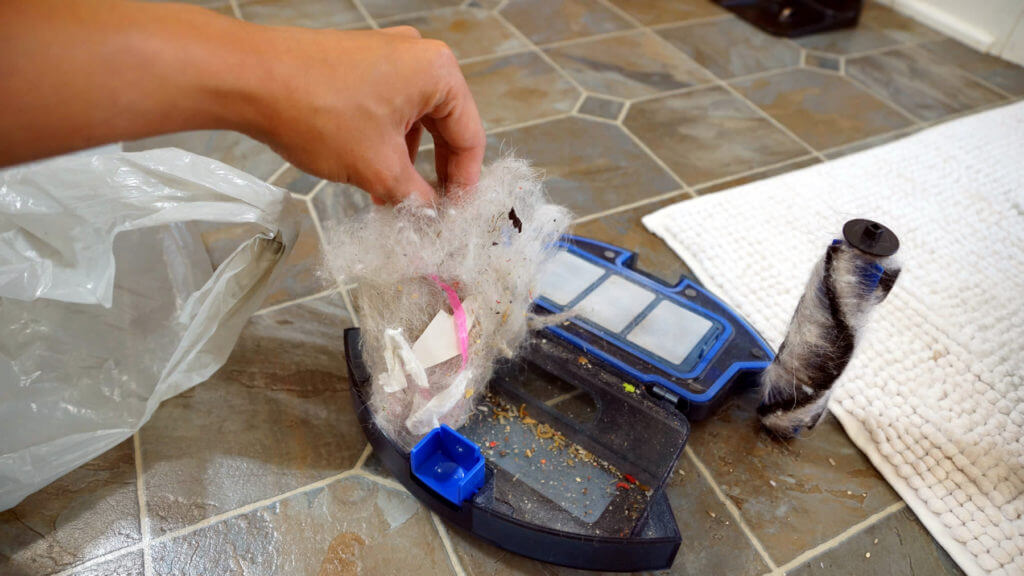 The Eufy 11S Slim is an eye-opener for me. I never would expect my floors were this dirty.
I used to vacuum twice a week and now be greeted with the amount of junk the bots pull out from the floor daily, I kinda understand why we used to sneeze all the times and I always felt like I stepped on a bug or something.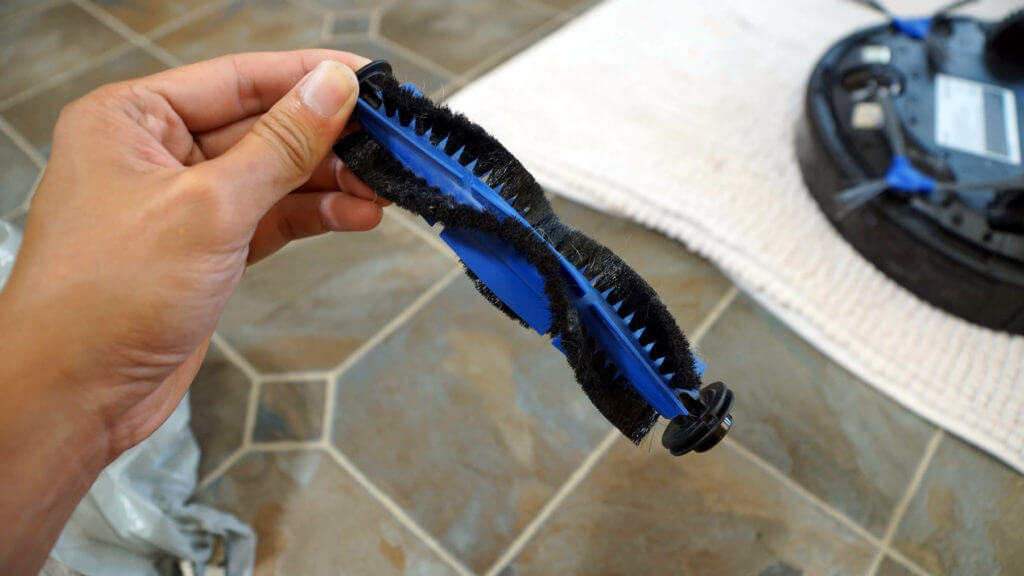 Roll brush cleaned. Big difference.

The
N79S
has a double-boxed package, they almost went deep enough.
N79S has a matte-ish top, so I'd assume it can take a beating more graceful than the glossy finish of the Eufy 11S. Though it doesn't look as sleek as its opponent.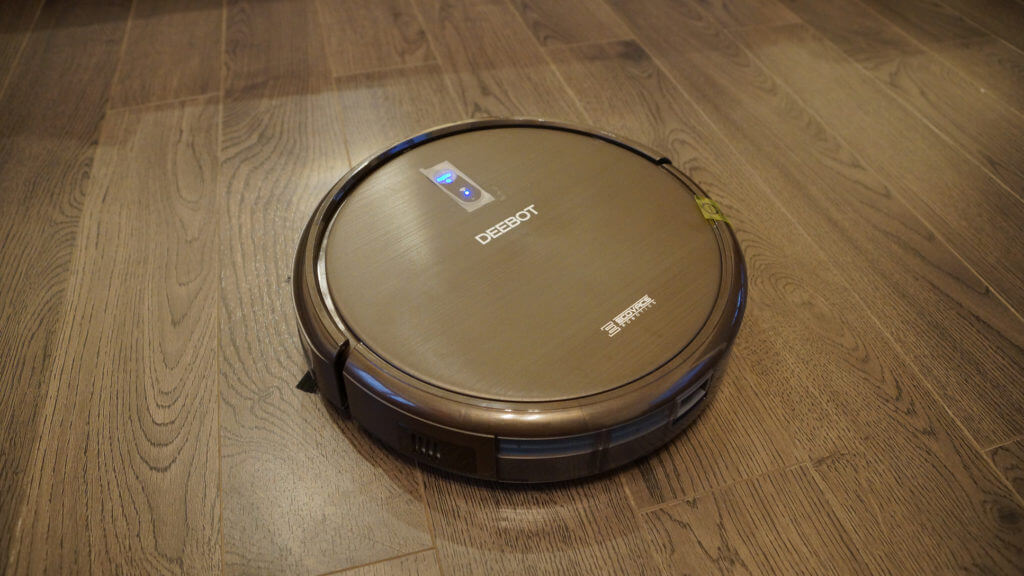 Accessories are similar to the Eufy 11S but Ecovacs only gives you a pair of side brushes. I guess that's the trade-off for smart phone/voice control feature just to keep the price competitive.
I rarely use the remote control once the Ecovacs N79S had established a connection to the wifi network. All commands can be conveniently managed via my smartphone along with battery status, filter change and dust bin capacity reports.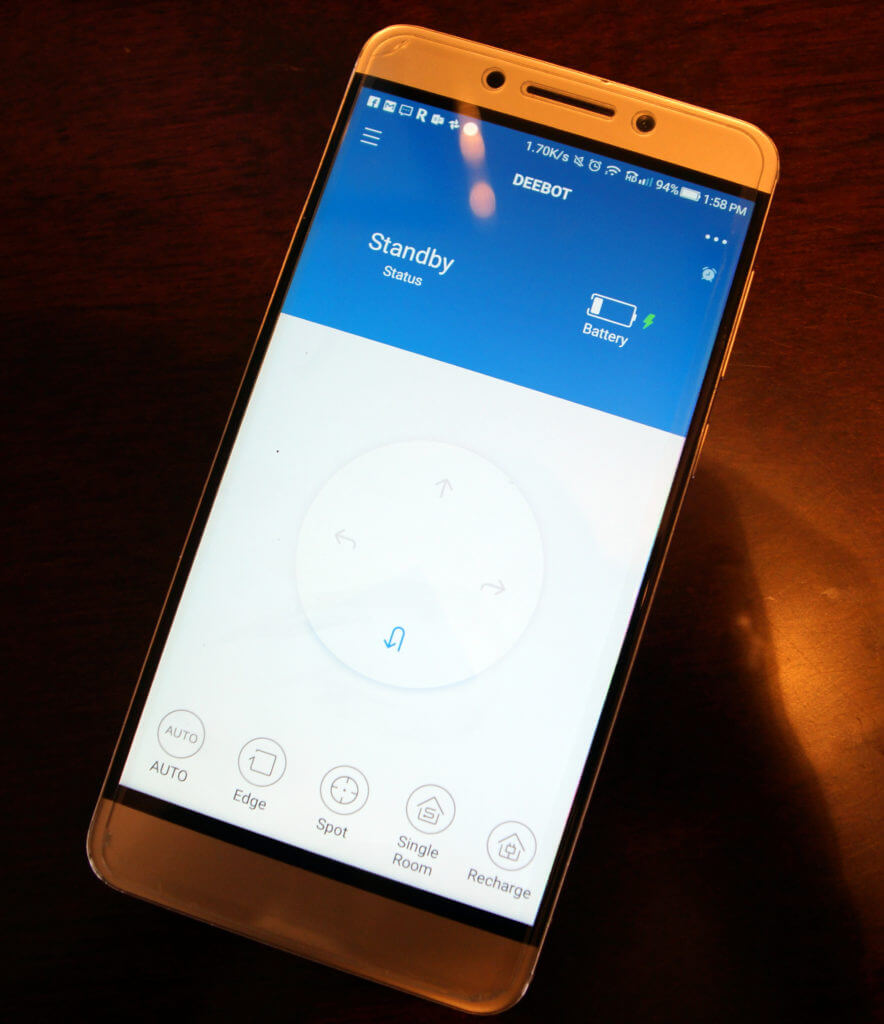 However, it's good to know that we have an alternative, direct control to the device in case the router is down during the walking dead outbreak. Somebody still gotta keep the house clean.
As a tiny review, I didn't want to dive into the technical aspects of these devices like PC Hardware reviews –but there will be a small comparison section at the end of this article to help folks who are looking for more details.
On other hand, let's take a look at the good and the bad of these robotic vacuum cleaners before we finish up today article.
Eufy RoboVac 11S
---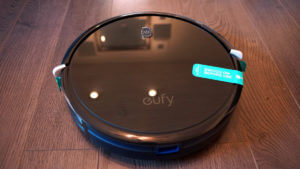 Does a good job extracting dirt and debris
Seamlessly maneuvers over floor transitions and door ledges
Sleek, modern looking
Does not get stuck too often
Low profile, means it can reach most places under the furnitures
Plenty of accessories
Strong suction with 3 power modes (1300pa)
Can be scheduled for auto cleaning once a day
Thoughtful base station design for efficient power cable management
Can prevent itself from falling off the stairs
Supports different cleaning modes; such as Edge and Spot patterns
Returns to station automatically and correctly every time.
Default random cleaning pattern, may miss a spot or two
Loose packaging
Glossy surface, though it's scratch-resistant tempered glass, will eventually get more visibly scratches if not handled carefully.
Only supports scheduling auto clean once per day
No Wifi, smartphone or voice control
Does not work on high pile rug
Can only be scheduled to run once a day
No magnetic boundary strips to prevent access to undesired area.
Can't participate in Battlebot tourney.
Ecovacs Deebot N79S
---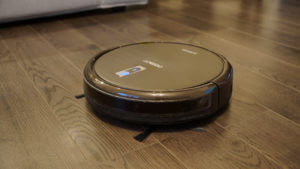 Does a good job extracting dirt and debris
Seamlessly maneuvers over floor transitions and door ledges
Sophisticated looking
Matte surface hides scratches nicely
Low profile, means it can reach most places under the furnitures
Strong suction with 2x boost mode. I once found a full size pencil in the dust bin.
Has schedule for auto cleaning with no limit interval per day
Supports Wifi, smartphone and voice control with Alexa, Google Home.
Can prevent itself from falling off the stairs
Supports different cleaning modes; such as Edge, Spot and Single-room patterns
There is AC plugin port on the machine itself, that means you can directly charge the vacuum on-the-go without the need of base station.
Not a deception.
Default random cleaning pattern, may miss a spot or two
Cut down on accessories, only comes with one pair of side brushes
Does not work on high pile rug
Get stuck often between tight space (pic below).
Returns to station automatically, but sometimes it wanders around for a while.
No magnetic boundary strips to prevent access to undesired area.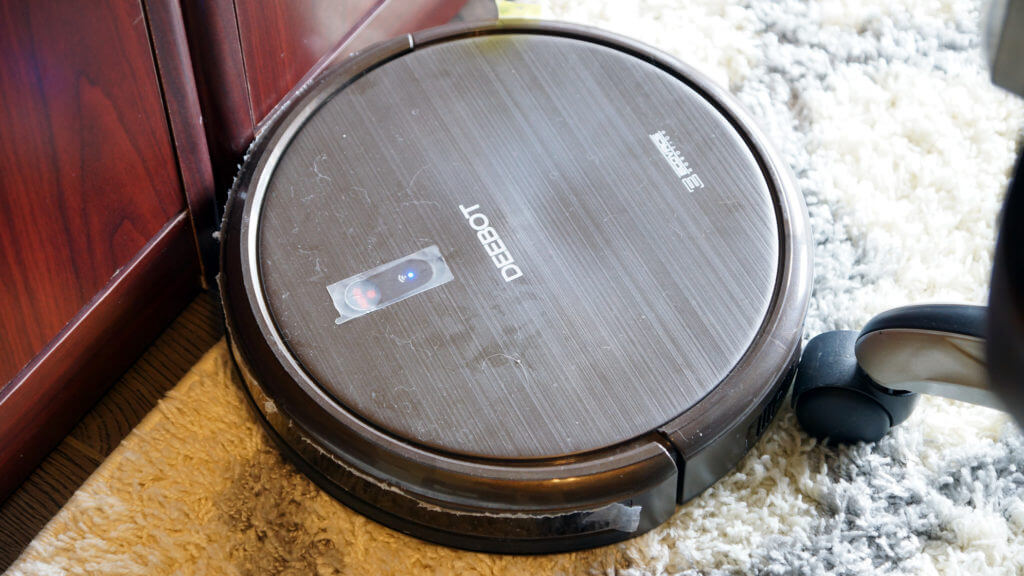 Depiste some minor setbacks, I gradually love these machines more and more each day.
They are not as expensive as they were a few years ago. For just a little under $200 it's definitely a decent buy (with Amazon $30 off coupon, if it's still available), no regret.
You can absolutely spend more for high-end units such as Neato D5 or D7 but it's like buy a top of the line refrigerator –too much digital, "smart" tech can be a hassle when things start acting up. It's just a secondary vacuum cleaner in the house and if it does a job well for less than $200, that certainly will be a long while before I want to upgrade my robot again.
However if your budget allows, the more fancy models are usually equipped with laser-guided cleaning pattern for a more throughout cleaning. Some allows you to map the house to make this task even more efficient. I like seeing my bots having fun going around randomly though, rather than a repetitive boring labor work –but that's just me.
And this is the part I admit where I was wrong about robotic vacuum cleaners.
These machines actually work a lot harder and more diligently than I do. I schedule my N79S to run twice a day, 7 days a week and I have never seen either one of the two stops working under an hour. I wouldn't have time to vacuum the house for three hours every day. They have been surprisingly great helpers. I feel like Santa Claus with a bunch of dedicated elves.
I greatly appreciate a clean home now thanks to this technology. On top of that, it's fun to call up "Alexa, tell Deebot to start cleaning!" and the N79S goes to work right away.
Speaking of minor setbacks, it could be a little annoyance when they get stuck every now and then, but that might not be a big deal for some of us who are less lazy than me.

Know what a big deal is? It's when you have a naughty pet and one good day it just feels like dumping a gigantic poopocalypse on the hallway for shitty reason. So, as Negan always said, excuse the shit out of my goddamn French, but please listen –if you have a bad doggo like that, avoid these vacuum cleaners at all cost, you've been warned!
Our first run of the Eufy 11S versus Cats.
---
*Technical differences between the eufy 11S Slim, eufy Robovac 30, Ecovacs Deebot N79/N79s and Deebot 601. Slide left and right to scroll through products.
---
Thank you for finishing a tiny review article!

The perk of blogging for Custom PC Guide.net is I get to spend much time, many money to acquire the latest tech components for reviewing purposes. It's a pleasure to know these hardware before finally sending them away for the monthly sweepstakes on Facebook. The historical downside is, that usually leaves me a net income of -$55,000 before the end of the month. Many folks block ads nowaday, even the sexy one --so we missed out a large stream of revenue that could buy us two large pizzas, a coke bottle and successfully fund for our political campaign.

Hence whenever I wanna buy something else for myself on the side now, I have to be very mindful and make sure it's absolutely worth it --for each and every dime that's leftover. Therefore, these tiny, light-hearted reviews are all about my random, totally impulse, buy-under-influence and unnecessary purchases that I have made throughout the years.

To be fair, some are really good stuffs though. So I hope you'll enjoy and check back often to see all the damn reasons why I'm always broke like a child of the Malcolm family. I wish one day I could have unlimited funding like S.H.I.E.L.D to operate, but your support in spirit will totally do it for now.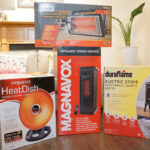 4 Best Electric Heaters for under $100: Quartz vs. Infrared vs. Ceramic vs. Radiant and Oil-filled. --...it was always freezing cold in the winter evening for all of us as we sat here and watched each others like the most dedicated members of the Nightwatch. It's pretty relaxing and torturing...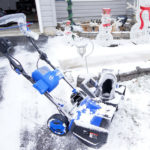 Battery-powered Snow Blowers Comparison from Greenworks, Snow Joe and EGO Power+
--...people couldn't dig their way our to go to work and the maintenance team consisted of 2 old guys, couldn't get their gas snowblowers to start even if their 401k entirely depends on it...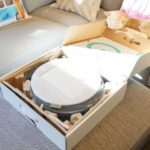 Affordable Robotic Vacuums Comparison : Eufy RoboVac 11S vs. Ecovacs Deebot N79S.
--...hence I ordered two entry-level yet features-packed robotic vaccuum cleaners, hoping they could fight each other like what I saw them Battlebots do on Youtube...