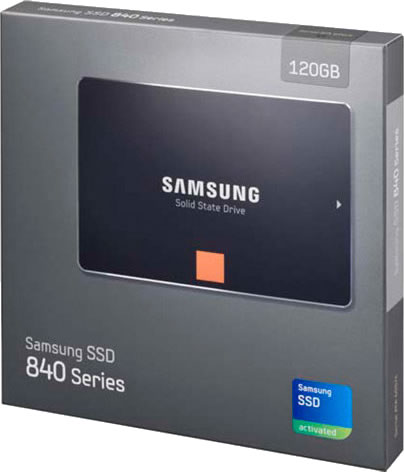 The 840 Series is Samsung's new approach to the ever exciting Solid State Drives market. In last year success, Samsung was able to release their 830 at a very competitive cost without compromising the performance or reliability by utilizing all home-grown components. They make their controller, write code and implement their own NAND memory cells.
As they brought the 840 Series to the table last month, we had a chance to welcome two new additions on the horizon. The regular 840 edition uses a totally unusual type of NAND called TLC (typically seen in Flash Drives, we will get to that in a bit); while the Pro holds strong with the Toggle 2.0 MLC NAND.
The Changes
As opposed to MLC NAND where it stores two bits of data per cell, the TLC only holds a single bit on each allocated chip. As the result, the 840 has a higher latency, slower write speed and a shorter lifespan.
However on the the better note, the TLC die architecture has shrunk from 27nm to 21nm, perhaps that means lower cost, lower power consumption (less than 0.06w) and much faster read speed.
Samsung also caters a new MDX ARM Cortex R4 triple-core controller with 512MB on-board memory to direct the smaller size TLC NAND.
It mainly prevents the work load from stressing out the cells which in turn enhancing the drive endurance. The new controller also implements AES-256 encryption engine for those of us who seeks strong security.
At Another Glance
In a similar phase of how the 4th Gen of OCZ Agility and Vertex do to their previous siblings, the 840 is not a total break-through or major upgrade to the 830 in term of performance or reliability.
There is a few better benchmarks all around, but there are also some distinct drawbacks on the chart. The most remarkable change is the direction Samsung is heading to make a great cost reduction for tomorrow performance consumer-level SSD; which is better, faster and more affordable.
The 840 Pro on other hand, seems to be the fastest top-tier Solid State Drive of today generation. If you look into several benchmarks and reviews online, you should easily see the fact that the 840 Pro is sitting at the top of all charts. Now since it is too early to gather enough trustworthy feedback, we have to give the Samsung 840 Series's reliability a benefit of doubt.
Lastly, the regular 840 is blessed with 3-year warranty while the Pro edition is backed by 5-year warranty. Now we wait for the answers from other manufacturers, what say them ?